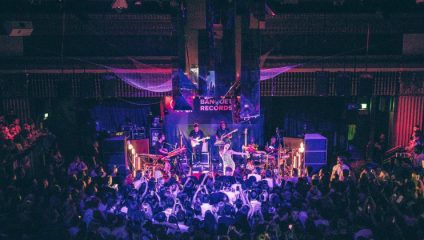 It's a sight for sore eyes: a modern-day record shop not only making ends meet and staying open, but truly thriving, especially during and after lockdowns. At night, the shop becomes a venue, as well as hosting events around Kingston, bringing in the biggest names in UK and world music, including Billie Eilish, Stormzy, and Ed Sheeran, for packed out gigs in the corner of South West London. For the last 20 years, Banquet Records has been Kingston's main, if not only, cultural export to the rest of London, with fans from all corners coming for gigs and records.
Celebrating 20 years this year, it began as part of the well-known Beggars Banquet chain, before splitting off and becoming fully independent in 2002. It faced bankruptcy just two years later, until it was taken over by former employees of the Beggars Banquet shop. One of these employees was Jon Tolley, the energetic, skateboarding former Lib Dem councillor who is largely seen as the figurehead of Banquet. He can be regularly spotted around town, cycling with a skateboard in back; he is a known face and well-loved man in the Kingston community. I first met him personally at Record Store Day 2015, managing a seemingly infinite queue, chatting to customers with a patient and friendly demeanour. Truly, a crucial component of running a community record store is being an active part of the community.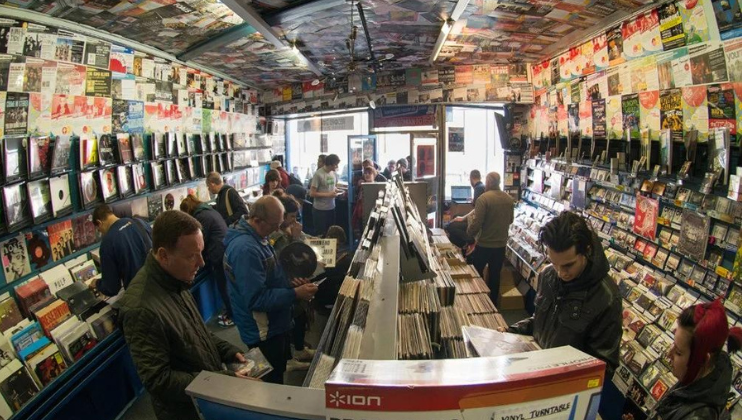 The shop itself has always boasted an eclectic mix of records, though mainly specialises in the pop-punk/emo variety, catering to the area's scene. From Modest Mouse and Brand New to the Modern Baseball's of our time, Banquet is encyclopaedic when it comes to the pop-punk lineage. If, like me, you have outgrown tattooed men whining about hating their town, the other side of the record shop contains an impressive mix of dance, hip-hop, IDM, DnB, afrobeat, and funk records, though this is primarily a place to find newer releases. For the old stuff, you'll have to walk a few minutes up the road to Shak's Stax of Wax, another impressive collection of olden goldies in Kingston. But I digress; while Banquet's selection is strong, thanks in no small part to their over-productive online orders presence, their popularity comes from their live events.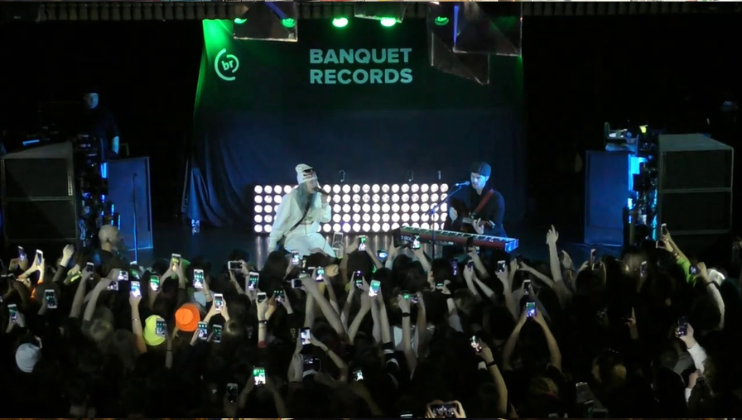 New Slang, named after The Shins' song of the same name, is an indie night that's been running for a decade, and has moved homes several times due to the near-constant closures of Kingston's music venues. It is now held at the towns PRYZM, a large venue that now holds all of Banquet's big gigs. Recently, The1975 played to a massive crowd at PRYZM, with tickets going for a good £60 cheaper than their only other London gig at the O2 Arena. This year also saw huge American names listed on a Banquet poster, including Machine Gun Kelly, Father John Misty, Avril Lavigne, and Sean Paul. A few massive UK artists have had a Banquet show this year too; Loyle Carner, Shygirl, Craig David, AITCH, Kasabian, Jamie T, Chase and Status, Alt-J, Knucks, and even Duran Duran. But it is their in-store gigs that feel extra special, having a big name artist just playing behind the till, inches from the register, rendering amps almost unnecessary. There are few places to find such intimate gigs on a regular basis, especially ones hosted just in the shop. Truly, the DIY spirit is kept alive inside Banquet.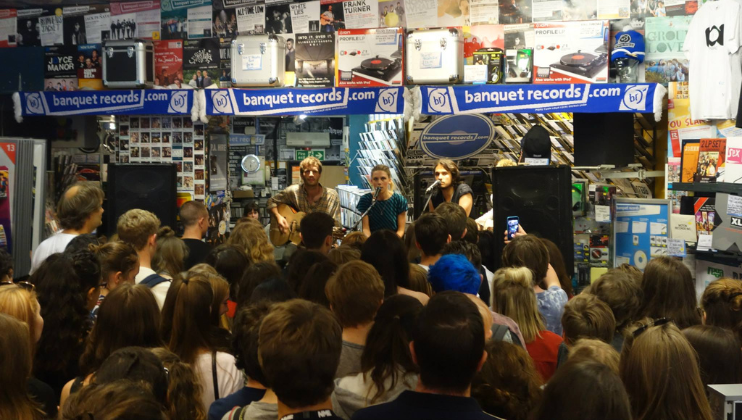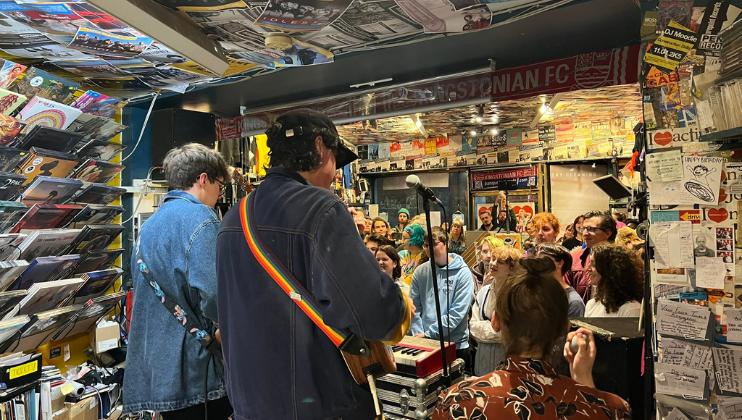 To many locals, it is a mystery how so many huge artists can be swayed by the modest Banquet Records, sitting in a part of London inaccessible by tube, around 10 miles from the city's centre, and yet, gig-goes travel from the other sides of London for reasonably priced tickets for huge artists. One could call it the 'Banquet Miracle'. The community spirit of Banquet carries into their type of events too; they will very often have signing events from major artists, Dizzee Rascal, Stormzy, slowthai, et cetera, with the artist sitting behind the till, singing CD's and shirts, taking pictures with visitors, offering fans a rare up-close glimpse of their favourite artist that they are highly unlikely to find outside of a Rough Trade. In essence, the artist becomes part of the Banquet community, the record shops ethos enforcing itself upon visiting artists.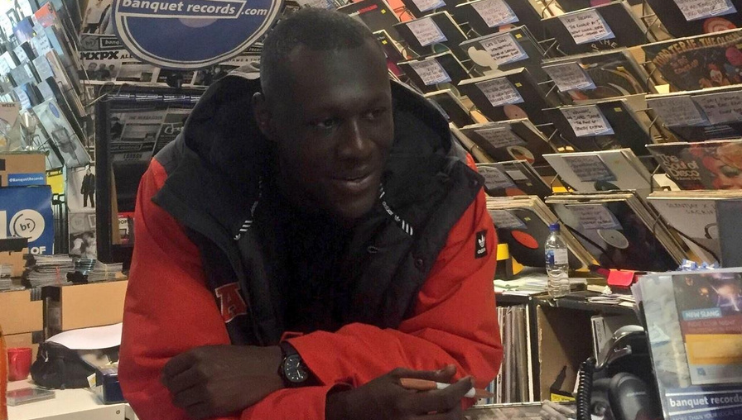 Their success has not gone unnoticed by the world at large; Banquet won Music Week's Independent Retailer award in 2017, winning it again in 2021. The same year, they passed a million online orders; recently their bought out the shop to the left of them to use it mainly as a packing facility, and it is rare to walk past the shop without seeing big piles of Royal Mail packages. My.london titled Banquet as "the tiny shop that's turned Kingston into London's answer to Glastonbury". In response to claims that the vinyl boom has passed its salad days, Tolley tells MusicWeek "It's not just about finances, it's about the appreciation of record shops too. And, in fact, that's the most important part of it." While it is doing more than enough to keep its head above water, it is heart-warming to see it headed by a team of people that are about the music.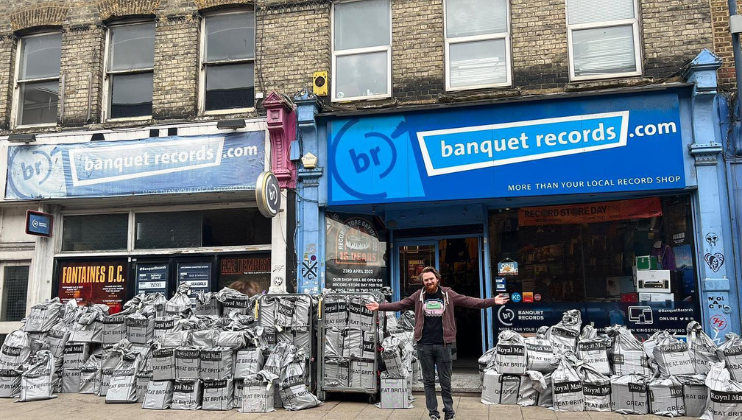 So, if you have a Railcard and a spare couple hours, take a trip to this corner of Zone 6 to enjoy arguably the most exciting musical event in outer London. Check their events page for upcoming shows, and be sure to check their online shop for new releases if it is too far to travel. If you don't have a local record shop to support, you can always support another one online rather than guilt-shop from a HMV. Staring into the face of constant record shop and venue closures, Banquet stands tall and strong. Every penny spent at Banquet will go toward the continuation of a thriving and exciting musical life that the beloved shop has locally generated.
---