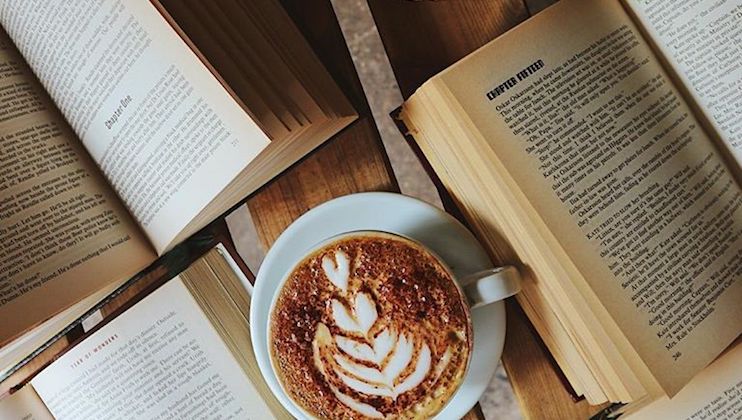 Support the high street with a trip to a local bookshop
Whether you're a Kindle convert or a paperback devotee, everyone loves a good novel. Wander past your local W H Smiths and avoid the allure of Waterstones (even though their cafes look so cosy), making a beeline for the unsung heroes of the High Street - the bookshop. Here are our top five in Manchester!
---
Didsbury Village Bookshop
The Art of Tea, 47 Barlow Moor Road, Manchester, M20 6TW
Nothing goes hand in hand quite like a good book, cup of tea and a huge slice of cake. You can get all of these things at The Art of Tea, an independent Didsbury café with a built-in bookshop! Head inside, past the bar and down into a treasure trove of second-hand books. The friendly bookshop owner is on hand to help you pick out a best seller or a classic, with piles of poetry, plays and Penguin classics to choose from. Once you've made your choice you can retreat back into the café, order yourself some treats and find a comfortable seat to get lost in your chosen tale.
---
Chapter One Books
Chatsworth House, 19 Lever Street, Manchester, M1 1BY
A one-stop-shop for arts and literature, this wonderful bookshop-come-café also hosts arts and crafts DIY workshops! This bookshop is a calming haven in the centre of the busy city, just moments from the Arndale Centre and offering a cosy spot to unwind with a hot drink and a new release. As opposed to Didsbury Village Bookshop (above), Chapter One Books stock brand new copies of new releases and popular recent novels. Their prices are pretty much the same as those at Waterstones, but by shopping here you're helping support an independent business, as well as enjoying vegan and gluten free treats whilst sitting down to dive into your book!
---
Manchester Bookbuyers
Church Street Market, Church Street, Manchester, M4 1PN
Heading back to the world of second-hand staples, Manchester Bookbuyers is a prime spot for stocking up on plenty of holiday reads. Rows and rows of eclectic books lie waiting to be thumbed through here at Bookbuyers, and a quick visit will often fly by when you get lost in the many genres on offer. As the shop's name suggests, you can also drop off some books to sell when you're finished with them! Clear out your shelves and pass your books on to the next loving readers, although we've no doubt you'll end up spending your earnings on more paperbacks before heading home. Be warned - their slogan is 'Kill the Kindle, buy a book!'… so maybe don't go flashing your E-Book whilst you're there.
---
Chorlton Bookshop
506 Wilbraham Road, Manchester, M21 9AW
A family-owned and family friendly bookshop is well worth a visit in the Chorlton area, where shelves stacked high with books for all ages line the walls. Located on a pretty suburban street, the shop is a quiet haven just a short distance from the city centre. This bookshop sells brand new books, with all genres well covered. They have a well-stocked section of Music books to celebrate Manchester's vibrant musical history, as well as heaps of kid's books that your young ones will adore. What sets this shop apart from others on our list is its ever-popular book ordering service. Drop in, order whatever book you fancy, and you'll get a text when it's arrived in store - muchbetter than ordering from Amazon and just as easy!
---
Paramount Books
25-27 Shudehill, Manchester, M4 2AF
Follow the opera and jazz jubilantly filling the streets of the Northern Quarter and head into Paramount Books, an ever-popular family business that's been open since 1965. This completely unique bookshop is filled to the brim with rare finds, classic novels and second-hand delights. They boast a selection of out of print books and are a must-visit location for fans of fantasy and science fiction. You'll also find an abundance of vintage comics and magazines which are as aesthetically pleasing as they are fascinating and entertaining. The perfect stop off for a book worms birthday present, you're guaranteed to come home with something completely unique from Paramount Books!