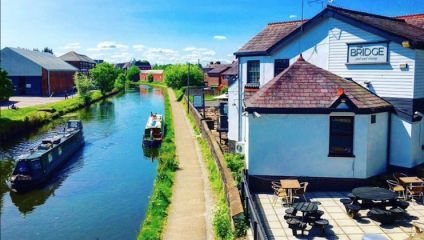 Some of the best spots to sink a pint in South Manchester
Just a half hour tram ride from Piccadilly Gardens, Altrincham is a quiet hub in an otherwise busy city, and a wonderful destination to head out for a beer (or two). With pubs where you can sit and watch planes fly overhead from nearby Manchester airport and places close to National Trust beauty spots for an outdoorsy day out, here's our roundup of top pubs in the Altrincham and Sale area.
---
The Bridge Inn
Dane Road, Sale, M33 7QH
What? A recently refurbished pub with an excellent Sunday lunch.
Where? Perched on the canal, just outside of Sale.
Why? A pleasant pub that has it all. The vast beer garden stretches right out onto the canal banking and is the perfect spot to enjoy a few beers on a summers evening. Both child and dog friendly, the pub is a great spot to meet up with friends on a weekend safe in the knowledge that it's not going to get too lairy. Their menu is pretty standard gastro-pub grub, but their Sunday lunch excels, offering massive Yorkshire puddings alongside beef, pork or lamb.
---
Swan with Two Nicks
Park Lane, Little Bollington, Altrincham, WA14 4TJ
What? Traditional, village style pub.
Where? Around a 10-minute drive from Altrincham town centre and less than half a mile from the brink of the Durham Massey National Trust spot.
Why? An authentic pub experience, offering a host of local ales and a fresh food menu. Despite being just 40 minutes from Manchester city centre, Little Bollington has a true countryside feel, and the community flocks to the Swan with Two Nicks for a cosy bite to eat and a roaring log fire.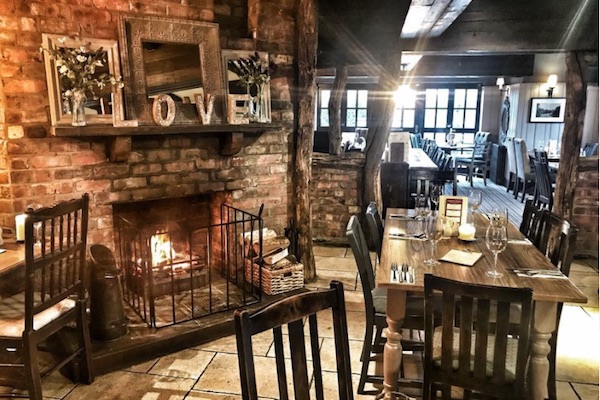 Image credit: The Romper via Facebook
---
Romper
Wilmslow Road, Altrincham, WA15 8XJ
What? A pleasant chain pub in a funky converted coaching inn.
Where? Minutes from busy Manchester airport.
Why? Stick in your comfort zone and enjoy this charming Chef & Brewer pub. The pub's close proximity to the airport makes it a great place to stop off if you're ridiculously early for your flight or need a spot of Dutch courage before take-off. Their large beer garden is also great for people who love watching planes fly overhead, more than likely jetting off to sunny and exotic locations!
School Lane, Dunham Massey, Altrincham, WA14 4SE
What? Another dependable Chef & Brewer pub with great family atmosphere.
Where? Right next to the National Trust spot, Dunham Massey.
Why? An ideal spot for when you've completed a walk around the Dunham Massey park, this place is perfect for grabbing a bit of quality pub grub and a few cold drinks. They sell a jug of Pimm's for just £12.99 which should be enough to sway anyone in their direction.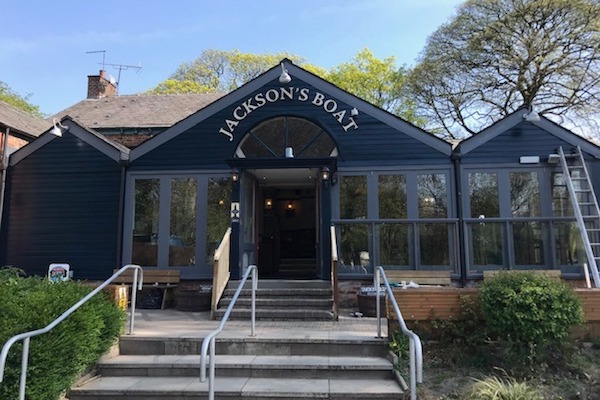 Image credit: Jackon's Boat via Facebook ​​​​​​​
---
Jackson's Boat
Rifle Road, Sale, M33 2LX
What? Cosy pub with their own Ale (brewed by Beavertown Brewery) and a food menu just for dogs!
Where? Right by Sale waterpark, which we recently included in our Open Water Swimming guide! Cool off after a swimming session with a hearty meal at here at Jackson's Boat.
Why? A traditional English pub, with a spacious beer garden, kids playing area and a warm welcome for your four-legged friends. Pop by to try their unique Jackson's Boat Ale, or head down on a Sunday to share one of their Sunday dinner sharing platters.