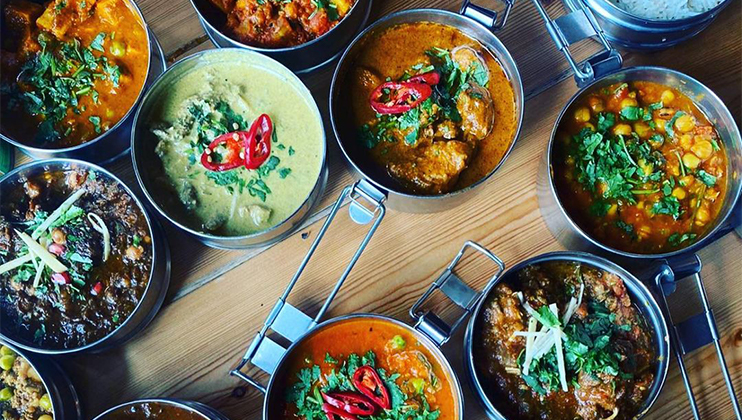 Can't decide where to eat? We've got you covered with Manchester's best street food…
Getting a group of friends to decide (unanimously, that is) what cuisine to dine on can be a struggle in a city with so many amazing restaurants. Street food has, thankfully, moved on from a soggy burger or a questionable hot dog, and is now one of the more up-and-coming ways to try brand new cuisines and/or talented chefs, so check out our selection of the best street food in Manchester!
Mackie Mayor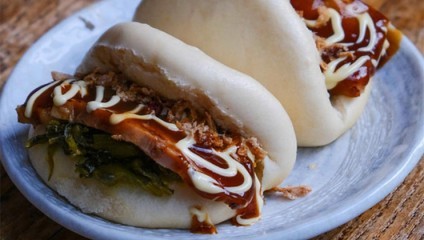 What? Trendy indoor food market with 10 food and drinks vendors and a huge communal seating area.
Where? In the Grade II listed Smithfield Market, just down the road from popular music venue Band on the Wall.
Why? This trendy spot for casual dining offers a huge range of amazing street food dishes and delicious drinks, perfect for an afternoon bite before hitting the pub. Their Instagram is a wonderfully curated gallery of mouth-watering dishes, ranging from early morning avo on toast to late night espresso martinis (and everything in between). They're super family and pet friendly, with a play area for kids and a warm welcome to your four-pawed pals.
What should I order? Pizza from Honest Crust and a local ale from Blackjack.
Mackie Mayor can be found at 1 Eagle Street, Manchester, M4 5BU

---
Altrincham Market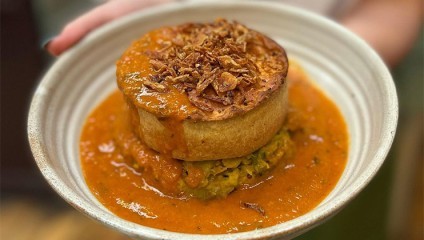 What? Award-winning indoor food hall with kitchens and market stalls selling tasty produce, street food and unique wares.
Where? Just a 5-minute walk from Altrincham tram station, south of Manchester city centre.
Why? Boasting a selection of several street food vendors, a coffee shop, chocolatier, wine shop and bar, this is a one stop spot for picking up some local produce and enjoying some delicious street food! With their Covered Market, Market Square and the original Market House (which dates back to 1879!) you won't find it hard to while away an afternoon in this unique spot.
What should I order? Unforgettable pies from the Great North Pie Co – you are in Manchester after all.
Altrincham Market can be found at Market House, Greenwood Street, Altrincham, WA14 1SA
---
Hatch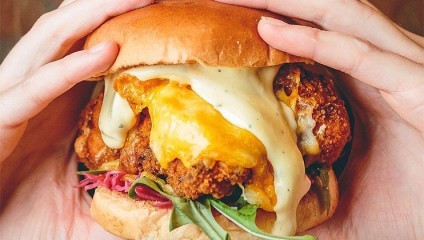 What? Trendy shipping container hang out and street food spot à la London's Boxpark.
Where? Opposite Manchester Metropolitan University, on Oxford Road.
Why? This unique spot boasts independent shops, plenty of bars and loads of street food options. Ranging from Sicilian street food by Tarricrii, to loaded fries and vegan "wings" from Herbivorous – expect to get it all in this student-loved location.
What should I order? You might be over 100 miles from Middlesbrough, but you should most definitely try a chicken parmo from Parmogeddon.
Hatch is located at 103 Oxford Road, Manchester, M1 7ED
---
Piccadilly Gardens Street Food Market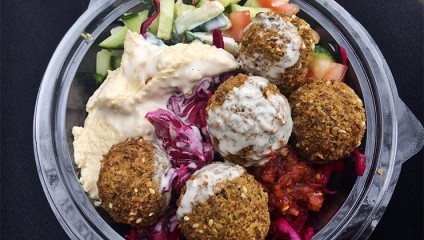 What? Pop up street market open Wednesday to Sunday for city centre shoppers!
Where? Piccadilly Gardens, down the road from the Arndale Centre and opposite the huge Primark.
Why? You're relying on brighter weather when it comes to visiting this open-air street food market, but the unforgettable aromas of world cuisine whilst you shop will no doubt give you a reason to stop and indulge. Featuring Spanish, Turkish, Chinese, Afro-Caribbean and many more delicious vendors – this street food market is a great chance to try something new.
What should I order? Goat curry with rice and peas at OSA, the perfect Caribbean antidote to a rainy Manchester afternoon.
Piccadilly Gardens Street Food Market is located at Piccadilly Gardens, Manchester, M60 1AY
---
Mowgli Street Food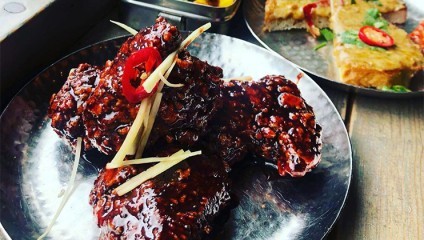 What? Not a street food market, but a beautifully designed restaurant with a menu inspired by authentic Indian street food and nostalgic homemade dishes.
Where? Now with multiple restaurants around the UK, Mowgli Manchester is located in the Corn Exchange on Cathedral Street.
Why? Founded on a desire for authentic Indian street food and home cooking, Mowgli champions the fresh flavour and diversity of real Indian food. The result is a menu of fun veggie and meaty street food, warming curries and comfort food.
What should I order? The Mowgli Chip Butty inside a roti is a surefire lunch favourite, or for a surprise, go for the Tiffin Boxes, with 4 pot-luck elements chosen by the chef.
Mowgli Street Food can be found at Corn Exchange, Manchester, M4 3TR

---