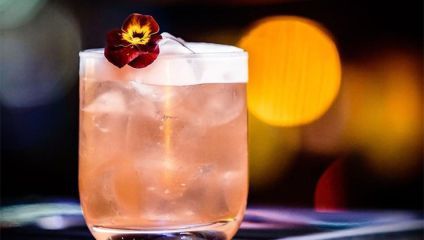 Manchester's nightlife boasts a myriad of fantastic hot spots and there is no shortage of exciting things to do in the city. When it comes to lively activity bars with a fun twist, there are plenty to choose from. From classic nostalgia through playing beer pong and video games, to (supervised) axe throwing.
It can be difficult to select when there are so many nightlife options, so we've narrowed it down to our top 5 for you.
ROXY BALL ROOM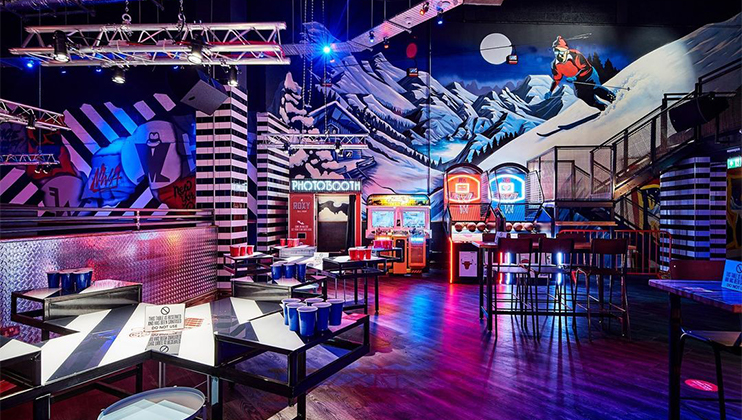 76-78 Deansgate Manchester, M3 2FN
The most versatile of the activity bars in Manchester. Roxy Ball Room has a lot to offer when it comes to fun, friendly games with bowling, beer-pong, "crazy pool", shuffleboard, olympic sized ping-pong tables and arcade games available. They've even managed to squeeze in an 18 hole mini golf course, you know,… in case Junk Yard Golf happens to be overbooked.
The menu is packed with tasty treats such as burgers and wings, alongside nachos and pizzas. With sixteen draught lines and a bunch of cocktails to choose from, the Roxy Ball Room gives you the perfect night out, with some great drinks to wash it all down with.
---
TWENTY TWENTY TWO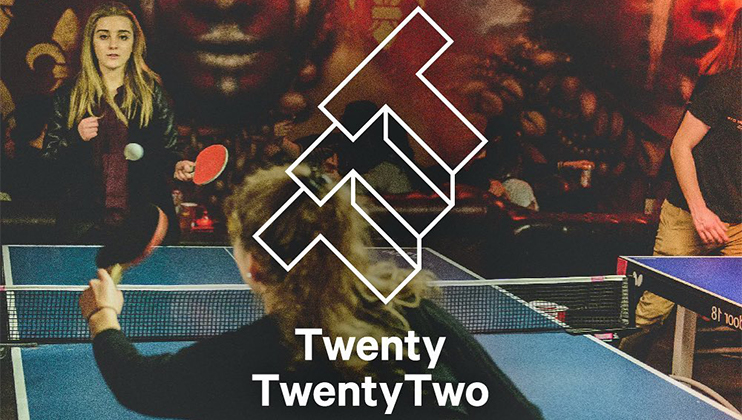 The Basement, 20 Dale Street, Manchester, M1 1EZ
If you need a ping pong fix, head to Twenty Twenty Two for a night devoted to the game. Hidden away in the Northern Quarter of Manchester, this bar lies down an unsuspecting alley greeting its guests with a ping pong paradise upon entry. Hosting frequent events, DJ's, decent Happy Hours and costing only £7 to rent a table for 30 minutes, Twenty Twenty Two is one of our most affordable activity bar options.
If you've got champagne taste with lemonade pockets, head down on a Wednesday where bottles of Prosecco are £15 and cocktails are £5 all night! Or, you could try your hand at beating the bartender on a Thursday for the chance to win a free round! Those who want to get really serious can head down on the second Tuesday of every month, where a ping pong tournament offers you the chance to win a £100 bar tab.
---
FLIGHT CLUB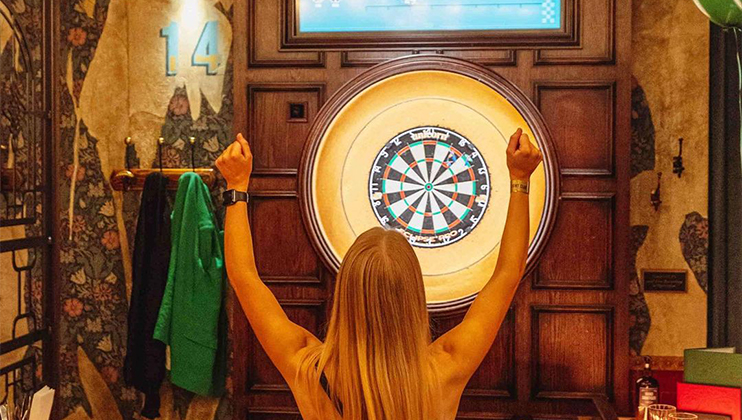 Ship Canal House, 98 King Street, Manchester, M2 4WU
Flight club has given Manchester's nightlife (and darts) a makeover, channeling the energy of a good old fashioned British pub equipped with a unique darts vision system which scores your game as it goes. Your sessions can also be filmed and photographed with a unique story being sent to you the following day allowing you to relive your best wins (or losses!). Paired with bottomless brunches and a delicious menu of cocktails.
Perfect for birthdays, work dos, or post-pandemic reunions- the venue has 14 private spaces to enjoy with your squad, a large bar area, and live DJ's regularly playing too.
---
DOG BOWL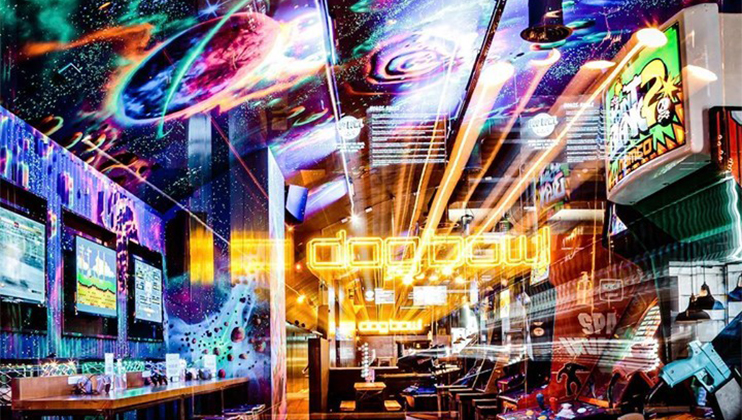 Whitworth Street West, Manchester, M1 5WW
Bowling is pretty much the original activity bar, but with heaps of options across Manchester we thought we'd bring you the dog's biscuit of them all (excuse the pun). Dog bowl provides a slice of New York just off of Oxford Road combining ten-pin bowling with an über cool cocktail bar and diner-style menu. They only have 5 lanes so we highly recommend pre-booking to avoid any disappointment. It's also worth checking out their happy hour menu from Sunday- Friday with drinks starting at £3.50.
Lanes are priced per person and cost between £6 and £9, with discounts for students and bowls after midnight.
---
POINT BLANK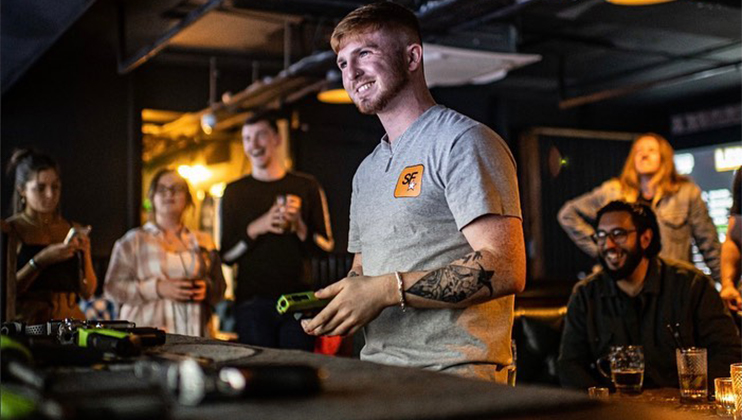 Point Blank, Basement, 78 Deansgate, Manchester, M3 2FW
You probably haven't considered a virtual shooting range as an option for Friday night drinks, but at point blank, you can unleash your inner 007 with a pint, a point and a shoot. With a high tech simulation that is accurate to 0.3mm and over 200 scenarios to choose from you won't need any further plans. Add some cocktails (shaken or stirred) and some tasty bar snacks and starting at just £10 per person, you can bring a whole new approach to your evening out.