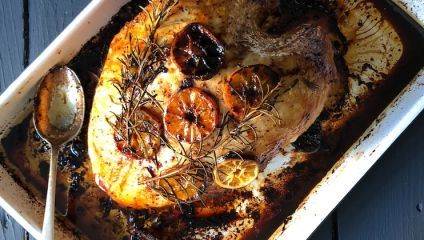 As important as having a biscuit with a proper cup of tea, the Sunday roast is a beloved British tradition. Across the country, in countless homes, pubs and fine dining restaurants, superb roasts are served, and Sheffield is no exception. While the South Yorkshire city may be synonymous with steel, it is also home to some fantastic pubs and eateries dishing mouthwatering roasts with all the trimmings. Spend your Sunday the right way with our guide to the city's finest roast dinners.
---
Devonshire Cat
Image credit: Devonshire Cat/ via Instagram
The recently revamped Devonshire Cat is renowned for its passion for great food and impressive selection of beer. Using locally sourced produce to create fresh, homemade dishes, including a hearty Sunday roast, the laid-back pub has quickly become a local favourite. Tuck into humongous Yorkshire puddings and enjoy one of the fantastic draught or bottled beers - Sunday sorted.
Devonshire Cat can be found at 49 Wellington St, Sheffield S1 4HG.
---
The Milestone
Image credit: The Milestone/ via Facebook
For a slightly more upmarket Sunday roast, there is simply no better than the critically acclaimed The Milestone. Tucked away in the heart of Kelham Island, the contemporary gastropub is one of the city's finest, and most popular, establishments. Dedicated to using locally sourced produce, The Milestone's regularly changing, seasonal menus feature dazzling nose-to-tail modern British cuisine. While the Sunday roast offerings include the classic roast topside of beef, venture outside of your comfort zone and try the lavish truffle nut roast, which has won over vegetarians and meat-eaters alike.
The Milestone can be found at 84 Green Ln, Sheffield S3 8SE
---
The Red Deer
Image credit: Red Deer
This classic, cosy pub dishes up a winning Sunday lunch. Catering for all dietary requirements, the extensive menu will please even the fussiest of diners. Indeed, in addition to the usual Sunday lunch choice of a meat or veggie roast, the Red Deer even offers a vegan option. The hearty portion sizes, real ale taster paddles, and friendly atmosphere only add to what is a charming, unpretentious spot to indulge in a top-notch roast.
Red Deer can be found at 18 Pitt St, Sheffield S1 4DD
---
The Devonshire
The Devonshire Sheffield/ via Facebook
Formerly known as The Old House, The Devonshire (which recently rebranded to reflect the building's heritage) is a rare find - a central pub serving a fabulous Sunday roast that doesn't break the bank. Served with all the trimmings (and piles of gravy), choose between Topside of Beef, Moss Valley pork leg, or a vegetarian roast. Honest cooking, extremely generous portions and good drinks - what better way to spend a Sunday afternoon?
The Devonshire can be found at 113-117 Devonshire Street, Devonshire Quarter, Sheffield, S3 7SB
---
Rutland Arms
Image credit: Rutland Arms/ via Facebook
A dog friendly pub with an old school British charm AND a juke box? The Rutland Arms has it all. Located in the heart of Sheffield's cultural industries quarter, the thriving pub is a local gem. Often packed with Sheffield United Supporters enjoying a pre or post-match pint, the Rutland Arms also serves imaginative pub food, and a cracking Sunday roast. Sit back, relax and enjoy meaty cuts from local suppliers Heeley City Farm, and sip on one of the pub's extensive selection of real ales and ciders.
Rutland Arms can be found at 86 Brown St, Sheffield S1 2BS
---
Bonus:
---
Twisted Burger Company
Image credit: Twisted Burger Company/ via Facebook
Tired of the traditional Sunday roast? Pop by Sheffield's premier music venue The Harley where the Twister Burger Company is offering a Sunday lunch…. in a burger. The famous 'Moist Maker Sunday Dinner' burger has gained somewhat of a cult following amongst hungry, and hungover, locals. With beef, lamb and vegan versions available, anyone can sample the fusion of two of the country's favourite meals. A delicious invention, or an absolute monstrosity? You be the judge.
Twister Burger Company can be found at 334 Glossop Road, Sheffield, S10 2HW