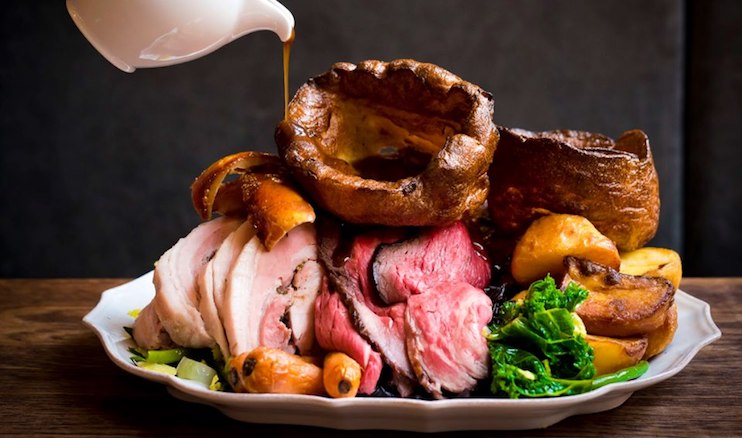 The perfect way to end the week in Manchester is with a tasty roast, here are our top 5…
If there's anything that will warm you up on a brisk Sunday, or satisfy the post-hangover cravings… it's a Sunday roast. It may be the perfect way to end the week but with so many great places to choose from in Manchester, selecting can be a bit of a headache. So we've scoured the city and found the best places in Manchester to enjoy a Sunday roast, and in the mean time we're also saving you a mountain of pots to wash… you can thank us later.
The English Lounge
64-66 High Street, Manchester, M4 1EA
From the outside, The English Lounge looks like a luxury hotel, but on the inside, it's a touch from home. This traditional English pub is a perfect destination for a 'good old' Sunday lunch. For just £12.95 you can enjoy mouth-watering half a British roast chicken or a cut of 21-day aged topside of beef, and for £12.25 you can choose a veggie Butternut squash tart, all of which comes with bottomless gravy and unlimited yorkies. You can also add a pudding for just £3! The English Lounge also serves up pub classics meaning that it's a perfect spot for families. The pub, situated on the edge of Manchester's famous Northern Quarter, is highly rated for serving great quality meat, as well as being great hosts to all customers due to its exceptional customer service. So, if you enjoy a Sunday roast with your family, in a traditional British pub, then The English Lounge is the place for you.
---
Albert's Shed
18-20 Castle Street, Manchester, M3 4LZ
Situated in the Castlefield area (near Deansgate Station), Albert's Shed is renowned for being an upmarket eatery. Its 'rustic meets class' décor makes it a great spot for enjoying a hearty meal in a top-quality setting. Its à la carte menu does not drop its standards when it comes to the British classic of a Sunday roast. On the set menu, you get a choice of a roast rump on beef, loin of pork, the day's fish, Malayan chicken or a Lancashire cheese and onion pie.
There's also vegan, vegetarian and gluten free options available on request.
All in all, Albert's Shed is a great spot for an afternoon or evening of fine dining, making it a great place to enjoy one of the country's favourite meals. They also have Albert's restaurants in Didsbury and Worsley!
---
Refuge
Oxford Street, Manchester, M60 7HA
Refuge by Volta, formerly known as the Refuge Assurance Building after the insurance company, is a grand historic building that has been transformed into an elegant fine dining venue. If you are looking for a restaurant that will make you feel like you are in the upper echelon of society, this is the venue for you. Its exquisite all-day Sunday roast menu is the place to look if you are after an unforgettable Sunday Roast experience. For £17, you get the choice of either rump of beef, suckling pig, half roast chicken infused with garlic, thyme and butter or a vegan roast (£15). This comes with all the usual trimmings to complete a luxurious Sunday dinner. They also offer a roast platter for two for £39, which includes a little bit of everything. Refuge also has a Winter Garden as well as a bar, making it a great place to enjoy a Sunday afternoon in a classy venue. Be sure to start the meal with a master Bloody Mary to help cure the woes of the night before.
---
The Fountain House
14 Albert Square, Manchester, M2 5PF
Situated, as expected, in Manchester's famous Albert Square, The Fountain House is a touch of class, as well as a touch from the past. The exterior is grand, resembling a timely, posh hotel, whereas the inside resembles a traditional, truly British pub. The food is highly rated and is known for serving "classic British cooking with a modern twist". On a Sunday you can choose from roast chicken, slow-roast pork belly, a vegan wellington or for those that are really hungry (or can't decide) a trio of roast pork belly, chicken and beef.
These all come with the must have Sunday trimmings, or you can choose a regular pub grub dish such as cider battered fish and chips or a mouth watering short rib and flank burger. So, if you enjoy the good old traditional British roast dinner and want to enjoy it in a truly British venue, then The Fountain house is the place for you.
---
Elnecot
41 Blossom Street, Cutting Room Square, Manchester, M4 6AJ
Less options means less trouble choosing right? Elnecot have managed to cleverly combine mouth watering flavours to satiate the desires of anyone craving a good ol' fashion roast dinner. From crispy slow roasted pork belly to lemon and thyme butter nut roasted poussin, go for the beef or head in for a surprise and let the waiter tell you what their roast of the week is. There's a sumptuous nut roast available as a vegan and vegetarian option also.
Each meal comes with sides and roast is served from 1.30pm until they run out. Better hurry and book your table now, the earlier the better… these meals go fast!
---