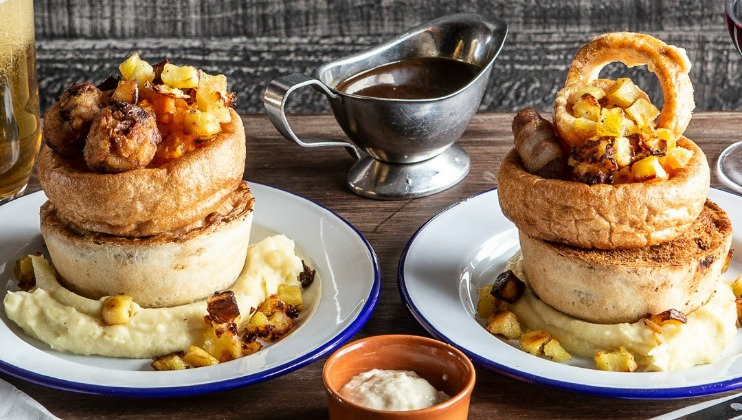 Nowt' says Manchester quite like a proper decent pie, read on to discover our favourite places to try delicious pie and get your hearty shortcrust goods here…
The Barking Dog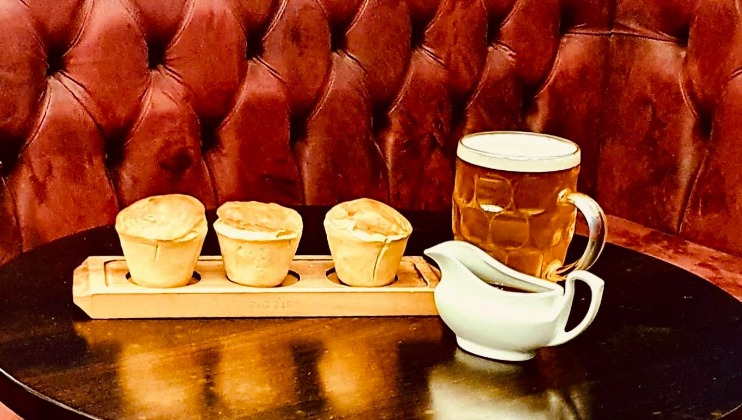 9a Higher Road, Urmston, Manchester, M41 9AB
The humble pie is king of the pub grub, so where better place to enjoy one than in a Manchester local. Head to Urmston and visit The Barking Dog, famous for its Sunday Roast Pie and other variations available the entire week through. As its name might suggest, dogs are welcome here at The Barking Dog, making it a perfect stop off after a day out on Urmston Meadows or a walk along the River Mersey.
On the menu you have the classics; steak and ale and chicken and mushroom. You can't go wrong with those. However, you might want to push the boat out a little bit and try a curry pie (which is exactly what it says on the tin) or a vegan spiced Moroccan lentil pie! The curry pie comes with rice and potato wedges, but you're welcome to choose two sides with any of the other pies on the menu. If you don't order mushy peas and mash, however, we will judge you from afar. As with any respectable Northern pie, you'll get a solo gravy boat along with your meal - there's no sharing where gravy's involved.
---
Pie & Ale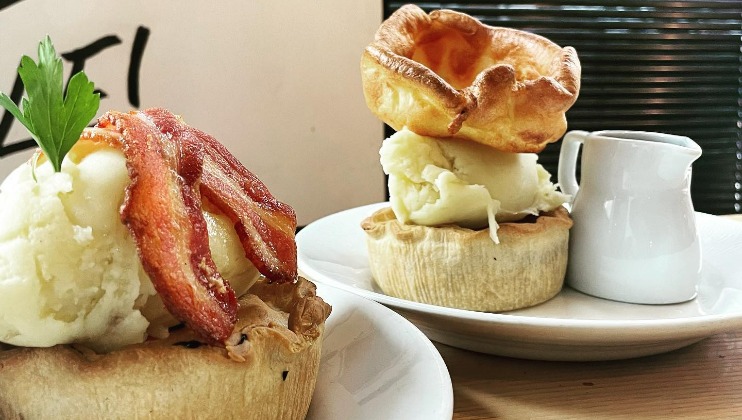 1 - 2 The Hive, 47 Lever Street, Manchester, M1 1FN
This hidden Northern Quarter gem gives you the simplicity of a pie and a pint. Pie & Ale was started in 2013 by a husband and wife team priding themselves on their good service and friendly team. They're open seven days a week from 12pm and play all sports games. This place is unashamedly none-fine dining and a great spot for a quick bite to eat. Pie & Ale have six regularly changing cask ales and sell both savoury and dessert pies.
If you wish to make a booking or find out more, click here.
---
Galloways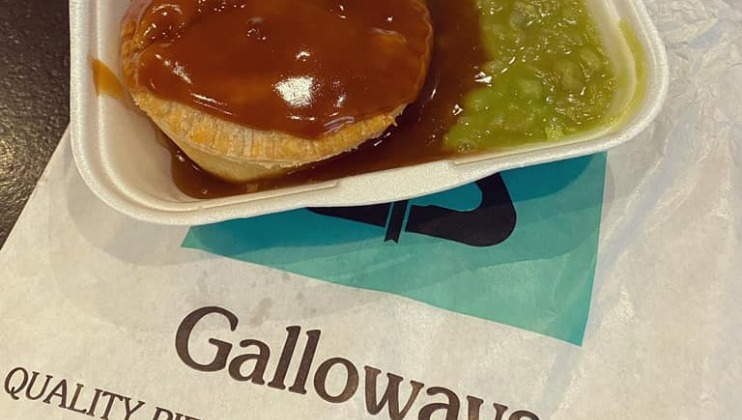 33 Wallgate, Wigan, WN1 1BE (and many other locations)
Okay, so we are aware that Galloways is in Wigan, not Manchester. However whilst not in direct proximity, it absolutely deserves a mention. It is arguably the best pie shop in the UK's capital of pies and home to the infamous 'pie barm' (that's a pie sandwich to anyone who doesn't know). This down-to-earth bakery offers your quintessential meat and potatoes pies, along with other tasty treats such as pasties, pastries and breakfast rolls. They've been in the business since 1971 (so we'd gather they'd know a thing or two about a good pie). Trust us, give Galloways a try, you won't regret it.
---
Pieminister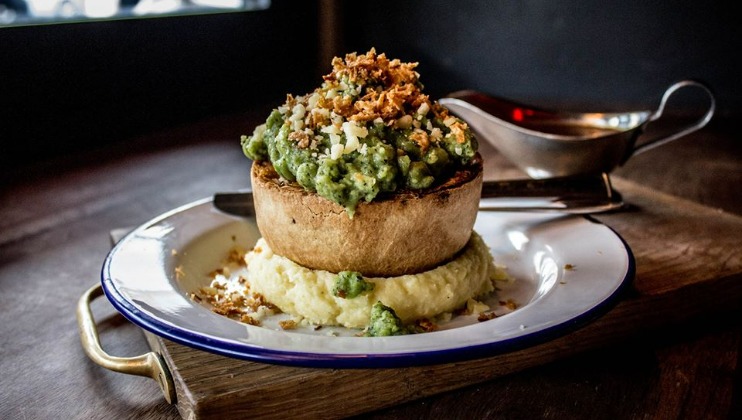 53 Church Street, Manchester, M4 1PD
Pieminster was birthed in 2003 after indulging on pies whilst travelling around Australia. Jon and Tristan (shop owners) decided to reinvigorate the humble British pie from humble beginnings (they only sold five pies on their first day!). Not long after, simply because of how mouthwateringly rich their pies were, there was a queue out of the door. They offer some wonderfully original creations with vegetarian and gluten free options too. Pie for everyone!
We highly recommend trying the Fungi Chicken consisting of free range British chicken, portobello and chestnut mushrooms or the Gluten Free Mooless Moo made from jackfruit 'steak', gluten free craft ale and black pepper - completely vegan friendly and gluten free. If you're not in the area and fancy indulging in the flavour again you can pick up their pies from most of your local supermarkets. It's a win- win! To book a table or acquire more information, click here.
---
Great North Pie Co.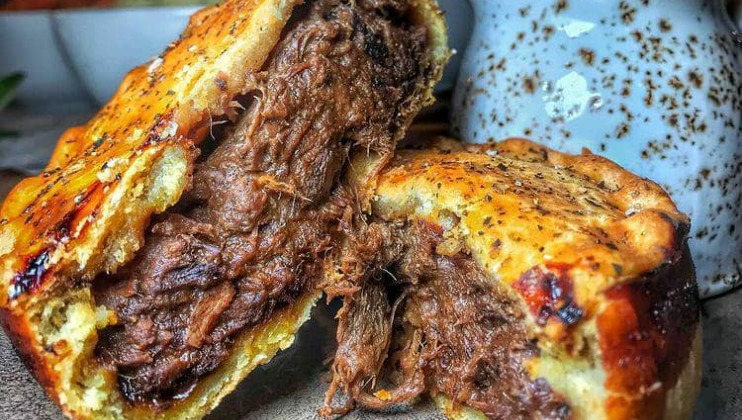 Unit 2A Deanway, Manchester Road, Wilmslow, SK9 3HW
Mixing tradition with tonnes of research (tasting a lot of pies I guess) and quality ingredients. The Great North Pie Co truly works on satisfying your hunger through heritage and honest baking. With all butter recipes for their pastry and the intention of paying tribute to the Scotch pies they so fondly remember growing up on.
They've managed to win many awards and boast a delicious menu that changes seasonally. You can even enjoy their pies from the comfort of your own home. Shop them for £4.25 per pie here.
---
Idle Hands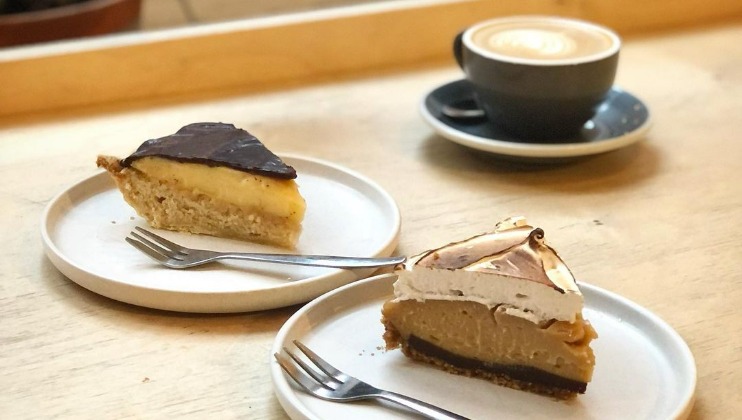 Dale House, 35 Dale Street, NQ Manchester, M1 2HF
When it comes to pie, we won't restrict ourselves to just the savoury kind. Let us not forget pumpkin pie, orange meringue and pecan and all of the delicious sweet options that the world of pie has to offer too. To put it simply, Idle hands serves coffee, craft beer, brunch food and most importantly pies. Of the sweet kind! From vegan cherry, to cookie dough, to banana cream you will be spoilt for choice. Good thing you can order several slices!
You can view the selection and order via their website here.
---