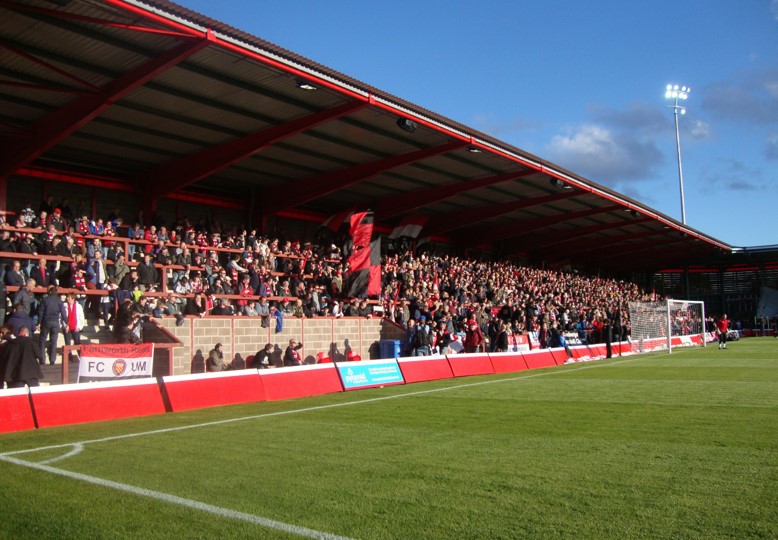 Go See This contributor Adam Welch provides great insight into Manchester's local football teams and reminds us how much fun…
Go See This contributor Adam Welch provides great insight into Manchester's local football teams and reminds us how much fun it is to watch live sport!
Love football but find it hard to finance watching live Premier League action? Here are 5 brilliant non-league sides within Greater Manchester that are not only affordable...but entertaining for all football fans.
Football is an expensive hobby, especially in Manchester. With the on-going success of Manchester City, the two Premier League sides in our great city have now become super clubs within the footballing world, meaning that not only are tickets hard to source, but attending a match could become a very expensive day out! That's why I have put together a list of 5 non-league teams in Greater Manchester, meaning that every football fan can have the chance to watch live football on a regular basis.
---
Droylsden FC
Droylsden FC currently play in the 8th tier of English football, along with other local teams, Trafford, Hyde United and Atherton Colliers. Based in the small town of Droylsden, the club play their home matches at the Butcher's Arms ground, which was built in 1892 and holds a capacity of 3,000, with 500 covered seats. The ground is easily accessible from Manchester city centre as it is only a 10-minute drive, as well as being accessible via the Metrolink. Not only is the ground easy to travel to, admission fees are very reasonable as entry is priced at £8 for adults, £5 for concessions and only £1 for under 16s!

The team are currently placed 12th in the Evo-Stik Northern Premier League, a league much lower than what they are used to. This is because in the 2012/2013 season, the club were hit with hard financial issues, causing performances to suffer. With trouble on and off the pitch the club faced two relegations, however, the club have steadied themselves and after a mid-table finish last season, they are looking to improve and get back up the divisions. Therefore, if you decide to go along, expect to see a team with fight, passion and an attacking mentality as they aim to get back to where they belong. They next play at home on the 10th April versus Colne with kick-off at 7.45pm.

Overall, if you are a football fan and looking to watch a team that provide entertaining football, but also don't break the bank in the process, Droylsden FC are a definite candidate!
Droylsden FC, Butchers Arms. Image Credit: Bill Boaden
---
Curzon Ashton
Placed at number 4 is Curzon Ashton. Based in Ashton-Under-Lyne, the team play in the 6th tier of English football known as the National League North. They play their home games at the Tameside Stadium which was opened in 2005 by none other than Sir Alex Ferguson! Their ground is fitted with two covered stands and is fully terraced on all 4 sides, meaning that you will have a clear view of the action wherever you go. The ground holds a capacity of 4,000 and despite being for a semi-professional side, it holds the FA 'B' grading, meaning that its facilities are professional standard! Even with the professional standard facilities, the entry fees are rather reasonable. Admission for adults is just £12, concessions get in for just £6 and under 16s get in for just £3!

Despite only being a small club, they have several honours to their name including winning all regional titles and cups during their journey to becoming a staple side in the National League. Last season they even managed to get to the second-round proper of the famous FA cup, something which does not happen often to semi-professional sides. One more win and they would have been in the same draw as Premier League teams!

Curzon Ashton currently sit 18th in their respected league but are currently on a run of good form. They have 3 wins in their last 5 matches as they fight against relegation. Their next home game is on Thursday 5 April against fellow relegation candidates Alfreton Town, so expect a hard-fought battle from the first whistle to the last. If you're looking for a great day out with your family, why not head to Curzon Ashton and watch 90 minutes of attacking, hard fought football, for a rather affordable price.
---
F.C. United of Manchester
F.C. United of Manchester are a semi-professional club based in Moston and are the newest team out of the 5 as they were only formed in 2005. The club was formed by a group of Manchester United supporters who were annoyed at the club's controversial takeover by Malcolm Glazer. After just 13 years in the business, the club has expanded and developed quickly and have become a solid mid-table side in the National League North, playing aggressive and old school styled football. They play their home games at Broadhurst Park which has a capacity of 4,400. The ground was only finished in May of 2015 meaning that it is not even 3 years old! It is fully equipped with 4 covered stands, 3 standing and one seated. Even though the ground is not even 3 years old, admissions prices are very cheap with adults getting in for just £10, concessions at £6 and under 18s for just £3!

Since this side is owned and run by a group of fans, the fan base is known throughout the league as being one of the loudest and passionate fans in the league. This passion for the club is reflected by the work off the pitch as the fans go out of their way to make the club they love resemble a professional club. This is due to the fan run radio station which broadcasts the games live, as well as having their own online TV site where fans upload match highlights.

They play their next home game on Saturday 14 April versus Darlington FC with kick-off at 3pm. So, if you decide to head to a game at Broadhurst Park, get your singing voice ready as expect passion on and off the pitch for the entire 90!
Salford City FC, Peninsula Stadium
---
Stockport County
At number 2 is a side who once previously appeared in the top division of English football, Stockport County. The side which have been around since 1902, have one of the most lucrative histories out of all non-league sides. The side are currently 7th in the National League North (6th tier of English football) but are only there due to previous financial issues. Following their promotion to League 1 in 2008, the club were hit with huge financial issues causing back to back relegations. However, the side have steadied themselves and are now back on the up as they are pushing for a playoff place, meaning that good quality football will be viewed.

The side play their home matches at Edgeley Park and has been the teams home for the entirety of their history. It has a capacity of over 10,000 and is the biggest in the league and one of only a few non-league grounds that is entirely seated, meaning no standing on cold concrete steps! Like F.C. United of Manchester, Stockport's' fanbase is known throughout the league for its loud atmosphere as the main stand, called the Cheadle End, houses a group of 3,000 passionate fans nicknamed the 'Cheadle Enders'. It's amazing how low-priced admission is despite being one of the biggest sides in non-league as adults get in for £15, concessions for £10, 6 to 17-year olds get in for £5 and children aged 5 and under get in for free!

They play their next home game on Saturday 14 April vs AFC Telford United and is guaranteed to be an entertaining game of football. So, like football but can't afford high ticket prices? Well, Stockport is a great option for an old-school footballing day out.
---
Salford City
Salford City are a non-league team destined for great things! The club who until recently were in the 8th tier of English football, find themselves at the top of the National League North (6th tier) and look to clinch promotion to the National League, meaning they will be only one promotion away from League 2. This has all been due to the new influx of money from Manchester United Legends, the class of '92. These include Gary Neville, Phil Neville, Ryan Giggs, Paul Scoles and Nicky Butt who all came together and collectively own 50% of the club. Upon becoming shareholders, a two series documentary has been made documenting this journey. This has allowed the club to become a full-time club (one of a few in non-league football), causing back to back promotions. The team that has been built deserve to be at the top due to the attacking mentality that both the players and managers hold, creating entertaining and match winning performances. Expect to see goals watching Salford as they have scored 15 goals in there last 6 games!
You will certainly get your money's worth watching Salford due to the low entry fees being just £10 for adults, concessions for £5 and under 5s for free. Not only will you get to watch entertaining football for the small entry fee, you will also be watching it in the newly renovated Penninsula Stadium, holding just over 5,000 fans. The new ground comes complete with 4 covered stands (2 seated, 2 standing), as well as a new fan zone, complete with food and drink stalls and a club shop for matchday merchandise. If you do end up enjoying watching Salford and want to watch them on a regular basis, season tickets are incredibly cheap with an adult season ticket (covering 23 home games) costing just £100 and £55 for concessions. That equates to just over £4 a game for adults and £2 for concessions!
Salford play their next home game on Saturday 7 April against local Gainsborough Trinity, which is destined to be a passionate and hard-fought game of football. So, if you are looking to watch good quality football, in a nice ground and without breaking the bank, then Salford City is a great choice.
Title Image: F.C United of Manchester, Broadhurst Park
Looking for more news like this straight to your inbox? Sign up to the Go See This newsletter today!