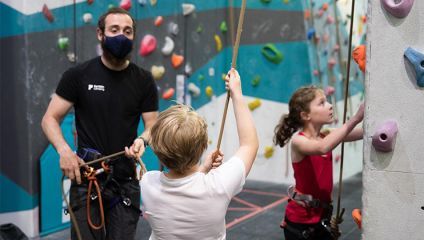 Don't sweat it – try out Manchester's indoor climbing walls for an exciting way to exercise!
Rock climbing might not be the first thing that springs to mind when you think of a hobby, but this total body workout is both enjoyable and extremely healthy. For an afternoon out with friends, an alcohol-free date idea or simply a midweek workout – get down to your local climbing wall for a new way to exercise.
---
Spotlight on: Parthian Climbing
St. Benedict's Church, Bennett Street M12 5ND
Where better to learn a new skill than at Manchester's most popular climbing centre? The (recently renamed –– after the world-famous 'Parthian Shot' route in the Peak District) climbing centre has been open since 2005 and offers plenty of rope and non-rope climbing routes, along with training facilities and expert instructors. Those looking for a rope climb will find over 195 rope and lead routes in a variety of grades and styles. These are swapped around quarterly so that regulars don't run out of challenging routes to climb. For non-rope climbers, the centre boasts a dedicated bouldering area featuring over 80 problems and a separate training space (The Attic) for expert boulderers.
Whether you're an expert or a complete novice, Manchester's Parthian centre has a climbing wall for you. Intro sessions start at a flat rate of £15 for all ages (aged 4+) and take place in small groups. You can also purchase a day pass for just £10, or an unlimited membership for £45 a month!
The best of the rest:
---
The Depot
Unit N1/N2 Mosley Road, Central Park Estate, Trafford Park M17 1PG

What? The largest bouldering wall in Europe!

Where? In the centre of a huge industrial estate in Trafford Park.

Why? If you don't fancy getting roped into wall climbing, then get into bouldering! A more freestyle climbing experience, bouldering features walls of routes (called problems) atop a matted floor for when you fall! Perfect for people of all fitness and experience levels. Single entry is £10, or purchase an annual membership to pay less on your visit! If you're not ready for a membership, punchcards are also available for £70, which allow you 10 climbs,whenever you like!
---
Rock Over Climbing
Park Garage, Cheviot Street M3 1LW

What? The biggest climbing centre in the North West with 300 bouldering problems, 60 rope routes and 18 auto-belays (a way of getting into rope climbing).

Where? Just a 10-minute walk from Manchester Victoria, in the Strangeways area.

Why? As well as offering tutorials for beginners and plenty of routes for the more experienced amongst you, Rock Over Climbing also has a vast soft play and kids rock climbing space for the little ones. Adult coaching starts from £30, and single entry starts at £6.50 for an early bird three hour climb (before 2pm).
---
Blochaus Climbing
Unit 1, 34 Wood Street, Openshaw M11 2FB
What? A brand new climbing centre, opened in July this year.
Where? Just off Ashton Old Road in Openshaw, about a 15 minute bus ride from the city centre.
Why? A contemporary and stylish new indoor climbing centre, with exciting bouldering walls and friendly and helpful staff. Routes are reset frequently so that you don't run out of new challenges! A monthly subscription is £40 per month, or single entry is £8 per adult, with 10 climb passes also available.