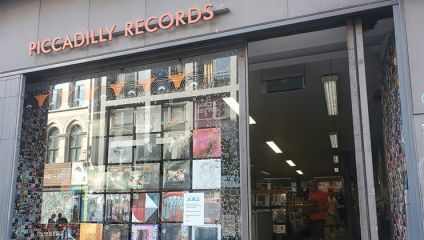 We explore the best vinyl shops in Manchester for music lovers and record hunters
We all know that Manchester's diverse music scene makes it a hot spot for new artists and sounds, throughout history and today. But the city is also a treasure map for record stores, where music lovers can lose themselves exploring racks of rare, second-hand or new music. We didn't have enough space to highlight all of them, so here is a selection of our top five vinyl shops in Manchester.
53 Oldham Street, M1 1JR
Perhaps one of the most popular independent record shops in Manchester, Piccadilly Records has been serving the city since 1978, moving to its Northern Quarter spot on Oldham Street in 1997. Priding themselves on the best new releases from indie and alternative, disco and funk to rock and pop music -- as well as expert, friendly staff -- Piccadilly Records as well as launch shows and in-store events.
Vinyl Exchange
18 Oldham Street, M1 1JN
Established in 1988, Vinyl Exchange has become a cult favourite in Manchester. The store sells and buys rare and second-hand records, CDs and DVDs from its shop in Manchester's Northern Quarter, boasting two floors of stock and a team of specialist staff. Whether you're after limited edition Record Store Day releases, 1970s LPs or CD releases from the noughties -- Vinyl Exchange is a treasure trove of affordable music.
177 Fog Lane, M20 6FJ
The "legendary" record shop hidden in South Manchester neighbourhood of Burnage, Sifters has been selling second-hand records to Manchester for more than 30 years. The little shop gained fame after the Oasis lyric "Mr Sifter sold me songs when I was just sixteen" on the 1994 single Shakermaker. The shop's owner, Mr Sifter (real name Peter Howard) has received attention for the shop's shoutout in the song ever since, and Sifters remains a favourite for second-hand record hunters of all ages and interests.
519 Wilbraham Road, M21 0UF
Another old school establishment, Kingbee is difficult to miss, with its bright yellow shopfront standing out on the main road through Chorlton-cum-Hardy. Just a minute's stroll from the Metrolink stop, this top Manchester record shop takes an interest in both new and used vinyls and CDs across all genres, from punk to prog rock, soul to ska. Their Instagram highlights latest arrivals so that you can snap up any rare finds, fast!
10 Mealhouse Brow, SK1 1JP
For truly the best record shopping experience, we're breaking the rules a little and journeying 10 minutes south of the city to Stockport, where you'll find All Night Flight, tucked away in Stockport's old town. The red brick shop front and white interior will make you feel as though you're entering a secret art gallery -- which is about right, as All Night Flight stocks a curated selection of vinyl in electronic, experimental and worldwide music. Selling new and used, if you've got an interesting record at home you're thinking of selling it's worth taking it along.