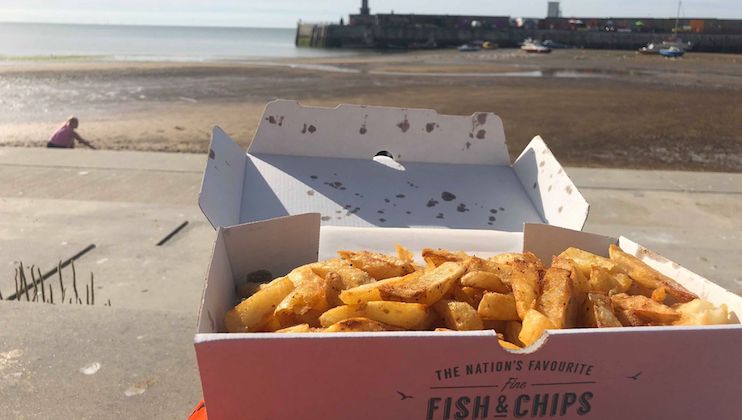 From take away shops to award-winning restaurants, here's where to eat fish and chips on the Kent coast
---
Spotlight on: Peter's Fish Factory
12 The Parade, Margate, CT9 1EZ
Culture Calling went to Margate this week, and whilst we soaked up the local arts and culture, we also had one thing on our minds- fish and chips. It's a scientific fact (probably) that fish and chips taste better when you can see the sea, it's good for the soul. Peter's Fish Factory is a Margate classic, a family run business since 1984 and a coastal hotspot for all things deep fried. This tiny take away shop is limited on seating, offering only a few bistro style tables on the cobbles out front, however just head over the road and plonk yourself down on the large stone steps leading down to the beach or one of the benches facing out to sea. Each day a blackboard outside the shop lets you know what time the sunsets, encouraging you to grab a portion of chips and watch the beautiful view of the sun retreating into the sea.
The menu offers all the chip shop classics, including beautifully battered cod and haddock, sausages (and battered sausages), and even the option of a saveloy. You can get a deep-fried mushy pea fritter, which is just as weird as it sounds, and extra bits like scampi or fresh Cornish skate. What sets them apart from all the other chippies on the seafront, however, is the mouth-watering freshly fried chips, doused in salt and vinegar. These chips couldn't be more typically chip shop, which paired with fresh fish, is everything you could wish for. Just a word for the Northerners amongst you, unfortunately they don't sell scraps… that would just be too good to be true.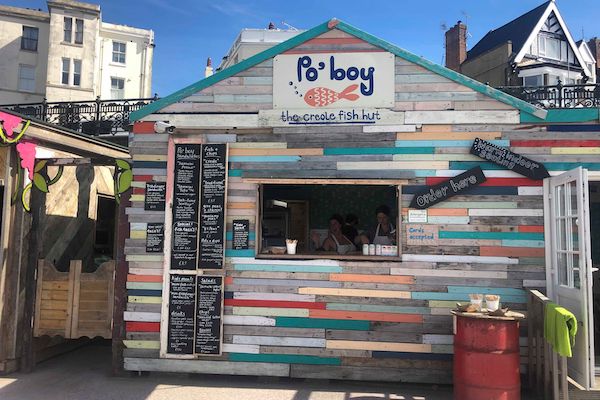 ---
Best of the rest:
Royal Crescent Promenade, Margate, CT9 5AJ
What? Funky beach hut serving creole fusion dishes.
Where? The Sun Deck, a street food spot down the left side of the beach.
Why? For funky fish and chips with a diference, Po'boys work on a fusion of old English dishes and tropical flavours from across the globe. This funky little collection of street food vendors is incredibly popular with locals, and you'll find a cocktail bar and juice bar adjacent. Try the special Creole Fish and Chips, which sees fish fried in panko breadcrumbs and Cajun spice, with double fried seaweed salted chips and a mango and lime sauce.
44 High St, Margate, CT9 1DS
What? Posh fish and chips (amongst other things).
Where? Overlooking the main beach.
Why? The Kent Restaurant of the Year (2018) offers a whole load of locally sourced, fresh and delicious seafood dishes, and whilst Cured Monkfish is alright for some, it can't beat a proper portion of fish and chips. Expect the classic flavour combo made from great quality ingredients- fresh beer batter, hand cut chunky chips and tasty tartar sauce. Oh, and you can enjoy all of this with a cocktail in your hand, sat on their glorious terrace.
---
Manning's Seafood Stall
The Parade, Margate, CT9 1DD
What? Fresh fish on the seafront.
Where? Right on the edge of the bridge, heading up towards the Turner Contemporary.
Why? Ok, so this one doesn't serve fish and chips howeverif you're a lot more into the fish than the chips then this is a must visit spot. One of the things that makes Margate such a cool seaside town is its traditional beachy elements, like the ability to get fresh oysters, shellfish and everything else in a cool little pot. Enjoy some Hot Chili Tiger Prawns or splash out and treat yourself to Champagne and Oysters. Who even needs chips?