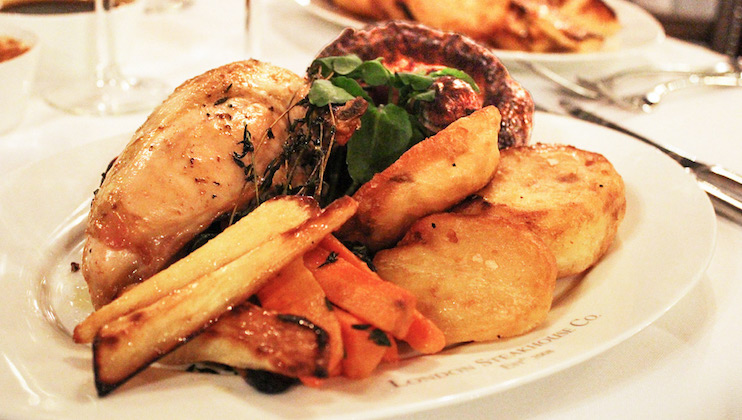 Once best known for its lace factories and Robin Hood (ignore what any other cities try to claim – he's a Notts lad through and through), Nottingham is quickly earning its foodie stripes with an ever-growing choice of food and drink establishments. On the menu today: where you can nab the best roast dinner in Nottingham; the undisputed capital of the 'Eat' Midlands.
Get your grub on
Where to get your grub on in Nottingham.
---
The Cross Keys
Located in the heart of the bustling city centre, The Cross Keys was once bright yellow and the kind of joint that made you quicken your pace when walking past. Thankfully all this is in the past; they've ditched the canary colour scheme and this Victorian pub is now one of the best places to grab a slap-up roast dinner. With two courses for only £13.95 and a mouthwatering selection of cask ales and craft beer, The Cross Keys offers the perfect Sunday antidote to Saturday's antics.
For menus and more information see The Cross Keys website.
---
Hand and Heart
Beneath Nottingham city centre lies a network of 450 caves, one of which is now occupied by the Hand and Heart. Ornately finished in dark wood and twinkling lights, this celebrated city haunt offers a truly atmospheric setting for you to tuck into your meat and two veg (or veg and more veg if you're that way inclined). A traditional roast with all the trimmings comes in at between £12 - £15, and their roasties are out of this world. Oh, and did I mention you get to eat it in a cave…?
For menus and more information see the Hand and Heart website.
---
The Malt Cross
Located in a former Victorian music hall, The Malt Cross is a venue beloved by locals and visitors alike. A much raved about roast beef dinner will cost a very reasonable £12.95, and their generous servings will leave you fit to burst. It's also worth checking out The Malt Cross' Heritage Tours; a detailed tour of the music hall balcony and stage, workshops, art gallery and caves that sit beneath the venue, as well as exploring the history of Nottingham's St. James' Street.
For menus and more information see The Malt Cross website.
---
Ye Olde Trip to Jerusalem
Possibly one of the most aesthetically pleasing drinking establishments Nottingham has to offer. This charming boozer, built into the imposing bedrock of Nottingham Castle and caves, claims to be the oldest pub in Britain, dating back to 1189 AD. Their hearty roasts are just £10.95 a pop and come complete with Yorkshire puds, seasonal vegetables and lashings of gravy. It's the perfect pub to combine a hangover-abolishing roast with a dash of culture.
For menus and more information see the Ye Olde Trip to Jerusalem website.