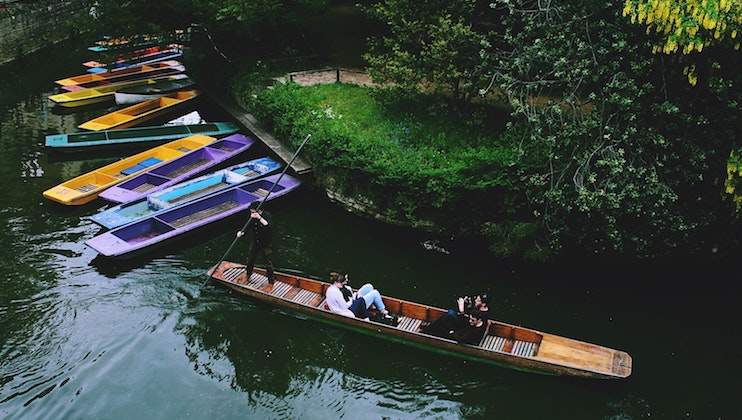 Our top picks for Oxford's most beautiful nature spots and green spaces! Perfect for a lockdown wander...
---
Christ Church Meadow
The crowds that gather to lunch and relax in Christ Church Meadow on hot days reveal that this spot is a firm favourite with Oxford's locals. This lovely park features green grass and shady seats bordered by the gentle sweep of the river. Set against the backdrop of the beautiful Christ Church College, it's hard to imagine a more idyllic location. Which may be why this is also a favourite spot for the city's wildlife; you're likely to end up sharing the grass with squirrels, swans, geese and ducks!
Christ Church Meadow is open all year round.
---
Botanical Gardens
Founded in 1621, the Oxford Botanical Gardens are the oldest such gardens in Britain. Full of wonderful plants from around the world, the gardens are a tranquil spot away from the bustle of the city centre. Although you need to pay to enter the garden, entry is free for university students and staff, and if you come here often an annual pass is just £18.50.
For more information about the Botanical Gardens visit their website.
---
University Parks
One of the largest of the green spaces in the city's centre, University Parks includes sporting facilities, walks and plenty of green space. The park is bordered by the River Cherwell, and one of the best things about this green space is that is connects you to even more rural spaces… You can simply walk along the river straight out into the Oxfordshire countryside.
Discover the University Parks.
---
College Gardens and Parks
Many of Oxford University's colleges hide wonderful secret green spaces. While it is generally forbidden to trespass on the perfectly preserved lush green quads, head to New College or Worcester College - both well known for their beautiful gardens. Magdalen College's extensive grounds are also well worth exploring, although unfortunately you won't be able to enter the deer park.
---
Iffley Lock
Found on the Southern outskirts of Oxford, Iffley Lock is a beautiful spot on the River Thames (although a typically eccentric Oxford tradition dictates that the river should actually be called the Isis). Iffley village itself is a typical picturesque English village, and the lock is a peaceful spot completed by a pub - perfect for whiling away a summer afternoon in the sun.
What are your favourite outdoor spaces or nature spots in Oxford?