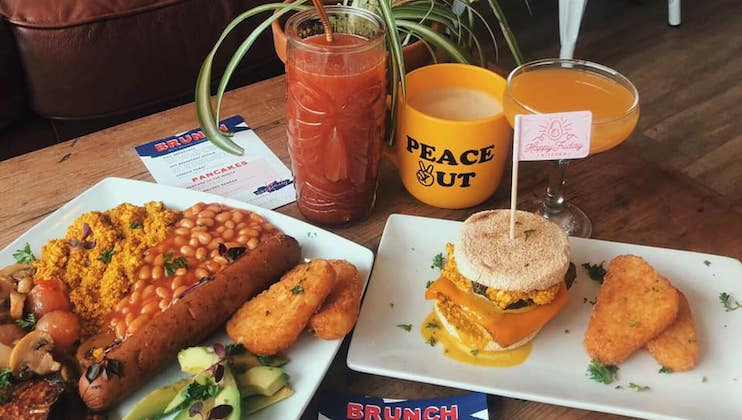 Celebrate World Vegan Day in Oxford
---
Spotlight on: Happy Friday Kitchen
282 Cowley Road, Oxford, OX4 1UR
As Oxford's first and only 100% vegan restaurant it'd be rude not to give it the top spot of our vegan low-down. The entire menu of this café-come-restaurant is based on Californian diner food, and you can rest assured that you won't find any animal products in any section of the menu. The eatery is fully licensed, and their cocktails are a very competitive price - they also offer Happy Hour all-day every Friday!
Perfect for brining your non-vegan friends down and proving that vegan food is as good as the rest, this place offers plenty of main meals, sides, pizzas and desserts that wouldn't look out of place at your local TGI Fridays. Enjoy a Big Kahuna Burger (which includes BBQ jackfruit - the vegan equivalent of pulled pork!) or a Mac Daddy Burger (literally mac n' cheese… in a burger). Fancy something a little bit healthier? Opt for a tasty Buddha Bowl full of fresh ingredients and perhaps treat yourself to a side of Mozzarella Dough Balls or Buffalo Cauliflower! You'll find plenty of sweet treats and freshly flipped pancakes for afters, and if you manage to time a visit at the same time as the restaurant's owner then you might even see her beloved dog Buddha!
---
Best of the rest:
---
1 Radcliffe Square, Oxford, OX1 4AH
What? One of Oxford's most popular cafes with an ever-changing seasonal menu (and vegan fry-up at breakfast).
Where? In the University Church of St Mary the Virgin, opposite the Radcliff Camera.
Why? Whilst their menu isn't entirely vegan, the café does pride itself on producing dishes from ethical, organic and locally sourced ingredients. They champion reducing waste in their cooking and promoting a healthy eating lifestyle. Their menu changes depending on seasonal ingredients, but you will always find a selection of vegan options.
---
The Nosebag
6 - 8 St Michael's Street, Oxford, OX1 2DU
What? Quality home-cooked food with plenty of vegan options available.
Where? In central Oxford, upstairs and overlooking on the city's pretty side streets.
Why? The vegan food at The Nosebag is of such good quality that many locals believe it to be a veggie and vegan café, however they do serve a few meat options. Their menu is awash with vegan options from breakfast to dinner and also offers some tasty homemade vegan cakes!
---
The Gardeners Arms
39 Plantation Road, Oxford, OX2 6JE
What? Proper local pub serving an entirely-meat free menu.
Where? In what appears to be a tiny terraced house in the trendy Jericho area.
Why? For real ales and quality vegan food, come enjoy a meal at The Garden Restaurant. Everything on the menu is vegetarian and many dishes tick the vegan box as well, including their popular and hearty Medley Mushroom Pie.