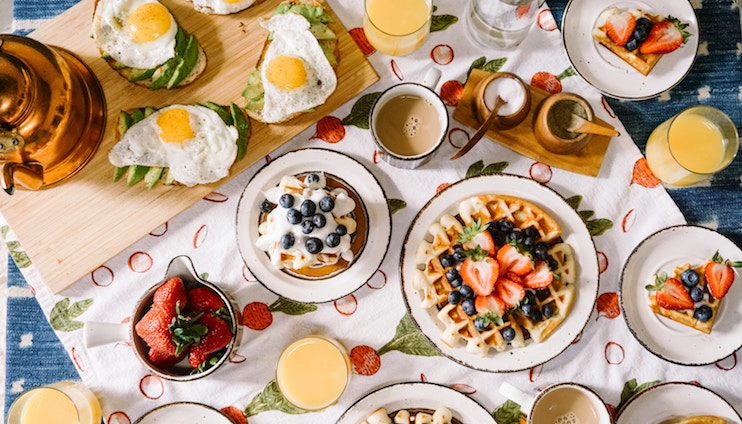 Feel free to procrastinate that essay question and head out for brunch, Oxford…
---
Spotlight on: Handelbar Café
28-32 St Michael Street, Oxford, OX1 2EB
Ever since Zappi's changed to the Handlebar Café a couple of years ago, this bar/restaurant above a bike shop has been crammed with customers. It's pretty hipster, with vintage bikes on the walls and a lot of exposed brick and wood - but (thankfully) not in an annoying way. The big windows make for a light and fresh atmosphere, and although almost every table is usually taken, there's a pleasant hubbub of noise rather than a feeling of overcrowding.
They pride themselves in producing guilt-free food using organic and locally sourced ingredients, and their city centre location is the place to be for breakfast, brunch, lunch or dinner. Their 'full English' style brunch dishes are only available on a weekend. Try the HB Full House or the Good Veggie, both offering a hearty breakfast to help you shake away the cobwebs of the night before. They also serve vegan Coconut Pancakes, a Creamy Mushroom dish with poached eggs and toast, and the obligatory Smashing Avocado on Toast.
---
Best of the rest:
---
Rickety Press
67 Cranham Street, Oxford, OX2 6DE
What? Hipster pub with small but mighty weekend brunch selection.
Where? In the pretty Jericho area.
Why? This weekend favourite often sells out of ingredients fairly early on… a testament to the quality of their tasty brunch. Their Boss Man comes laden with everything you deserve in a full English, and the Mighty Veggie comes with tasty leek fritters!
---
Organic Deli
24 Friars Entry, Oxford, OX1 2BY
What? Famously delicious organic produce, catering to veggie, vegan and meat eaters.
Where? Just down the road from The White Rabbit pub.
Why? You're assured quality organic food here at Organic Deli, and the café offers all the avocados you'd ever need. Head down for their lovely French Toast or Organic Porridge and stay for a Super Skin Glow juice!
---
Gee's
1 Banbury Road, Oxford, OX2 6FE
What? Boozy brunch in an Instagram worthy conservatory.
Where? Close to the Jericho area.
Why? Enjoy a special occasion brunch on a weekend, with the Eggs Royale and a Breakfast Martini!