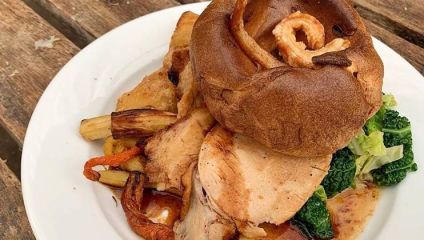 Shake off that Sunday morning hangover and go enjoy one of Oxford's amazing Roast Dinners
Family weekends can hardly be summed up better than a Sunday Roast. It's one of those perfect childhood synecdoches: the smell of chicken in the oven just beckons gravy followed by pud followed by an afternoon walk - it's a tangible, edible fact of life. And there's no better location for this weekly dance than Oxford. The university city is packed with great pubs and restaurants offering roasts. Here are our top five to try any given Sunday.
---
Magdalen Arms
243 Iffley Road, Oxford, OX4 1SJ
The undisputed prize of Oxford's Sunday platter is the Magdalen Arms. The Iffley Road inn has been awarded numerous accolades for its gastro cuisine, and its traditional, rustic Sunday roast is the menu's pinnacle. This restaurant quality food is far from the comfortable Sunday lunch of your childhood, and where most restaurants offer a variety of meats with the same trimmings, the Magdalen Arms is a lot more refined. To get your roast potato fix be sure to come down with a few friends, as the roast Hereford rib of beef (with Sunday trimmings) is £70 to share between two or three. You could also enjoy slow cooked lamb with a gratin dauphinoise for two (£40) or a whole harissa chicken with chips and salad for two (£30). Whilst we wouldn't recommend this place for a hangover day (£70 is a lot to spend on a meal you might not be able to eat), we think the Bloody Mary made with horseradish vodka might seriously snap you out of your Sunday lull.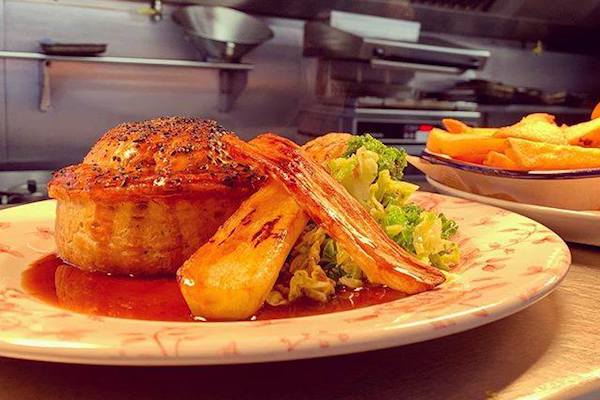 Image credit: The Perch via Facebook
Binsey, Oxford, OX2 0NG
For the Oxford romantic, there is no better stopping spot than The Perch. This 17th century heirloom lies just to the west of Port Meadow and its green dining garden rolls down to the River Thames and the lazy willow trees on its banks. Their Sunday menu isn't just roasts - there's a great selection of starters and mains with lots of vegetarian options if you are so inclined. But if you are looking for meat, their rump of beef or shoulder of lamb (with mint relish) will fill you to the core and both cost £17.95. All roast dinners (including the veggie nut and lentil roast) come with cauliflower cheese, which always gets our vote. Eating outside here on a summer's day is the height of leisurely bliss, and you can follow up your meal with a stroll along the meadow.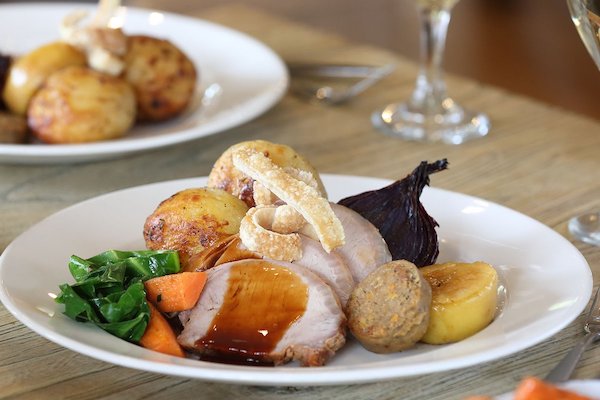 Image credit: @TheTroutOxford via Twitter
---
The Trout
195 Godstow Road, Wolvercote, Oxford, OX2 8PN
It's impossible to mention The Perch without also acknowledging The Trout. This tavern twin - The Trout lies upriver of The Perch and also dates back to the 17th century - is the slightly swankier of the pair, and their cream-coloured feng shui does scream upmarket home counties. The menu is also a few notches plusher: and their roast dinner is a fusion of contemporary and traditional, all expertly cooked with local produce. Despite it being a much more up market kind of eatery, their roasts are still relatively well priced. The roast beef is £15.95 and both chicken and pork are £13.95, all of which come with beef dripping potatoes, greens and roasted vegetables, a Yorkshire pudding and unlimited gravy. Eating out on the patio you can overlook the Godstow brooks as the Thames trickles down over the gentle rocks. The Trout also offers a large wine selection if you like your roast with a glass in hand.
Image credit: Jacobs Inn via Facebook
---
Jacobs Inn
130 Godstow Road, Oxford, OX2 8PG
A fabulous country pub three miles from the centre of Oxford offers you the perfect Sunday afternoon walk with a wonderful roast at the end of it. Wander along the River Thames up through Port Meadow and collapse into one of the pubs wonderful armchairs when you get there. The pub has a stunning beer garden with plenty of space for everyone to grab a bench, and on colder days you're more than welcome to bring your dog in and settle in front of the fire. Jacobs Inn prides itself on using locally sourced seasonal produce. Enjoy a roast sirloin of beef for £16.50, pork loin and crackling for £16 or a luxurious Cotswold slow roasted lamb for £16.50. Their veggie option is a Jacobs nut roast for only £14 and everything comes with a rich, thick red wine gravy.
56 Walton Street, Jericho, Oxford, OX2 6AE
The Jericho high street has more than a few fancy pubs lining its curb, but the favourite for many locals is the Jericho Tavern. This modern barroom is all things for all people: a sunny beer garden in summer, an upstairs mini-venue at night, the perfect cubby hole for a quiet whiskey to while away those weekday evenings. From drinking there on a Saturday evening to crawling back in for a dinner on Sunday, Jericho Tavern is here for you throughout it all. Their Sunday menu features burgers, main meals and bar snacks but also includes three types of roast, all served with Yorkshire puddings, potatoes, veg and braised red cabbage. Their 21-day aged roast sirloin of beef is an extremely well-priced £13.25, but the clear best option is the half roast chicken which comes with pigs and blankets, for only £11.75! Like any British pub worth its salt, they also offer a sticky toffee pud for afters.