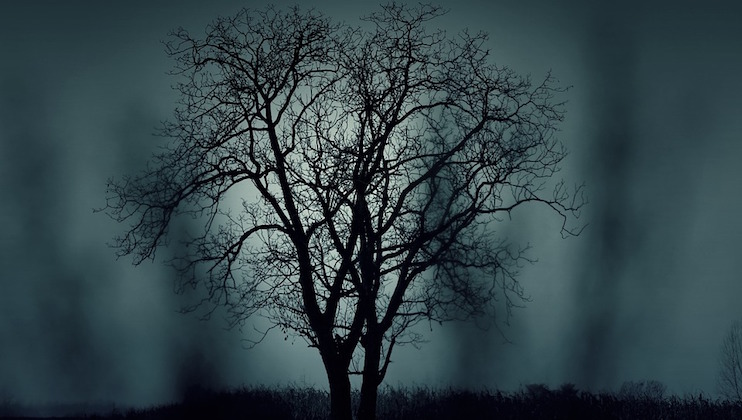 We're getting chills just thinking about some of these places.
---
Ancient Ram Inn, Gloucestershire
With apparent evidence of child sacrifice, stories of burned 'witches', and not to mention the resident daemon, it's unsurprising that the Ancient Ram Inn is considered one of the most haunted hotels in the country.
The Inn was built in 1145, on a site that may have been an ancient Pagan burial ground, at the intersection of two 'Ley Lines'.
Ghost sightings include reports of a young woman hanging from the ceiling beams, a shepherd with his dog, and the disembodied screams of a man who at some point, supposedly, was killed by having his head thrust into the fireplace.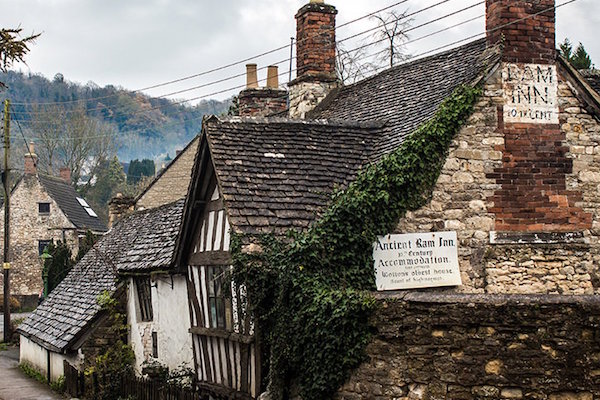 Photo credit: @revistainfotogo via Twitter
---
Puckley Village, Kent
Puckley was awarded a Guinness World Record for 'Most Haunted Village' in the late 1980s (though the Record has since been "rested") for its 12 spooky residents.
But many of Pluckley's residents have become fed up with its ghoulish reputation and the hordes of ghost-hunters that flock here every Hallowe'en - so be careful what you wish for if you're looking for a strange encounter!
Ghosts include the pipe-smoking Watercress Woman who accidentally set fire to herself at Pinnock Bridge, a highwayman run through with a sword and pinned to a tree at Fright Corner, and a screaming man who fell to his death at the local brickworks.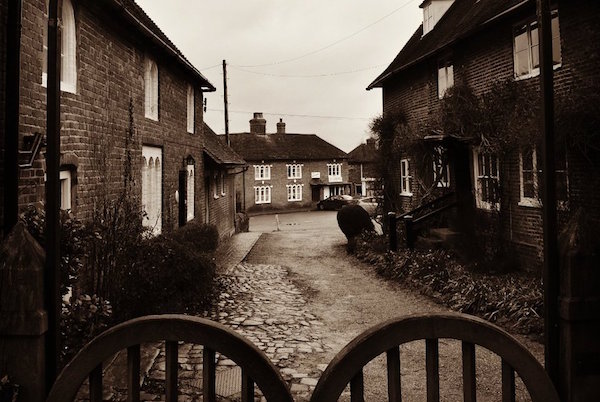 Photo credit: @paranormalmonk via Twitter
---
Edinburgh Vaults
Edinburgh's South Bridge and the dark network of vaults beneath it have been shrouded in superstition since the beginning.
The bridge was completed in 1788, and the honour of being the first person to cross it was reserved for the eldest local resident. When she died shortly before the opening ceremony, the agreement was nevertheless respected and her body crossed the bridge in a coffin, placing a curse upon it in the eyes of locals, many then refusing to cross it themselves.
The infamous 19th century serial killers and body-snatchers Burke and Hare are rumoured to have scoured these subterranean chambers for potential victims.
The Vaults are by no means the only spooky spot in Edinburgh, and the nearby Castle has its fair share of ghostly phenomena, such as sudden drops in temperature and unseen presences that tug at clothes.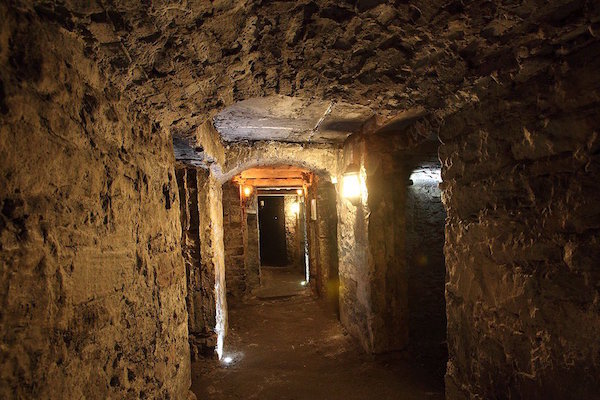 Photo credit: @tombuckmaster via Twitter
---
Crumlin Road Gaol, Belfast
This former jail and courthouse is notoriously one of the most haunted places in Belfast. The last prisoner left in 1996 - if you don't count the remains of 15 executed prisoners, which are interred within the gaol's walls.
In C-Wing you will find the infamous 'Condemned Man's Cell' where 17 people were executed and the noose still hangs to this day.
The prison was sometimes referred to as Europe's Alcatraz, and a tunnel under the main road was used to transport the prisoners to the courthouse opposite.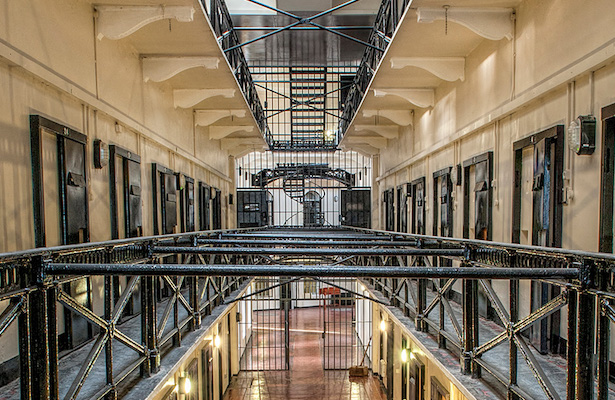 Photo credit: Crumlin Road Gaol via website
For more information see here.
---
Newsham Park Hospital, Liverpool
This orphanage turned sanatorium turned hospital dates back to the Victorian era and features cupboards in the attic where 'naughty' children were locked. The sprawling building now lies empty - a derelict ghost-hunting and special events playground where people say you can hear the cries of children and doors opening and closing (when there aren't DJs playing).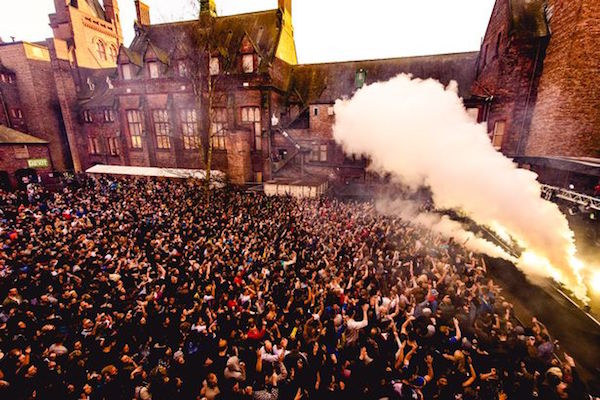 Photo credit: Anthony Mooney
---
Pendle Hill, Lancashire
Britain's most notorious witch trial took place here in 1612. Twelve local people were accused of witchcraft after a series of mysterious deaths, and ten were found guilty and executed by hanging.
Today, the summit of Pendle Hill is a popular pilgrimage site for ghost hunters, particularly at Hallowe'en.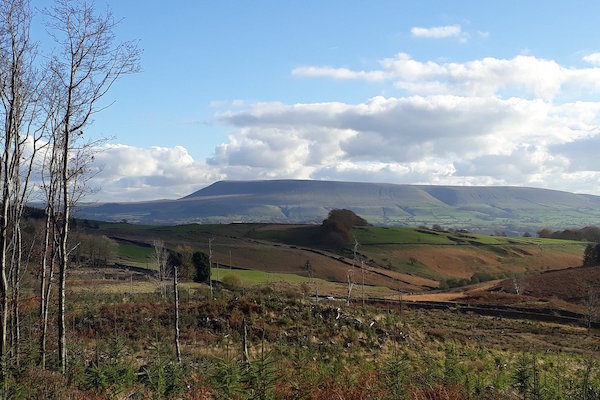 Photo credit: @thoughtfox
via Twitter
---
Eyam Village, Peak District
The seemingly charming village of Eyam became infamous for its near decimation during the Great Plague of 1665.
When the epidemic arrived from London in contaminated cloth, residents chose to quarantine themselves, stopping the infection from spreading to neighbouring communities.
Inevitably, this has brought a slew of ghosts to look out for - there's a haunted pub, a haunted cottage and a young servant girl, who drowned in the village well, has been sighted at Eyam Hall.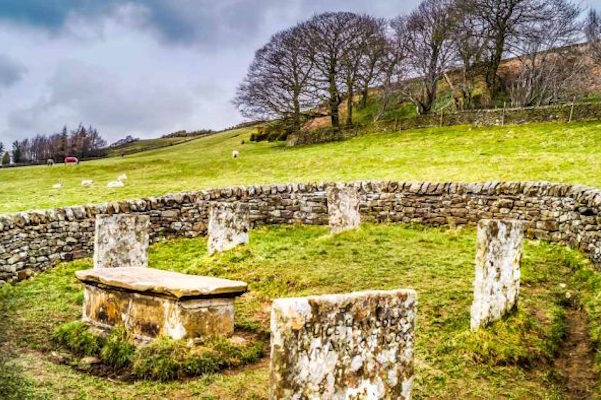 Photo credit: @HelenClarkson99 via Twitter
For more information see here.
---
Skirrid Inn, Wales
The Skirrid Mountain Inn in Abergavenny is one of the oldest, and many say, the most haunted pub in Wales. With a history dating back to the Norman Conquest this building has seen every horror from executions to witchcraft.
Stay overnight for a daunting experience - slamming doors, loud footsteps and even hushed voices await you on your ghost hunts here.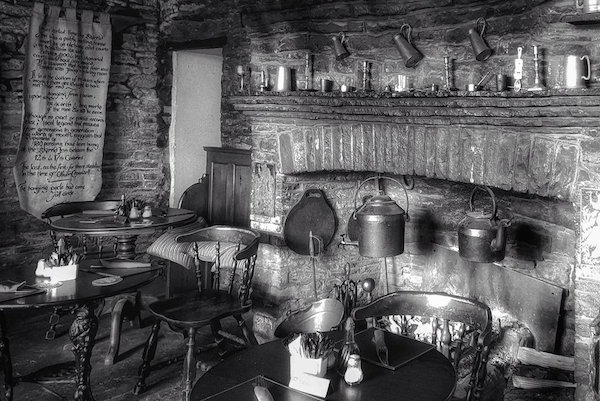 Photo credit: @missmayo1984 via Twitter
For more information visit their website.
---
'The Compound' Nightclub, Hull
Most places seem spookier after dark, but perhaps not this former embalming room and mortuary, which recently opened as a nightclub! 'The Compound' is located upstairs in the Annison building, which is a former funeral parlour and stables.
Hull is no stranger to the supernatural and many of its ghosts date back to the 1870s, which were the Hull's deadliest decade. 17 murder cases were recorded between 1871 and 1878, including the unsolved murder of Emma Starkie, who was discovered in Caughey Street with an axe embedded in her head.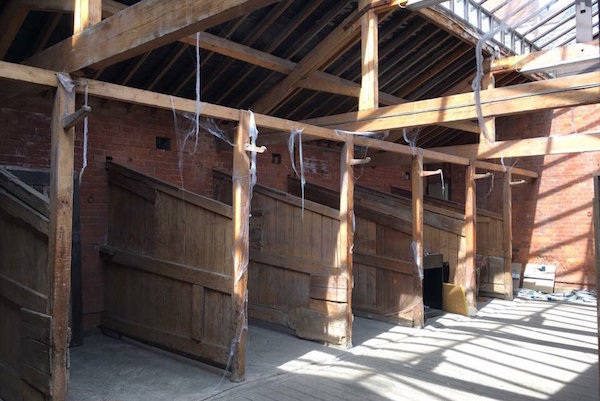 Photo credit: @DaveHarrisonBBC via Twitter
For more information see here.
---
St Oyth, Essex
A seemingly sweet little cottage in St Osyth, known as 'the Cage', was used as a prison to hold people accused of witchcraft in the 16th century.
The Cage is perhaps best known for the imprisonment of Ursula Kemp, who was hung as a witch in 1582.
The property is said to be extremely active with spirits of a jailer, a young child, a suicide victim, and - of course - Ursula Kemp herself.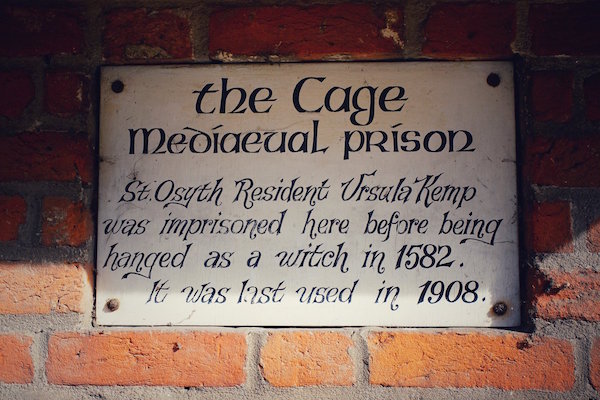 Photo credit: @Inner_Lives via Twitter
---
Cawdor Castle, Scotland
The most chilling sighting at Cawdor Castle in the Scottish Highlands is the ghost of a handless girl, rumoured to be the Earl of Cawdor's daughter.
Legend has it that after flirting with an enemy chieftain's son, she was chased by her angry father to the highest tower, where she attempted to lower herself from the window, only for him to chop off her hands and send her plummeting to her death.
Shakespeare fans will no doubt think too of the ill-fated Thane of Cawdor, from the play Macbeth.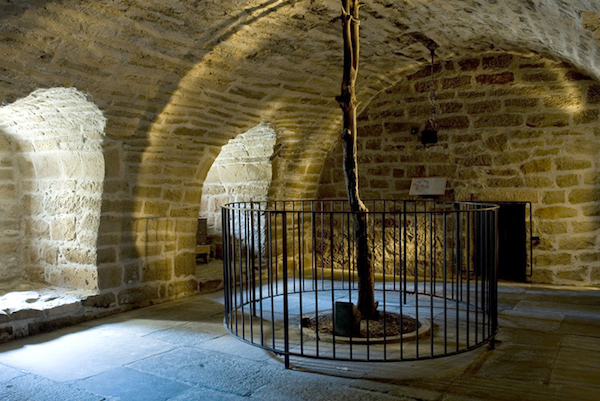 Photo credit: Cawdor Castle via website
For more information visit their website.
---
The Mermaid Inn, East Sussex
This place ticks a lot of spooky boxes - with secret passages, priest-holes and sliding wall panels all adding to the eerie atmosphere.
The Inn has strong connections with notorious Hawkhurst Gang, who ran a smuggling operation during the 1730s and 1740s. Members of the gang are said to be amongst those who haunt The Mermaid Inn.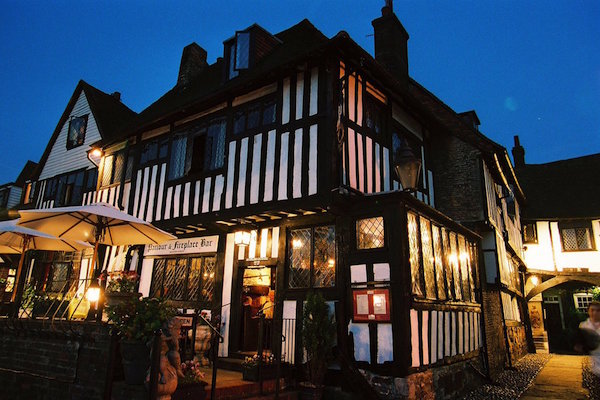 Photo credit: @manoghosts via Twitter
For more information visit their website.
---
Chillingham Castle, Northumberland
Last on our list of 13 is - appropriately - a 13th century castle with a disturbing history…
Sitting on the English-Scottish border, the dungeons of Chillingham were once full of Scottish warriors and spies, and the horrors of this place - replete with a well-equipped torture chamber, with sloped floor to allow the blood to drain away - have become a thing of legend.
Photo credit: @VylentViolet via Twitter
For more information visit their website.