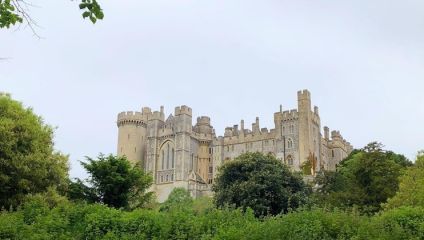 Surrounded by gentle English countryside and presided over by both a stunning gothic cathedral and a huge medieval castle, its not hard to see why Arundel is such a popular destination for tourists looking to recharge their batteries in the countryside. Spend a weekend in this pretty town for a wholesome cocktail of history, culture and nature.
---
Saturday Morning
Arundel's most famous landmark is the Castle, parts of which are nearly 1,000 years old. You'll see Arundel Castle towering over the town as you approach, with particularly lovely views afforded if you arrive by train. The event-filled history of the castle has included Civil War sieges, royal visits and splendid 19th century restoration works. Learn about these while exploring the sumptuous bedrooms, historic keep and extensive grounds. Its easy to spend 4 or 5 hours looking around Arundel Castle, especially in Spring and Summer when the beautifully manicured gardens are a riot of flowers. Keep an eye on their programme of events, which include family-friendly Living History Days throughout the year with opportunities to meet historical characters and try activities like archery and fencing.
Photo credit: Jonas Bengtsson
---
Saturday Lunch Time
Take a break from sightseeing and enjoy a relaxed lunch at the Motte & Bailey Café where you can enjoy a light sandwich or a wholesome soup, followed by a slightly less healthy, but very tasty, cake. Or why not treat yourself to a traditional cream tea at one of the town's many cafes? There are plenty to choose from, but we would recommend the old-fashioned tearoom Belinda's - which lays on the provincial English charm as thickly as the clotted cream on the homemade scones.
---
Saturday Afternoon
In the afternoon, visit Arundel's other outstanding landmark, the Roman Catholic Cathedral. This very unusual structure looks ancient and imposing - a fitting sibling to the nearby castle - but was actually built as recently as 1870 by the Catholic 15th Duke of Norfolk, who mimicked the style of much older gothic churches. The Cathedral is open to the public 9am-6pm every day. Step inside for a moment of peaceful reflection surrounded by sublime architecture and colourful stained glass windows.
Photo credit: Jack Pease Photography
---
Saturday Evening
All that sightseeing will have surely given you an appetite! Finish the day with a meal at The Parsons Table, a fine-dining restaurant in the heart of town. The building was once a stable belonging to the castle, but the décor and food are now thoroughly modern. Expect a varied menu of seasonal dishes and a great selection of wines.
---
Sunday Morning and Lunch Time
If you're lucky and the weather is fine, Sunday morning is the perfect time to take a walk out of town and explore the lovely Sussex countryside. An easy walk takes you from Arundel to nearby village Walburton via pretty woodland paths - it will take around an hour. When you arrive, head for the Holly Tree pub for a well-deserved lunch before strolling back to town. This quiet pub looks pretty unassuming, but the food here is top-notch. A great alternative lunch spot nearer to town is the popular Black Rabbit Pub with its outdoor tables overlooking the Arun river. The Black Rabbit serves a selection of Sunday roasts and other traditional pub fare, but you may want to book in advance as it always gets busy!
---
Sunday Afternoon
Once you're pleasantly full after a big Sunday lunch, its time to explore Aundel's picturesque shops. There are lots of antique shops filled with pretty household items to mooch around in and Nineveh House is particularly worth a look - a former Victorian church now occupied by a dozen antiques and collectables dealers. The town also has some lovely art shops and a secondhand bookshop, Kim's Bookshop, a lovely jumble of rickety stairs and book-lined nooks where you could easily spend a couple of hours browsing the well-stocked shelves.
If you'd prefer to spend more time outside in the sunshine, head to Arundel Wetland Centre, a serene expanse of wetlands set against the pretty background of the castle. With extensive paths and walks to explore, the Wetland Centre is a good choice for a family day out and is home to many varieties of wildlife including huge numbers of birds. Kids will love spotting the ducks, kingfishers, butterflies, and herons - followed by an exciting free boat ride to round off a pleasantly relaxed weekend.