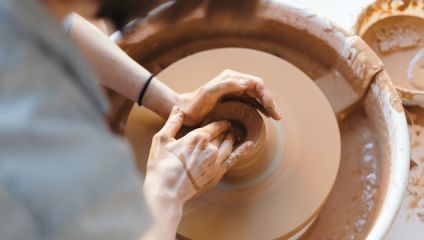 Looking to learn a new skill or improve your artistic ability? There are many brilliant places in Oxford that offer courses in arts, crafts and design. So why not dip into our list of top picks and learn how to produce an etching, give life drawing a go, or get your hands dirty working with clay.
---
The Jam Factory - Life Drawing Classes
Found just around the corner from Oxford train station, the Jam Factory is an arts centre that hosts an eclectic range of events every month. Their art courses range from painting classes to knitting sessions, with their popular life drawing sessions taking place once a week on Tuesday evenings. Life drawing sessions cost £5 each, with the option to attend either tutored or untutored sessions, making these an ideal choice for both experienced artists and beginners.
Find out more about the arts and crafts sessions taking place at The Jam Factory.
---
Illyria Pottery - Ceramics Courses
With courses in ceramics for all abilities, you can learn how to make a pot by either the 'handbuilding' or 'wheelthrowing' techniques at Illyria Pottery. Head to the shop in artsy Jericho where an experienced tutor will teach you how to make ceramic objects to take home with you. One-off sessions start from £95 with all materials included.
Find out more about thehand-building and wheel-throwing ceramics courses at Illyria Pottery.
---
The Ashmolean Museum - Sketchbook Sessions
Oxford's oldest museum and art gallery is an inspiring setting in which to get creative. Take a course at the Ashmolean and you'll be surrounded by all sorts of fascinating ancient objects and stunning art works. The Ashmolean's art courses cover a wide range of mediums and subjects, many inspired by the fantastic collections at the museum. Their four-session Sketchbook Course is a wonderful way to develop your drawing abilities.
Find out more about art courses at The Ashmolean Museum.
---
Oxford Printmakers Co-operative - Printing Courses
Oxford Printmakers Co-operative runs courses in a wide range of printmaking techniques including etching, screen printing and wood engraving. Starting at just £60, you'll receive practical instructions from an experienced tutor, and have the chance to try out all the techniques discussed. If you catch the printing bug while you're there, you can either join the co-op as a member or simply pop in to use the equipment for just £6.50 an hour.
Find out more about the different types of printing, and the courses on offer at Oxford Printmakers Co-operative.
---
The Ruskin School of Art - Human Anatomy Courses
If you live in Oxford, you really ought to take advantage of having one of the UK's leading art schools on your doorstep! The Ruskin School of Art offers a selection of short courses to the public. Their Human Anatomy course is an intensive 7-day course that covers life drawing, wax modelling and more, giving you an extensive understanding of the human body as a subject for art.
Find out more about the courses at Ruskin School of Fine Art, including Human Anatomy courses.