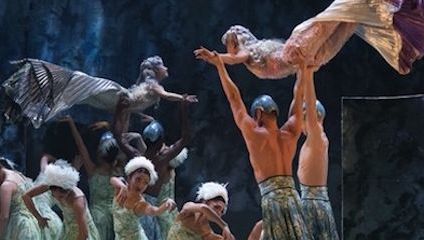 While London may be the home of the Royal Ballet and hub for all things dance in the UK, there are some fine ballet companies across the country that are committed to touring their work and reaching audiences in more rural areas. With their repertoire stretching from reimagined classics to leading modern choreography there should be dance to discover for anyone, and with many companies now experimenting with exciting digital tools, dance is becoming accessible anywhere.
UK ballet companies across the UK
---
Scottish Ballet
Scottish Ballet Companny in Emergency by Cristal Pite taken. Image credit: Andy Ross
In 1969, Scotland got its own resident classical ballet company. Now at home in the Tramway Arts Centre Glasgow, Scottish Ballet takes its work on tour to remote Scottish islands and internationally all the way to Hong Kong and Seoul. Under the tenure of artistic Director Christopher Hampson, the troupe has become a strong, focused and artistically bold company delivering adventurous performances rooted in strong classical technique. They present the classics in new ways and work with groundbreaking choreographers like David Dawson and Crystal Pite, exploring new styles to push creativity. But their vision goes beyond choreography: with an extensive outreach and learning programme they are actively engaged in the community and aim to bring dance to as many people as possible. Scottish Ballet is one of only 6 international companies that take part in World Ballet Day LIVE, have a comprehensive digital platform of videos, short films, rehearsal and behind the scenes footage and are now broadcasting some of their work nationwide on BBC iPlayer. A truly modern ballet company.
---
Northern Ballet
Nothern Ballet dancers in The Little Mermaid. Image credit: Emma Kauldhar
Northern Ballet is a dance company based in Leeds, but they are nearly always on tour. Catch them in Sheffield, Belfast, Cardiff, London or Edinburgh this spring. Northern Ballet's repertoire is focused on creating new full-length theatrical dance productions with an emphasis is on story telling. Taking their cues from popular culture, theatre, film, literature and opera, Northern Ballet develop new and original productions such as The Little Mermaid, Jane Eyre, The Great Gatsby, Casanova, George Orwell's 1984 or the holocaust drama The Boy in the Striped Pyjamas. In 2010, artistic director and resident choreographer David Nixon was awarded an OBE for his contribution to British dance. Northern Ballet reaches a diverse audience through passionate story telling, including ballets especially created for children, some of which have been adapted for CBeebies.
---
Ballet Black
Ballet Black - Jose Alves and Cira Robinson. Image credit: John Ross
Ballet Black was founded by Cassa Pancho in 2001 with the purpose of providing dancers and students of black and Asian descent with inspiring opportunities in classical ballet. The aim is to bring ballet to a more culturally diverse audience and, ultimately, to see a fundamental change in the number of black and Asian dancers in mainstream ballet companies. In 2009, the company won the Dance Europe Award for Outstanding Dance Company and in 2010, artistic director Cassa Pancho received an MBE in the New Year Honours for Services to Ballet. Today, the company is formed of 8 dancers and, under the patronage of Royal Ballet superstar Carlos Acosta, perform works by prolific choreographers such as Arthur Pita, William Tuckett or Liam Scarlett. Catch this exciting young company on tour this season in Exeter, Inverness, Nottingham, Bristol and London.
---
Ballet Cymru
Light Princess. Image credit: Ballet Cymru
Over in Newport, South Wales, Ballet Cymru is a small but bold classical ballet company established in 1986 by dancer and choreographer Darius James. Formed of 8 dancers, the company tours to around 70 venues each year throughout the UK, taking dance to smaller venues around England, Wales and Ireland that might otherwise be starved of ballet. Ballet Cymru strives to produce new and exciting productions, using original and live music collaborating with composer, singers and musicians and they deliver education work, classes and workshops for children and adults.
---
BalletBoyz
Balletboyz - Fallen. Image credit: Panayiotis Sinnos
Founded in 2000 by ex-Royal Ballet dancers Michael Nunn and William Trevitt, the BalletBoyz quickly became a dance phenomenon. Lippy, unshaven and brash, they trashed most of the clichés surrounding men in dance. Now in their 40s, they are taking a backseat as artistic directors nurturing a company of 9 young male dancers, the second generation of BalletBoyz. With their excellent ballet pedigree they are able to commission work from the biggest names in the dance world, from contemporary works by Russell Maliphant to classical works by Christopher Wheeldon. They even got Strictly Come Dancing judge Craig Revel Horwood on board. Apart from touring, the BalletBoyz have created numerous arts documentaries for television, growing their popularity, reaching a wider audience and allowing their TV and stage work to be viewed as one unified product. Catch the young BalletBoyz in London, Bristol, Colchester, Reading or Wolverhapton this spring.