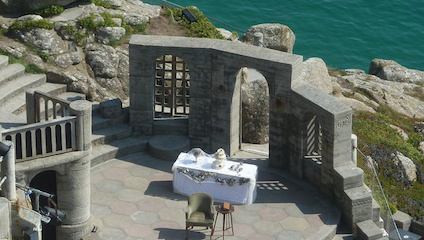 As Shakespeare famously once wrote "the world's a stage", and what with the UK's wide range of open-air theatre experiences, it's hard to argue. So grab your sunglasses and head out into summer sunshine for a bit of alfresco acting with our handy roundup of venues.
Iconic open-air venues across the UK
---
Shakespeare's Globe, London
One of the most famous theatres in the UK, Shakespeare's Globe, is a 1997 reconstruction of the original Globe theatre which presented the Bard's plays when they were first written. If you're lucky enough to be seated in one of the roofed galleries, you'll be shielded from the rain and pigeon plop - unlike the groundlings in the yard down below - but you'll be missing out on what many view as the authentic Shakespearean viewing experience. This summer the Globe are also performing "Midnight Matinees" with performances starting at 11:59pm, so you can watch some soliloquys under the stars. But bring a blanket! Midnight can get nippy, and without sufficient warm clothing, your dream theatre trip might turn into a midsummer nightmare.
Image Credit: Martin Pettitt via Flickr
Shakespeare's Globe is located at 21 New Globe Walk, Bankside, London, SE1 9DT
---
Minnack Theatre, Cornwall
Carved into a granite cliff in Porthcurno, you can't find a more dramatic setting for a performance than the Minnack Theatre. Open for their summer season between May and September, they present a range of drama, musicals and opera, both professional and amateur, but you may be slightly distracted from the action by the beautiful backdrop of Porthcurno Bay. The Minnack is also home to a nationally acclaimed coastal garden set into the cliffs, which features plants from all around the world including the Canary Islands, South Africa, Mexico and the Andes!
Image Credit: Antje Diehm via Flickr
The Minnack Theatre is located in Porthcurno, Penzance, Cornwall, TR19 6JU
---
Regent's Park Theatre, London
Running since 1932, summer in the city wouldn't be complete without a trip to Regent's Park Theatre. The theatre's aim is to bring art and culture to wider audiences, and with over 140,000 people visiting each year, it seems they're reaching their target! Their 2018 programme is extremely varied, with performances ranging from Peter Pan to The Turn of the Screw (a collaboration with English National Opera), As You Like It to Little Shop of Horrors, and even Dinosaur World Live! Set within the serene surroundings of Regent's Park, this is also the perfect place to bring a picnic along to, or you can make the most of the theatre's dining options including a barbeque and the West End's longest bar!
Image Credit: Adrian MacTaggart via Flickr
Regent's Park Theatre is located at Regent's Park, London, NW1 4NR
---
Set in a wooded glade near Kilworth House Hotel's lake, the Kilworth House Theatre in South Leicestershire is yet another spot where you can embrace the magic of theatre "en plein air"… well almost. Being covered by sail like canopies restricts your sky view, but at least you'll stay dry when those summer showers hit. This year, there's an evident music theme to the productions, with shows including The Rat Pack, Neil Diamond - Hello Again and The Lionel Richie Songbook paying homage to popular bands and musical legends. If you want to make a whole weekend of your visit to Kilworth, head to The Staging Post, their log cabin restaurant for a pre-theatre meal, and if you don't fancy driving back after a boozy evening, check into one of the hotel's garden rooms situated a short (if wobbly) walk away.
Image Credit: Kilworth House Hotel & Theatre via their website
Killworth House Theatre is located at Lutterworth Road, North Kilworth, LE17 6JE
---
National Trust Properties, Nationwide
Caring for a multitude of properties around the UK, The National Trust open up their historic landmarks over the summer months to play host to entertaining open-air family theatre. From acrobatics at Lacock Abbey to a re-enactment of a 1918 rural show at The Workhouse Southwell, there are endless performances in National Trust properties all over the country - there's bound to something close to everyone. Check out our interview with Neal Foster of Birmingham Stage Company to read about why he thinks theatre in historic locations adds a "whole new resonance" to a performance.
Image Credit: Ray Dale/ National Trust Images
Find out more about the National Trust's programme of outdoor theatre.