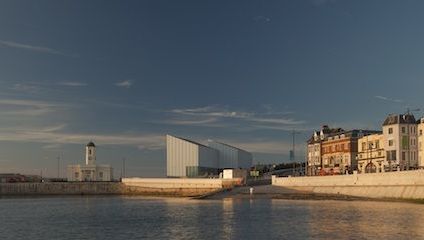 Between the miles of coastline and acres of wondrous countryside, the South East has become a thriving environment for art galleries of international importance. Whether you're looking for a day of family fun or desperate for an adventure, why not immerse yourself in local culture and history by visiting some of the best art galleries in South East England.
Culture Calling's selection of the best art galleries around the South East of England
---
Turner Contemporary
To explore the link between JWM Turner and contemporary art, look no further than the Turner Contemporary, one of the UK's leading art galleries. Situated in the vibrant seaside town of Margate on the same site where Turner lodged during his visits, the gallery offers a rolling programme of temporary exhibitions that bridge the gap between contemporary and historical art, as well as offering unique and innovative learning opportunities to local communities that enhance the regeneration of Margate. Admission to the gallery is free, making it a popular destination for Kent visitors and locals alike. Upcoming exhibition Joachim Koester: The Other Side of the Sky brings together Koester's media narratives and select Turner watercolours to transport you to another state of mind, another space, the other side. See it from 5 February to 8 May.
Image credit: Turner Contemporary | Benjamin Beker Turner Contemporary
---
Watts Gallery
Nestled away in the Surrey Hills, Watts Gallery - Artists' Village is a hidden gem: a purpose built gallery created to display the works of great Victorian artist G F Watts. It has since expanded to accommodate a programme of temporary exhibitions relating to Watts himself, his peers and Victorian England. The Artist's Village features stunning Victorian architecture including the extraordinary Grade-1 listed chapel designed by Watt's wife, as well as a vast collection of sculpture and over 100 paintings by Watts spanning over 70 years on permanent display. Current exhibition Brothers in Art: Drawings by Watts and Leighton explores one of the Victorian era's longest and most productive partnerships - see it before it closes on 19 February. Make sure to treat yourself to a cream tea in the gallery's award-winning tea-shop.
Image Credit: Watts Gallery
---
Modern Art Oxford
Located in the heart of Oxford, Modern Art Oxford is one of the UK's most exciting contemporary art spaces, dedicating its programme to making contemporary art accessible and engaging for all. In 2016, the gallery celebrates 50 years of being an internationally renowned cultural powerhouse. To celebrate this event, Modern Art Oxford will be presenting KALEIDOSCOPE, a year-long series of exhibitions, performances and events by world-leading artists including Marina Abramović, Douglas Gordon, Sol LeWitt and Yoko Ono. KALEIDOSCOPE's programming begins on 6 February, and all of its exhibitions and events are completely free of charge. Modern Art Oxford truly deserves a visit!
Image Credit: Modern Art Oxford
---
Towner Gallery
As well as being an award-winning contemporary art gallery, the Towner houses one of the most significant public art collections in the south east featuring historic, modern and contemporary artists including Henry Moore, Tacita Dean and Pablo Picasso, as well as holding the most expansive collection of work by Eric Ravilious. Up until 2009, the Towner was a Georgian manor house in the old town of Eastbourne, its increasing success led to the building of a new purpose-built gallery. Today, the art gallery boasts the largest display space in South East England, with a rolling programme of national and international contemporary art exhibitions alongside changing displays from the renowned permanent collection. Coming soon to the gallery is Art from Elsewhere, a major touring exhibition featuring over 50 works by 26 internationally celebrated artists. All exhibitions are free to enter!
Image credit: Towner Art Gallery | Courtesy of Avant Photographic
---
Jerwood Gallery
The final gallery on our list is another one that's located in a seaside town, and let us tell you - the Jerwood gallery is worth its salt. Visiting the Jerwood offers a uniquely British experience, featuring over 250 works of art created between the First World War and the 1960s by artists including Walter Sickhert, L.S. Lowry and Sir Stanley Spencer. The Gallery's building is an awe-inspiring architectural design that has been the recipient of many awards since its inception in 2012, including the RIBA award. As the Jerwood's collection continues to grow, contemporary art enthusiasts will be glad to know that the gallery also features recent paintings by artists including Rose Wylie, Maggie Hambling and Jeffery Camp. Though currently closed for maintenance, Jerwood Gallery will re-open on Saturday 30 January with John Bratby: Everything but the Kitchen Sink, Including the Kitchen Sink. Make sure to pay a visit, and do stop at the café for the stunning coastline view.