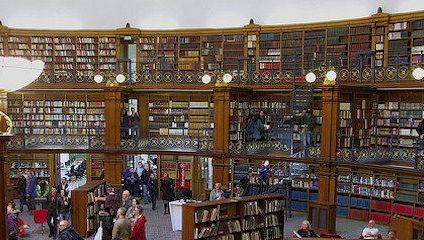 Whilst recent years have seen a rise in libraries closing, there are still many beautiful spaces across the UK dedicated to the literature our cultural history is built on. From taking guided tours, to becoming a member, or just finding a cosy spot to curl up with a book in some old and beautiful architecture, the UK's libraries are standing strong as ever.
Libraries that every book-worm should visit
---
Chetham's Library Manchester
Chetham's Library in Manchester was founded in 1653 and is home to 100,000 books and is so beautiful it was featured in the Harry Potter films. When it was built in the 17th century, (making it the oldest public library in the English speaking world) founder Humphrey Chatham wanted to create a library in the north that could rival those of Oxford and Cambridge. There are guided tours available throughout the day, with early printed books, diaries, letters and glass lantern slides all waiting to be explored, as you walk through the rooms once resided in by Karl Marx as he began writing the Communist Manifesto.
Image Credit: Chetham's Library via instagram.
Chetham's Library is located at Long Millgate, Manchester, M3 1SB.
---
Liverpool Central Library
After falling into disrepair, a huge renovation project saw Liverpool Central Library get a £50 million revamp in 2013, and make it one of Liverpool's cultural highlights today. There are archives of Liverpool's history from the 13th century to the present day, as well as 150,000 rare books including John James Audubon's Birds of America which has one of its pages turned everyday so that the whole book ages at the same rate while it is on display. There's a whole space dedicated to children's books and their discovery of reading, including computers that are free to use and occasional storytelling events. The spiral staircase and huge skylight that sit inside are what library dreams are made of.
Image Credit: Terry Keaney via Flickr
Liverpool Central Library is located at William Brown Street, Liverpool, L3 8EW.
---
Bodleian Library
The main research library of Oxford University, Bodleian Library is a legal deposit library - it can request a copy of any and every book published in the UK. One of the oldest libraries in Europe it is a part of the Bodleian Libraries group and is home to over 12 million printed items consisting of collections from Thomas Bodley and John Radcliffe. You can take tours of the library or become a member to get access to their collections. The intricate architecture and historic site is inspiring, and you can either take half hour mini tours or hour long standard tours around this beautiful and historic site.
Image Credit: Suberhwal via Flickr
Bodleian Library is located at Broad Street, Oxford, OX1 3BG.
---
Library of Birmingham
From the outside, this library is made up of coloured blocks, giving the exterior a square look that lights up the city skyline. Inside however, it's a circular treasure trove of fairy lights and archives and is one of the largest public libraries in the UK. As well as being a part of the REP theatre, the Library of Birmingham also has access to the national film archive through BFI mediatheque. Across ten levels, there are also garden terraces, children's spaces and an outdoor amphitheatre, as well as the Shakespeare memorial room which has been completely recreated from the original Victorian library.
Image Credit: John Lord via Flickr
Library of Birmingham is located at Centenary Square, Broad Street, Birmingham, B1 2ND
---
British Library
The largest library in the world and the national library of the UK, The British Library is home to over 150 million items, from print to digital to sound archives, maps, newspapers, prints and patents. It's an astoundingly huge collection of everything and anything you could possibly ever need, including the Magna Carta, Leonardo Da Vinci's notebook and Beatles manuscripts. Originally part of the British Museum, the British Library separated in 1973, and regularly hosts events celebrating the best of British literary culture. Anyone can go and work there, dependent on finding a space across the popular Grade I listed building.
Image Credit: Alex Watson via Flickr
The British Library is located at 96 Euston Road, London, NW1 2DB.