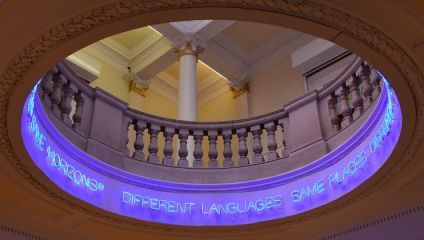 Art exhibitions to catch this Spring/Summer in the North
There's a fair few decent exhibitions on the way to the North West in the next few months… here are a few you might be interested in.
---
Derek Jarman: Protest! - Manchester Art Gallery
2 April - 31 August
There's about 50 reasons you might be familiar with the work of Derek Jarman. He made music videos for The Smiths, he designed film-sets for Ken Russell, he kept one of Britain's most recognisable gardens, he wrote books, he painted paintings, he created what many believe to be the finest film of the punk era...
Protest! at Manchester Art Gallery pulls together work from all these mediums to create a full-bodied retrospective of his impressive output, featuring stuff from his early days working from an old warehouse on the banks of the Thames up to his final years in his Dungeness cottage.
---
The People's City - The Refuge, Manchester
Now until 30 April
Refuge is the name of the bar at the bottom of that swanky looking Principal Hotel opposite Manchester's Oxford Road station. As well as serving drinks and stuff, they've also started to put on exhibitions. This one is particularly good. Curated by The British Culture Archive, it's a celebration of working class culture through the medium of documentary photography.
From Peter Walsh's up-close, flashed-out shots of the early acid house scene, to the stark concrete of Hulme Crescents, as captured by the camera of Richard Davis, the photos on display here give a window into the people and places that made the North West of England what it is today.
---
Matisse: Drawing with Scissors, Late Works 1950-1954 - Gallery Oldham
21 March - 16 May
Whilst the French artist Henri Mattise made his name as a painter, some of his most popular images are those he created in his later years. Unable to paint due to ill-health, he found a creative outlet by cutting up brightly coloured paper to create bold, often figurative, collages. Lithographic prints of these potent images make up Drawing With Scissors at Gallery Oldham.
And whilst you're there, also make sure you check out Gallery Oldham's Syd Shelton exhibition, featuring black and white photographs of bands like The Clash, Au Pairs and The Specials taken during the Rock Against Racism gigs of the late 70s.
---
Linda McCartney Retrospective - Walker Art Gallery, Liverpool
25 Apr - 31 Aug
There was more to Linda McCartney than veggie sausages, and she was in fact one of the most acclaimed rock photographers of the 1960s, capturing images of some of the most iconic musicians of the age, including the Rolling Stones, Bob Dylan and Neil Young.
This retrospective at Liverpool's Walker Art Gallery displays over 200 of her photographs, mixing commissioned work for magazines with candid shots of family life.
---
Mark Making - Bury Art Museum
8 February - 2 May
'Mark making' is the term used to describe the act of leaving a mark on a surface, and covers everything from early cave paintings to modern-day digital line wizardry. This exhibition at Bury Art Museum uses this fairly open-ended theme as a jump-off point to display a wide range of artworks and artifacts from its impressive archive. There's Burmese scriptures… there's decorated coconuts… there's even some work by David Hockney. Something for everyone then…