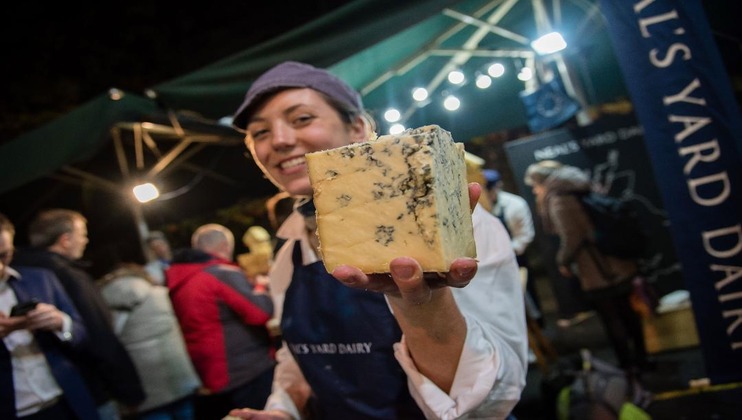 Borough Market has announced its Christmas plans, with the return of its popular annual Evening of Cheese, live choirs, bands and extended shopping hours.
Taking place on Wednesday 13th December, the annual cheese extravaganza, led by the Market's community of cheesemongers, from 6pm-9pm, giving shoppers the chance to seek expert advice on the perfect festive cheeseboard. Shoppers can expect to find the highest quality cheeses from Britain, Ireland, France, Italy, Spain, Switzerland and the Netherlands, including a range of cow, goat and sheep-based produce.
Meanwhile, a variety of the Market's drinks traders will also be on hand to keep shoppers refreshed during the evening.
The Market's Christmas festivities will see beautiful garlands and lights throughout the Market from Friday 17th November, as well as traditional real trees creating a magical atmosphere. From Friday 1st December, there will also be a weekly programme of live choirs and bands to soundtrack visitors' Christmas shopping.
There will also be gift edit brochures available in The Borough Market Store, offering inspiration for visitors to create their own Christmas gifts for food lovers, from a 'Chilli Lovers' edit, to 'Home Cooks' and 'Vegan Treats', the Market has flavours to suit everyone's Christmas needs.
The Market's social media channels will also be running a "Festive Fives" series, highlighting five festive classics to get you in the mood for celebrations, including cheeseboards, charcuterie, drinks, desserts and the main event of Christmas lunch itself. Tips and recipes for any leftover food will also be available to ensure nothing goes to waste.
Jane Swift, CEO of Borough Market, said: "Christmas is always such a special time at the Market, with our Evening of Cheese being a calendar highlight. This event not only provides shoppers with the chance to try new cheeses but it is also a great way to get to know our traders and the story behind their produce. With cheese being a staple piece of the Christmas season, this is an event not to be missed.'
Borough Market will be offering extended opening times over the Christmas period, trading seven days per week from Monday 4th December – Sunday 24th December (included). Christmas Day, Boxing Day and 27th December will be closed so traders can enjoy time with families, as will New Year's Day, 2nd and 3rd January.
Further Details: London's premier food market | Borough Market