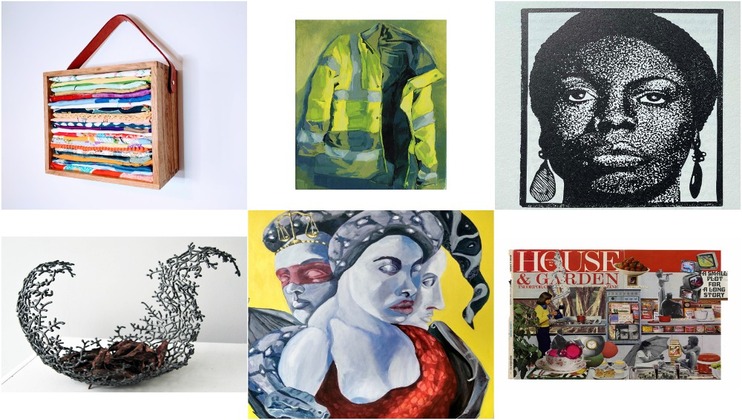 Kirkby Gallery is delighted to present its biennial exhibition, Crafted
Kirkby Gallery's biennial exhibition of contemporary craft, design and fine art returns to the gallery until 23 December, featuring a host of artists and makers from across the region.
The Crafted exhibition will showcase metalwork, textiles, fashion, ceramics, illustration, collage, painting and book art from artists and makers including Becky Atherton, Kelly Broughton, Kate Bufton, Hollie Cooper, Julie Dodd, Harry Garner, Heston Isle Press, David Holmes, Sue McLaren, Ali Pickard, Catherine Rogers, Julie Taylor, Kate Tidmarsh, Hilary Marteau and the North West Book Art Group.
For 2023, the exhibition has been co-curated with Liverpool Book Art, celebrating the creative practice of book art through unique hand-made books, stories & illustrations, distinctive notebooks, prints, book sculptures, bindings, and more! Bringing this to life is a unique exhibition on the groundfloor of The Kirkby Centre, of the special collection owned by Liverpool Book Art, offering the opportunity to see how diverse this genre of art truly is. This show runs parallel to the Crafted exhibition so the visiting public can enjoy this until the 23rd December.
Additionally, Liverpool Book Art will be hosting a series of special events and fringe exhibitions throughout the exhibition's duration to give people an opportunity to explore the artform for themselves.
All of the artworks in the Crafted exhibition are for sale with a range of price points available, from smaller affordable works through to major pieces which would be sure to make a unique and thoughtful Christmas gift.
The Gallery is open Monday – Friday 10am – 5pm and Saturdays 10am – 1pm.
CRAFTED: until 23 December 2023
Further Information: Crafted at Kirkby Gallery – Culture Knowsley