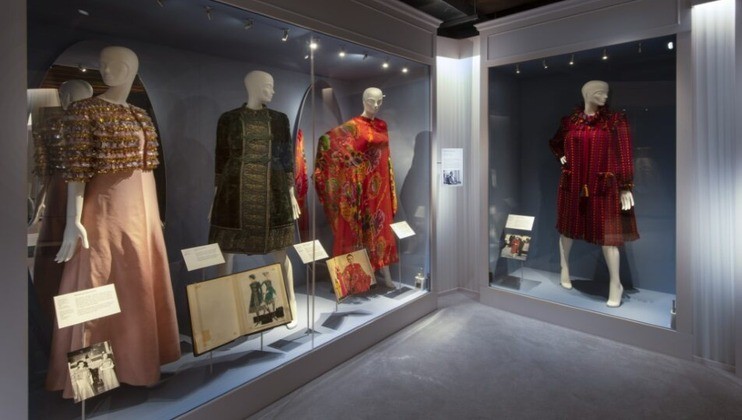 How Jewish Londoners shaped global style
A red coat worn by Princess Diana and a tweed coat worn by EastEnders' Dot Cotton will go on display alongside clothing from M&S, Moss Bros and Wallis in a new major exhibition at Museum of London Docklands showcasing the role of Jewish designers, makers and retailers in making London an iconic fashion city.
Step inside a traditional tailor's workshop in the East End and immerse yourself in the glitz and glamour of a Carnaby Street boutique at the height of the Swinging Sixties – when London was the world's fashion capital. For the first time, this exhibition will uncover the major contribution of Jewish designers in making London an iconic fashion city. Discover the stories behind the Jewish fashion makers who became leaders in their industries, founded retail chains still on the high street today, and dressed the rich and famous – including David Bowie, Princess Diana and Mick Jagger.
Learn about the contribution of key figures, such as renowned wedding dress designer Netty Spiegel, master milliner Otto Lucas, the epitome of British flamboyance Mr Fish, and living legend David Sassoon.
Featuring fashion and textiles, oral histories, objects, ephemera and photography, Fashion City uses the places and spaces of London to weave individual stories together with a broader social history. Bringing together new insights from in-depth curatorial research, it is the first major exhibition in two decades centred on the museum's extensive Dress & Textile collection..
Setting the scene is a space dedicated to London's East End, where many Jewish migrants arrived between the late 19th and mid-20th century. Personal ephemera from ordinary Londoners will tell stories of some of the 200,000 Jewish people who arrived in Britain during that time, over 50% of whom were involved in the fashion, clothing, and textile trade.
Highlights include:
A newly acquired Alexon tweed coat worn by beloved EastEnders character Dot Cotton,
Items from some of the UK's most recognisable high street stores
A Mr Fish maxi-smoking dress, found as a result of the public call out in January 2023.
A bag created by Rosenthal, Jacob & Co (1881-1892) that belonged to Queen Victoria or her daughter Princess Louise
Hats and objects relating to Otto Lucas, the 'milliner millionaire' who changed the global reputation of British fashion in the mid-20th century and whose hats graced the cover of British Vogue
A wedding dress by Neymar– a brand founded by Netty Spiegel one of London's go-to wedding dress designers.
Fashion City explores the stories of Jewish entrepreneurs and retailers who shaped the British high street and pinpoint the impact Jewish people had in shaping the ready-to-wear industry and new kinds of shopping experiences.
Further Information: Fashion City exhibition | Museum of London Docklands