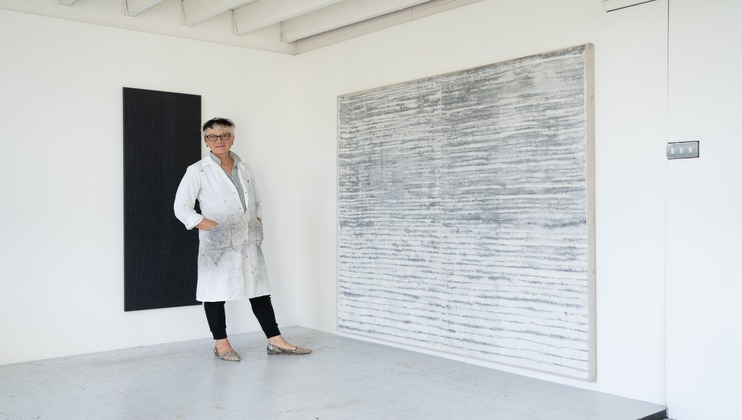 Two new exhibitions Rebecca Salter & James Gillray
Gainsborough's House, the national centre for the study of Thomas Gainsborough, Suffolk, has unveiled two special exhibitions, which opened on 11 November 2023 and is running until 10 March 2024.
In View: Rebecca Salter at Gainsborough's House is the first solo museum show in the UK dedicated to the work of the British abstract artist Rebecca Salter, President of the Royal Academy of Arts, London, and by association, President of Gainsborough's House.
Having formally studied traditional Japanese woodblock printing in Kyoto for six years, Rebecca Salter, the first woman President of the Royal Academy, is renowned as a painter whose work combines Western and Eastern traditions. This thought-provoking and stimulating exhibition demonstrates how her artistic practice has been deeply rooted in traditional Japanese art, how it combines Eastern and Western traditions, and how print processes are central to the conception and execution of her work.
The principal exhibition is accompanied by a fascinating juxtaposition of works specially selected by the artist to hang alongside appropriate Gainsborough artworks from the museum's own collection.
James Gillray: Characters in Caricature celebrates Georgian Britain's funniest, most inventive and most famous graphic satirist in an exhibition curated by Tim Clayton, author of 2022's definitive biography.
Known as the 'father of the political cartoon', James Gillray's work has continued to influence his successors through time, from David Low (1891 – 1963) to Martin Rowson (b.1959). Featuring over one hundred works, this lively and daring exhibition brings to life the master satirist and examines how Gillray (1756-1815), a contemporary of Thomas Gainsborough, exposed the most notorious scandals of his time by focusing on the artist's principal characters, such household names as Emma Hamilton and Napoleon Bonaparte, as well as the British royal family, to which he returned again and again.
Further Information: Gainsborough's House