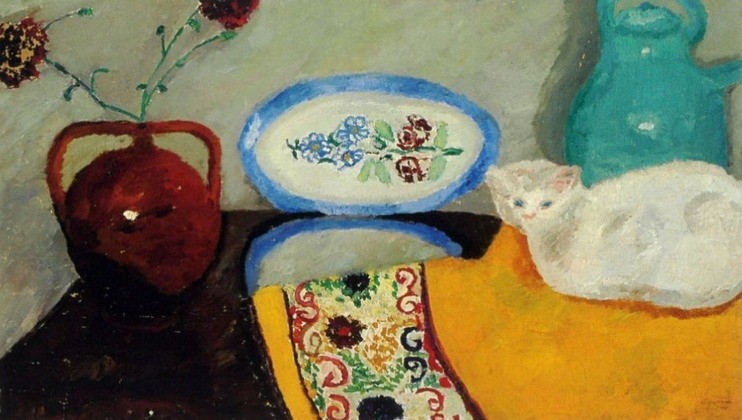 From Muse to Painter
Pasquarosa Marcelli (1896 - 1973), known simply as 'Pasquarosa', was one of the first Italian artists to have a solo exhibition in London, during the 1920s. A century later, her work returns to the capital in a new show featuring some 50 paintings and drawings on loan from Rome's Archivio Nino e Pasquarosa Bertoletti and other private collections. Pasquarosa: From Muse to Painter opens at the Estorick Collection of Modern Italian Art on 12 January and runs until 28 April.
Born in Anticoli Corrado, Pasquarosa moved to Rome as a young woman to work as an artist's model, where she met her future husband (the painter Nino Bertoletti) and became part of an artistic coterie. Between 1913 and 1914, the couple established a studio in Villa Strohl-fern where, despite never having had any formal training Pasquarosa began to paint. She exhibited her work for the first time at the Roman Secessionist exhibition of 1915, achieving unexpected success. From that point on critics began to praise the spontaneous and original character of her imagery, with one describing her as a "phenomenon".

She travelled a great deal during the inter-war years, visiting cities such as Paris, Venice and Madrid, and came into contact with some of the key figures of the artistic and cultural establishment of the day, including Luigi Pirandello, Giorgio de Chirico and Renato Guttuso. During the late 1920s, she had a solo exhibition at London's Arlington Gallery – something highly unusual for a female Italian artist at that time.
Starting from humble beginnings, Pasquarosa established herself as a successful artist during an unpropitious and turbulent historical period that witnessed two world wars. She continued to exhibit within Italy throughout her life and participated in numerous Venice Biennales from the 1930s until shortly before her death in 1973. Her work is a testament to the enduring power of art to change lives.

The exhibition has been curated by Pier Paolo Pancotto.
Pasquarosa: From Muse to Painter: 12 January 2024 - 28 April 2024
Further Information: Exhibitions - Estorick Collection