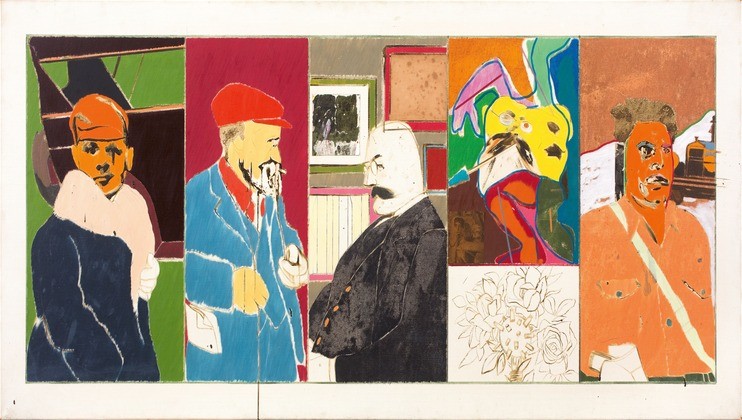 The first major retrospective of R.B. Kitaj in the UK for a decade
The exhibition will feature over 40 paintings, pastels and drawings, covering all major periods of his work, from student days at the Royal College of Art, to his final contemplative years in Los Angeles. It includes rarely seen works, some of which have not been on public display for over fifty years.
Sixty years after his very first exhibition, R.B Kitaj: London to Los Angeles will open on 25 October 2023 at Piano Nobile in London. The gallery has represented the artist's estate since last year. The exhibition will include the first major catalogue on Kitaj's work for ten years, incorporating essays and explanations from fellow artists and friends, as well as never-before-seen correspondence revealing his personal responses to the highs and lows of his career.
Kitaj was at the centre of a peer group that included David Hockney, Frank Auerbach and Leon Kossoff, and came to help define a new generation of artists from the 1960s. He was determined to pursue figurative painting whether it was in or out of fashion in critical circles, with a dedication to the human figure, art history and the great painters from Giotto to Cézanne. His friends and peers would also be his subjects, and Kitaj's drawing of Hockney, D.H in Hollywood (1971) will be exhibited in public for the very first time.
The exhibition provides a chronological overview of Kitaj's career, exploring the relationship between his art and the places he lived. Although he travelled widely, spending seasons and sometimes whole years in California, Catalonia, Paris and New York, Kitaj made London his home from 1959 – the year he entered the Royal College of Art – until 1997. For the last decade of his life, from 1997 to 2007, he lived in Los Angeles.
The exhibition includes little-known early work of the fifties, the groundbreaking 'collagist' work of the sixties that established his reputation, and the life drawings and glowing paintings of the seventies, continuing through to Kitaj's rediscovery of painting in the eighties and his final period in Los Angeles. An accompanying publication includes original essays by Andrew Dempsey, Marco Livingstone and Colin Wiggins, in addition to extended excerpts from Kitaj's letters to Livingstone, now held by the Tate Archive and published here for the first time.
Matthew Travers, Director of Piano Nobile, said: "We are very pleased to be holding a retrospective exhibition of work by R.B. Kitaj, one of the most sensational, outrageous, and frankly ambitious painters to live and work in London in the twentieth century".
R.B Kitaj: London to Los Angeles: 25 October 2023 – 26 January 2024
Further Information: Piano Nobile (piano-nobile.com)