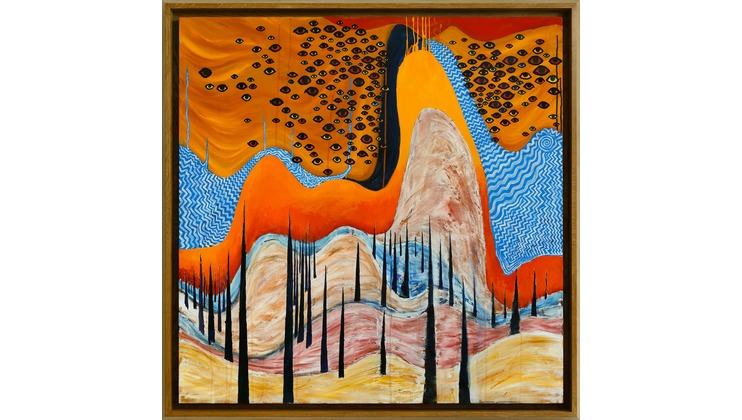 A second exhibition of new paintings by Thom Yorke & Stanley Donwood
Following the incredibly successful 'part one', a sell-out show which included an acquisition by Maastricht's Bonnefanten Museum, Thom Yorke and Stanley Donwood return to TIN MAN ART with a series of all-new works for 'The Crow Flies: part two'.The exhibition will also exclusively showcase for the first time the new album artwork for The Smile's just-announced sophomore album Wall of Eyes, which will be released on 26th January 2024 – a follow up to last year's critically acclaimed debut album, A Light For Attracting Attention.
The Smile are a trio comprising Radiohead's Thom Yorke and Jonny Greenwood, together with jazz drummer Tom Skinner. The band's name was taken from Ted Hughes's seminal poetry collection Crow, which has also inspired the title of the exhibitions.
Now, Yorke and Donwood will continue the visual journey they revealed at TIN MAN ART in September with 13 new works, including large-scale paintings, drawings and a woven tapestry.
Inspired by Wall of Eyes, the works are closely linked with the process of making the album and were further developed at Abbey Road studios during the band's recording session there. Fusing the collaborative nature of music with art, Donwood set up a studio inside the famous building with dust sheets, easels, huge blank canvases and a live audio feed of the sessions from the adjoining control room.
Donwood and Yorke then worked on a series of paintings over the ensuing two weeks.The 10 paintings they created include the entirety of the album artwork and will be on display at Cromwell Place in December.
A new tapestry, which has been specially commissioned by the artists in conjunction with TIN MAN ART, will also be shown. Woven in Flanders, it is a re-creation of the Wall of Eyes album cover.
The Crow Flies: part two promises to continue an exciting new chapter in Yorke and Donwood's artistic partnership. It demonstrates the uniqueness of these two artists, as well as their creative process. The way in which the works have come to fruition has been likened to making a record by Yorke, with the exploration of paint akin to musicians who "start with little and keep going until something appears".
The end result can now be enjoyed by the public who will be able to get up close with these grand-scale canvasses.
The Crow Flies: part two is presented by TIN MAN ART
Further Information: What's On | Cromwell Place