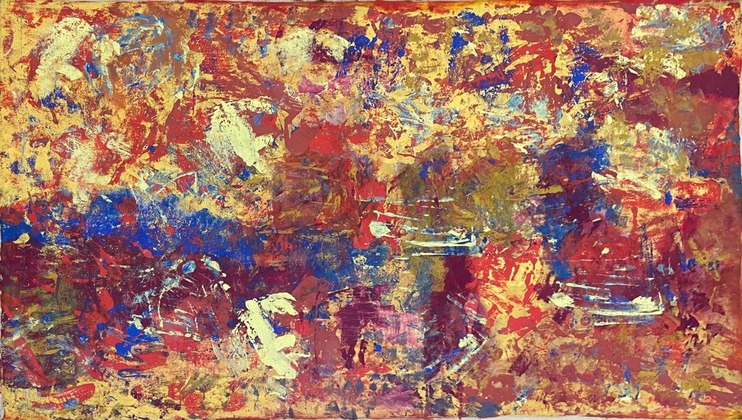 The Sweet Scent of Magnolia
Varvara Roza Galleries in collaboration with The Blender Gallery announce a Major Solo Exhibition: Winston Branch "The Sweet Scent of Magnolia", 21 Nov 2023 – 19 Dec 2023. This exhibition will present his new body of work, consisting of large-scale canvases painted in his London studio during a prolific period in 2023.

The excitement with which his paintings have developed over the years, has always been to explore the magic of paint: The way a total amorphous substance is transformed into an illusionary subject. It is the sensuality of the pigment of the paint that has captivated his inner voice.

In his early development, Monet's "Water Lilies", always captured a very strong use of light, exploring the textural surface on the canvas. These paintings he has not emulated but they have been buried deep in his subconscious and has tried to postulate that radiance both in light and in feeling.
For him painting can only work on a purely intuitive instinct, on gut feeling. Though the intellectual process is the justification of the act, in his study of "Nude in an interior" painted in 1967, he has tried to orchestrate the figurative image and at the same time, convey a greater sensuous approach to paint.

As he has moved on, absorbing the influences of Matisse and Nicolas de Stael and widening a greater horizon, the formation of his perception has embraced the non-representational aspect of painting much more. Painting for him has always been a grand gesture and as he has found his identity as an artist, it was inevitable that this would lead to pure abstraction. It is cutting at the edge of the bone of the human experience as the faculty of imagination is the highest order of the manifestation of one's soul.
He begins with an emotion and paints as many canvases as it takes until that feeling is fulfilled. He took Monet's 'Waterlilies' and melted them into glorious, shimmering colour that evoked unfathomable depths. He conveyed the rhythms of nature in thickly layered patches of powdery acrylic.
At the age of 76, Branch shows no signs of slowing down, and remains as dedicated as ever to his craft.
Recent exhibitions include; the Royal Academy of Arts Summer exhibition 2023; "Jasmines Blowing in the wind" at Simon Lee Gallery 'Fragments of Light' at Cedric Bardawill in 2023; and a group exhibition at The Whitworth Art Gallery, Manchester in 2022.
Further Information: Home - Varvara Roza Galleries