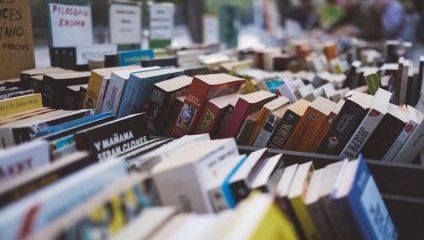 Bristol's literary scene has many claims to fame ranging from the early 1700s to the present day. Not only is it the city to have inspired the very first English novel, Bristol has also played host to readings from the likes of Charles Dickens and Oscar Wilde. With the annual Bristol Shakespeare Festival currently underway, now seems like the perfect time to remind ourselves of the city's rich literary heritage.

Links with Literary Figures

The Llandoger Trow is known to many Bristolians for its buzzing atmosphere. However, many book lovers may not be aware that this blooming pub was a vital source of inspiration for Daniel Defoe while he was writing Robinson Crusoe (1719); arguably the first English novel. It was here that Defoe met Alexander Selkirk who sparked the idea for his novel – little did they know that it would go on to pioneer a whole genre of fiction.



Image Credit: Michiel Jelijs, Llandoger Trow

Another author affiliated with the city is Jane Austen, known to have spent time in Bristol with her family, particularly in the Clifton area. This cultural hub added finesse to Austen's novels: even Blaise Castle Estate, a folly located in Bristol, received a mentioned in Northanger Abbey (1817). Austen expanded her horizons even further to Bath, a neighbouring city to Bristol, and many Bath locations can be noted throughout her novels.



Image Credit: Adrian Scottow, Blaise Castle

More recently, J.K. Rowling's work has used the unique people of Bristol as inspiration for her world-famous Harry Potter series. Rowling was brought up in Chipping Sodbury – a few miles from the city of centre of Bristol – and is alleged to have met a teenage boy in the city who much later became the inspiration for Harry himself.

Literary Tours and Festivals

Bristol's Treasure Island Trail celebrates none other than Robert Louis Stevenson's novel Treasure Island (1883), which was partly set in the city. The trail is marked by eight wine barrels placed in locations that are relevant to the novel, such as King Street and M Shed on Bristol's Floating Harbour. Each barrel on the trail is printed with an extract from Treasure Island to read, and contains unique facts about Bristol's maritime history.



Image Credit: Paul Townsend, King Street

Calling all Shakespeare fans: the Bristol Shakespeare Festival continues to bring some of the most unique productions of Shakespeare's plays to scenic locations all over Bristol throughout the month of July. The festival has been running for fourteen years, and has included productions from The Lord Chamberlain's Men and Shakespeare's Globe as well as youth groups. This fresh and unique festival is run entirely by volunteers, from managing the box office to selling programmes, and is a great way for any Bristolian book lovers to help out in their local literary community.



Image Credit: Jon Craig, Bristol Shakespeare Festival 2015

Spoken Word & Theatre

Built in 1841, the Victoria Rooms have hosted various literary figures over the years. Dickens and his friend and fellow author Wilkie Collins were known to have performed two plays here in 1851, with Dickens giving a variety of readings to large audiences. Although the building now belongs to the University of Bristol, Oscar Wilde was also known to have spoken in the Victoria Rooms, allegedly giving an extensive account on aesthetics to a roomful of eager listeners.



Image Credit: Heather Cowper, Victoria Rooms

The Bristol Old Vic is based in the city centre and has seen a myriad of plays being performed since being opened in 1766. Productions from the theatre have toured all around the world with Measure for Measure going on to be performed in America, while A Man for all Seasons was taken to Ceylon and Pakistan in 1962 and 1963. In fact, this theatre continues to promote the importance of the arts since the opening of the Bristol Old Vic Theatre School in 1946. Here, a six-month contract is offered to two graduating actors thanks to the Peter O'Toole prize.


Image Credit: David McKelvey, Bristol Old Vic