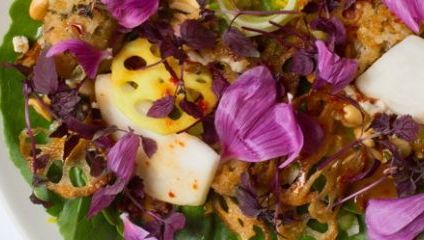 We all remember the fish and chips, battered sausages and ice cream from childhood trips to the seaside. Luckily, Brighton has a lot to offer those following a meat-free or plant-based diet as well. Complimenting the city's quirky charm and liberal vibe, Brighton has a generous helping of vegetarian and vegan cuisine, some of which even rivals London's offerings. We've created a comprehensive guide for vegans and vegetarians in Brighton, from pizza through to pub grub and kebabs.

Infinity Foods

Something of an institution in Brighton is Infinity Foods, comprised of a café, a shop and a bakery. They produce delicious organic food that is totally vegetarian and largely vegan. Sample sourdough treats from their bakery, fresh sandwiches and endless amounts of vegan cake.

Gardner Street, Brighton

Terre a Terre

Billed as The Vegetarian Restaurant, Terre a Terre is the perfect option for vegetarians looking for a proper sit-down dinner experience. The dishes are on the pricey side but are nonetheless completely mouthwatering and adventurous, from BBQ tofu skewers to the Asian inspired Ding Dong Dengaku.



Peeking Buns, Terre a Terre.

71 East St, BN1

Loving Hut

The Loving Hut has two restaurants in Brighton, serving … well, just about everything. Whether you're looking for a breakfast panini, a 'chicken' burger or a traditional ice cream sundae, Loving Hut is guaranteed to leave you full up for the rest of the day, and all with very reasonable prices as well.

48 Gardner Street, Brighton, BN1 1UN and 5 St. Peters Place, Brighton & Hove BN1 4SA

WaiKikaMooKau

Winning the prize for best name, WaiKikaMooKau is also the perfect lunch destination. Describing itself as the place of healthy indulgence, you can enjoy full breakfasts, chillis and salads washed down with milkshakes or vegan smoothies.

11A Kensington Gardens, North Lanes, Brighton BN1 4AL

VBites

VBites are passionate about producing delicious food including breakfast, mains and snacks that will reduce our environmental impact. They change up their specials every week but menus can include everything from Portobello mushroom burgers through to delicious almond muffins and Yorkshire puddings.



Cooked Breakfast, VBites. Photo Credit: Gideon Knight.

14 East Street, Brighton BN1 1HP

Rootcandi

Serving Pan-Asian street food, Rootcandi's menu is 100% plant based. Enjoy bao buns, stir-fries, curries and gyoza, and if you're popping in for lunch, you can even enjoy three dishes for just £9.50.

105 Western Road, Brighton, BN1 2AA

Beelzebab

Vegan kebabs might sound like an oxymoron, but it's a thing, and it's seriously delicious. Located inside the Hope and Glory pub, Beezlebab offers a proper lad's night with a vegan doner kebab and a glass of beer by your side. Make sure to try the fries, loaded with peanut satay, battered gherkins and sauerkraut too.

11-12 Queens Rd, Brighton BN1 3WA

Green Kitchen

Even if you're someone who insists on a meat-based main, it's hard not to be impressed by Green Kitchen's menu. Enjoy a full English breakfast (including vegan sausage and artisan vegan bacon) or an incredible range of burgers with imaginative flavours, from sundried tomatoes Italian herbs and onions to golden peaches, rosemary and a hint of cinnamon.

8 Preston Rd, Brighton, BN1 4QF

Iydea

In a rush but need to grab lunch? Iydea ensures a quick, healthy lunch infused with delicious and exotic flavours. With a buffet-style menu, you can choose from lasagna, curries, jumbo couscous and much more.



Photo Credit: Scottie McPherson

17 Kensington Gardens, North Lanes, Brighton BN1 4AL

Gelato Gusto

What's a trip to the seaside without ice cream? Serving fresh, homemade gelato, Gelato Gusto often has queues stretching straight out of the door. They certainly don't leave out the vegans either, serving delicious vegan gelato and waffles even better than a 99 flake.

2 Gardner St, Brighton BN1 1UP

Purezza

Who said vegans can't have pizza? Purezza is here to prove them wrong. Enjoy all of your favourite pizza toppings with a cruelty-free twist, such as seitan salami, four cheeses including rice, coconut and cashew variations and pea pancetta. Exclusive to Brighton, this is a must-eat destination for visiting vegans.



Purezza Pizza

12 St James's Street, Brighton, East Sussex BN2 1RE

Glazed

Two words: vegan donuts. This lovely little coffee shop offers a relaxed environment in a great location with a wide range of donuts including peanut, lemon and chocolate flavours, and even edible glitter!

25 Ditchling Rd, Hove, Brighton BN1

The Prince George Pub

Pubs rarely give vegetarians and vegans more options than salad and chips - and this is where The Prince George comes in. It has a dedicated vegetarian and vegan menu serving your traditional British pub grub, including wraps, sausage & mash, and ice cream.

5 Trafalgar St, Brighton BN1 4EQ

Food For Friends

If you've ever had to plump for the single vegetarian or vegan option on the dinner menu, you will love Food For Friends. Choose from delicious homemade ravioli, goat's cheese soufflé and grilled oyster mushrooms, or a generously stacked shared platter for two with a glass of wine. This is luxurious vegan and veggie food at its finest.

17-18 Prince Albert St, Brighton BN1 1HF