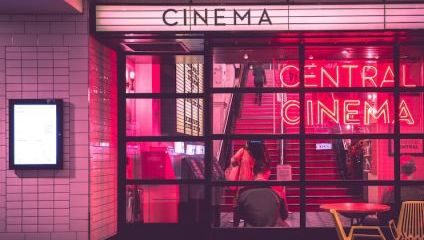 Enjoying the big screen (with a small child)
Whilst there's all manner of groups, activities and events for babies to enjoy… it might be said that there's not much out there for the parents. Luckily a fair few cinemas now put on 'baby screenings', giving parents a chance to get out to the silver screen, without having to organise a baby-sitter.
Each cinema does things slightly differently, but generally the lights are dimmed instead of fully switched off, and the sound isn't quite as loud. Put simply, it's a bit more relaxed, and no one will mind if there's a bit of noise or you have to scramble for a pot of mashed banana halfway through a crucial scene. There's often no trailers either or adverts either, so be sure to get there on time if you want to see the start of the film. It's also worth knowing that these are usually only for babies who are 12 months and under — but most cinemas who do baby screenings also do similar styled family screenings too.

Now we've got all that out of the way, here's a few baby screenings going on around the North West over the next few weeks…

Little Women at HOME
23 January 2020

HOME in the centre of Manchester (just down the road from Oxford Road train station) puts a baby screening on every third Thursday of the month. In January they're showing Little Women — Greta Gerwig's adaptation of Louisa May Alcott's classic 19th century novel. Will your baby be captivated by this tale of four headstrong sisters, each determined to make their own way in the world? Or will they sleep through the whole thing? Head to HOME to find out.

Jojo Rabbit at The Light Stockport
23 January 2020

Stockport's The Light cinema currently leads the way for baby screenings - putting on a few different films every week, just for parents and babies. They also give you a complimentary cup of tea or coffee with every ticket - which is a nice touch. It's probably worth visiting The Light's website as they only display their listings one week at a time, but if you like the sound of a bit of World War II satire on a Thursday morning then Jojo Rabbit (a film about a young lad and his imaginary friend, Adolf Hitler) might be worth a look.

Bombshell at Storyhouse Chester
29 January 2020

Meanwhile, over in Chester, the Grade II listed cultural mega-plex Storyhouse runs a baby screening every Wednesday at 11:00 (outside of school holidays). On Wednesday 29 January they're showing Bombshell — a true story of scandal inside the Fox media empire, starring Charlize Theron, Nicole Kidman, Margot Robbie and… er… John Lithgow of Harry and the Hendersons fame.

A Personal History of David Copperfield at Showcase Manchester
30 January 2020

Showcase Cinema on Denton's Hyde Road does a baby screening every Thursday at 11:00, and on 30 January they're showing A Personal History of David Copperfield. Directed by Armando Lanucci - the Scottish satire master behind The Thick of It, Veep and 2017's The Death of Stalin, this should be a bit different to the usual Dickensian fare. It'll probably give you a much-needed break from Igglepiggle and friends too.