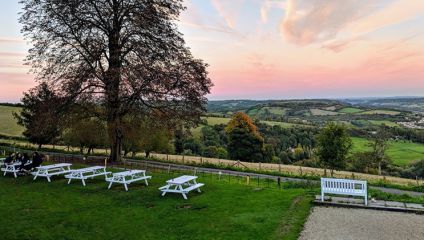 View from the Bath's Hare and Hound is not to be missed.

View from the Bath's Hare and Hound is not to be missed. Link here.

March 2021

Come 12th April, the UK's pubs will begin welcoming punters back into their pub gardens. Lunches or evenings spent relaxing with friends – perhaps near a river or a stellar view – now seem like something of the past. Mere memories. Somerset is arguably home to some the UK's greatest pubs and Bath boasts a decent slice of this pie so we thought we would raise a toast to some of the best places to enjoy a drink, some food and some atmosphere in the iconic Roman city. Ah how we have missed the small things…

1 Hare & Hounds – link here



View from the Bath's Hare and Hound. Image via Facebook.

Situated 1.5 miles north of Bath, gastropub the Hare & Hounds sits with fantastic views over the Charlcombe Valley. In accordance with the lockdown changes, the pub's numerous terrace tables can be reserved up to 6 people (covered if needed). With an excellent locally sourced menu and an intriguing new garden pizza offering. Dog friendly and kids are welcome!

Reservations here
Where? Lansdown Road, Bath, BA25TJ.

---

2. The Boater – link here



The Boaters excellent multi-level garden. Image via The Boater.

Next up is The Boater which can be found in central Bath, right next to historical and famous Pultney Bridge. The split-level pub has a relatively discrete entrance but don't let that deceive you. You will find a large beer garden (Bath's biggest beer garden actually), an outside BBQ kitchen, four bars and all of the craft beers and cask ale beverages you could want in such a setting. A perfect place to catch up with loved ones after so much time apart.


Reservations here
Where? 9 Argyle St, Bathwick, Bath BA2 4BQ

---

3. The Locksbrook Inn – link here



Oh yes, that's the stuff. Photography via The Locksbrook Inn.


If you like riverside relaxation with a luxurious touch (who doesn't?) The Locksbrook Inn is for you. Situated west of Bath city centre on the canal (in Lower Weston), the food is gastro-affair with an emphasis on fresh ingredients, relaxed Sunday roasts, hefty breakfasts and frothy breakfasts. Ably run by Bath Pub Company (the same folks that handle as Hare and Hounds), this is worlds away from grabbing a sliver of sunshine in your backyard…


Reservations here
Where? 103 Locksbrook Rd, Bath, BA1 3EN

---


4. The Cork – link here



The Cork's suntrap garden. Photography via The Cork, found here.

Last up on our Bath roundup is city centre favourite The Cork. In its own words 'coming out of hibernation' this Cask Marque accredited drinking hole a large al fresco style terraced area. Operating on a first come basis (from reopening on the 12th April) relax, order some drinks and catch up on some much-needed socialising. When Covid finally passes, return for some Karaoke if you are so inclined…

Reservations: not currently.
Where? 11-12 Westgate Buildings, Bath, BA11EB.