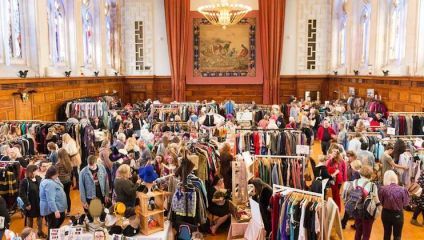 Say no to fast fashion here in Manchester
Organisations everywhere are telling us to shop second-hand more and more, and with good reason. If you've made it through #secondhandseptember, the Oxfam campaign running this year, you might be looking for easier ways to continue updating your wardrobe – without the RRP and carbon footprint. Manchester's wealth of retro haunts doesn't stop with the Northern Quarter – there are vintage fairs regularly taking part through the city. Here's a few that are popping up around Manchester, guaranteeing you timeless and quirky finds that you won't see anyone else wearing.
---
Lou Lou's Vintage Fair
Manchester Cathedral, M3 1SX
12 October 2019
Lou Lou's Vintage Fair is a show touring over 40 cities across the UK, exhibiting vintage clothing, accessories, homeware and collectables for prices that retro worshippers of all expertise can appreciate. The Manchester stop, previously held at retro venue Sachas Hotel in the Northern Quarter, has a new grand location for this year and is taking place at Manchester Cathedral on Saturday 12 October. Lou Lou's fair even includes a kitsch tea party, the glitz and glamour of a retro beauty salon, and live entertainment. This ever-growing event has won the title of 'Best Vintage Fair' three years running, so this isn't one to miss.
For more details click here, entry costs £2.50.
---
Vintage Home Show
Victoria Baths, M13 0FE
20 October 2019
If your wardrobe is already full to the brim with nostalgia, the Vintage Home Show describes itself as 'a Mecca' for vintage furniture. On Sunday 20 October the show, which tours Manchester, Leeds and the Midlands, will be taking over Victoria Baths in the Chorlton-on-Medlock area. A Grade II listed building, Victoria Baths is an Edwardian swimming pool and Turkish baths, which has been closed for 26 years awaiting restoration. With small businesses and traders selling household mid-century names such as Ercol and G-Plan, from furniture and textiles, to ceramics and artworks, this might just be the perfect way to kick your high-street shopping habit and extend the life cycle of second-hand pieces.
For more details click here, entry costs £3 (or £5 for early bird entry).
---
The Manchester Vintage Fashion and Textiles Fair
George H Carnall Centre, M41 7FJ
1 December 2019
A little less known, the Manchester Vintage Fashion and Textiles Fair is being held in Urmston on 1 December. The event will be selling everything from vintage and period clothing and accessories, through to original textiles, quilts and fashion prints – the perfect place for artists, designers and buyers to find one-off materials, or for anyone handy with a sewing machine. Taking place just weeks before Christmas, this gives you ample time to think about handcrafted festive gifts. (No pressure!)
For more details click here, entry costs £3 in advance, £4 on the door or £10 for early bird entry.
---
Vintage Village
Stockport Market Hall, SK1 1EU
Second Sunday of every month
We understand that you might be itching to get your hands on some new (old) pieces and waiting for a touring fair might be a bit much to ask, so The Vintage Village at Stockport's Victorian covered market hall is there for you. Held on the second Sunday of every month, this fair will never let you down, selling authentic clothing, homewares and furniture, curios and collectables from local, knowledgeable traders, whom you can browse on the website too. And if all of this wasn't reason enough, the events are dog-friendly!
For more details click here, entry is free!