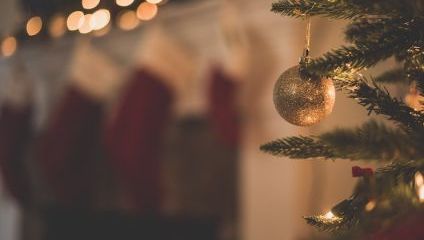 Christmas is the ideal time of year to give back and help out those in need
If you're looking to volunteer your time this Christmas, there are lots of brilliant charities based in London who need your help. Many of these organisations rely on the efforts of volunteers year round, but they particularly need a helping hand over Christmas. From delivering hampers to families in need to inviting an international student to your home to share Christmas lunch, there's a wide range of ways to get involved.
---
Community Christmas
87% of older people want a traditional Christmas spent in company, but for those without family the festive period can be an intensely lonely time. Community Christmas is ReEngage's Christmas campaign, which helps elderly people discover local Christmas events run by community volunteers. There are many Christmas lunches taking place in London that elderly people can attend for free, giving them a chance to get out of the house, meet people and have a natter over a tasty meal. Use the Community Christmas site to search for an event taking place near you; many require volunteers to help everything run smoothly or to offer older people lifts to and from their homes. You'll be helping to bring some warmth, companionship and conversation to elderly people who may be homebound and lonely.
---
Crisis at Christmas
Every December, Crisis at Christmas help thousands of homeless people all over the country, giving them the chance to get in off the streets, have a shower, eat a hot and nutritious Christmas lunch, receive a professional health check and enjoy being in a safe and companionable environment. With over 10,000 volunteers helping out every year, Crisis at Christmas is one of the biggest opportunities to get involved in a worthwhile project over the festive season. You don't need any particular skills or experience; training is provided and Crisis need such a wide range of volunteers that there are roles to suit everyone - whether you're a healthcare professional, an IT whizz, a performer, or you just make a mean cup of tea!
---
Host UK
Why not consider inviting an extra guest to your Christmas lunch this year? Host UK is an organisation that matches international students living and studying in the UK with local households who are happy to welcome someone into their home for a meal or event. There are thousands of international students living in London and while some will head home for the Christmas holidays, many will not be able to. Inviting an international student to join you on Christmas Day will ensure they don't have to spend the day alone away from their family! You'll get a chance to meet someone new and brighten up their day.
---
London Basket Brigade
The Yes Group London Basket Brigade brings hundreds of volunteers together on 23 December to pack and deliver food hampers to families in London struggling to put food on the table over Christmas. Hundreds of volunteers are needed every year to unload food items, pack hampers, write Christmas cards, and deliver the completed baskets to those who need them. This is a great volunteering day to attend in a group with friends and families - even children can some along to help packing hampers, which is a fantastic way to teach young people about the value of contributing to their community and helping others in need.
---
Christmas Fundraising
If the above opportunities don't sound like the right thing for you, why not help by volunteering to raise funds for a charitable organisation over the Christmas period? Many organisations run special fundraising events over December and the winter and need seasonal volunteers to get involved. You could help by collecting for charity outside tube stations, helping out at a present-wrapping station in a shopping centre or bag-packing at your nearest supermarket. There are bound to be opportunities to get involved near you! Check out local volunteering options near you via Do It.