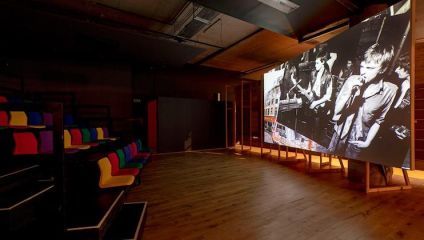 Calling all cinephiles! If a trip to the talkies is your ideal way to while away a few hours then we're here to help
Calling all cinephiles! If a trip to the talkies is your ideal way to while away a few hours then we're here to help. As much as we salute the mighty multiplexes of the UK with their excellent variety of the bright new cinematic offerings, sometimes you want something a little bit different from a movie night. So whether you're into big blockbusters, indie inspiration, new filmmakers, documentaries, live events or silver screen classics, these venues all offer something a little something extra than just a bag of popcorn.
Image credit: Savoy Cinema Heaton Moor via Facebook
---
The Savoy Cinema
105 Heaton Moor Rd, Stockport, SK4 4HY
For a little old school luxury, look no further than this beautiful boutique cinema. Around since 1923, The Savoy is one of Manchester's few independent cinemas and still retains a little old school glamour after all these years with cosy luxury seating and sofas to curl up and enjoy a mix of big new releases and under the radar independent gems, as well as live performance screenings and all-time favourite classics ensuring there's something for everyone.
---
HOME
2 Tony Wilson Place, Manchester, M15 4FN
Since 2015, HOME has made a name for itself as the cultural hub of Manchester thanks to its smorgasbord of contemporary theatre, art, music, dance, and of course film. Showcasing the best of independent and world cinema, with short films, documentaries and Q&A's galore and live screenings of RSC and National Theatre performances to name a few, HOME is all about inclusivity and giving the chance for its audience to expand their cinematic horizons, with a focus on local, national and worldwide cinematic themes. After you've satisfied your appetite for cinema you can indulge your actual appetite with some delicious pizzas, burgers and crowd pleasing dishes with a drink at their bars and restaurant.
Image credit: Everyman Cinema Altrincham via Facebook
74-78 George St, Altrincham, WA14 1RF
If you're looking for the full escapist film night experience, then Everyman is the answer. This boutique chain is the ideal place for a visit to unwind with a good mix of the latest blockbusters and indie hits meaning there's something for all tastes. As well as getting lost in a good film, Everyman is known for hosting filmmaker Q&A's, documentary screenings and live event broadcasts, bringing the rest of the UK's cultural scene to Manchester's doorstep. A big bonus for us is the comfy sofa seating and the option to enjoy your chosen film with a glass of wine and, depending on your views of eating in the cinema, a selection of delicious grub served to your seat.
Manchester & Salford Film Society
17 Bradley Cl, Timperley, Altrincham, WA15 6SH
We may all enjoy the occasional solitary Netflix movie binge on a rainy Sunday, but most of us film fans would agree that having people to talk about our favourites is always fun, but what if you're lacking in the fellow cinephile friend department? Enter the Manchester & Salford Film Society, the longest running UK film society after starting in, wait for it, 1930! On Saturdays once a month in the Altringham Little Theatre they screen a mix of contemporary movies, world cinema and golden oldies, with the emphasis on a making it a great social event for fellow film fans to get to know each other and discuss the screening of the night.