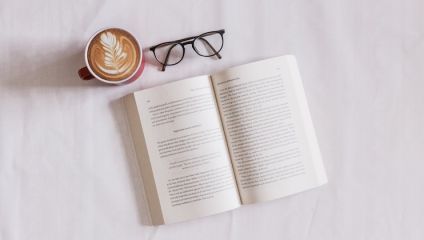 Get together for a chat in one of Manchester's many book clubs
As the days grow shorter and the temperature drops, there's nothing quite like escaping into a great book. Yet, this doesn't have to be a solo endeavor between just you and your kindle. Book clubs are popping up all over the city, giving bookworm's alike the chance to meet up and share their love for all things literature. Here are just some of our top picks.
---
Book and Cranny
The start of the week can always be a little rough, especially in these colder months, but Book and Crannygives you the chance to chase those blue Mondays away. With over a thousand members and growing, Book and Cranny claim to be the most fun you can have between the covers...of a book! Meeting once a month, they are aimed at 23-35 year olds and no book is off limits; from fiction to graphic novels, autobiographies to poetry, they cover the good, the bad and everything in between. They also support Mustard Tree, a local charity who provide critical services to those affected by poverty and homelessness in Greater Manchester. Their next meeting is on 28 October, looking at Heather Morris' 'The Tattooist of Auschwitz', so if you've read the book or just fancy a chat, click here for more information.
---
Bar Room Philosophers
For those of you looking for something a little bit different, why not try the Bar Room Philosophers. Meeting every couple of weeks in Port Street Beer House - a beer-enthusiasts' drinking hole nestled in the heart of Northern Quarter - this book club offer you the chance to read and discuss some of the best non fiction books on offer. Past reads have included "The Secret Barrister", a scathing account of the current criminal justice system, and "Hidden Figures", the incredible true story of NASA's African-American female mathematicians who played a crucial role in America's space program. To look at their past reads or for further information click here.
---
Girly Book Club
If you haven't heard of the Girly Book Club then you must have had your head stuck in the sand- or just a really good story! Though it originated in London (with a club that now boasts over 4000 members), it has spread around the world, bringing over 80,000 women of different ages, races and cultures together. With every club reading the same book every month, it gives like-minded women the chance to meet, discuss their views and connect in a safe and relaxed atmosphere. The book for this October is Simone St James' 'The Broken Girls', a haunting tale guaranteed to send shivers down your spine. Just make sure to leave the lights on! To join, or for further information click here.
---
Manchester's Post Apocalyptic Book Club
Have you ever considered the end of the world? Have you ever planned what you would do if Shaun of the Dead turned out to be a prediction rather than just a very good film? Then Manchester's Post Apocalyptic Book Clubis the club for you! From Magaret Attwood's 'The Handmaid's Tale' to HG Well's classic, 'War of the Worlds', they welcome everyone, casual reader and doomsday fanatics alike. More than just a book club, they also offer a number of social events, including themed cinema trips and their PAGN - Post Apocalyptic Games Night - a fortnightly event in which you can test your talents at different board games. So, pick up your tin foil hat, prep your bunker and click here for details.