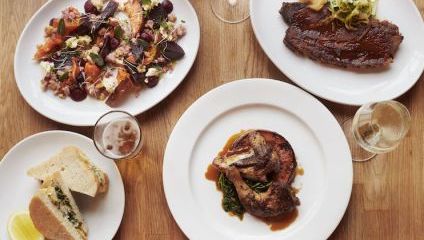 The chef's residency teaches British cuisine some new tricks

It is a truth universally acknowledged, that a restaurant in want of customers will go out of its way to call itself 'welcoming'. However, after a visit to James Donnelly's new residency at the Bermondsey Bar & Kitchen, all other establishments must note: the bar has been raised.

From tables of boozy brunchers enjoying a Bloody Mary to families enjoying some weekend indulgence; tourists and locals alike looking for a break from the chaos of nearby Borough Market, it was a warm and welcoming atmosphere greeting us as we took our seats on a Saturday lunchtime. Add to this the exposed brickwork and warm, low-hanging exposed lighting, as well as the open kitchen, and we were feeling relaxed and happy before we'd even ordered.

James Donnelly is an exciting name in the UK chef scene after working with some of the best kitchens in the business before going solo in 2018 with various highly acclaimed pop-ups. Therefore, it was no surprise that in this latest residency he's championing his passion for locally sourced and sustainable produce to create in a menu that caters to all appetites with the best in seasonal British dishes.



James Donnelly outside Bermondsey Bar & Kitchen

After eyeing up the plates of the diners next to us, spying the Donnelly's Breakfast with its maple bacon and burnt-end beans, we finally settled on the Bubble and Squeak with picked red cabbage, poached eggs and hollandaise, as well as the Galloway Burger - because if a restaurant nails their burger then you know you're in safe, delicious hands. (It was therefore an encouraging sign when they gave the option to add bacon – always a yes.)



The black pudding Scotch egg

Usually thought of as stalwart Boxing Day grub, Donnelly's Bubble & Squeak really was the gastronomic equivalent of teaching an old dog new tricks. The pickled sweetness of the cabbage combined with the creamy tang of hollandaise smothering the runny joy of the eggs took a well-worn dish and elevated it to something truly special. The burger, too, passed its test, from the sweetness of the brioche bun to the kick of spiced tomato chutney and pickles, although the burger patty itself was on the messier side of juicy.

Donnelly's takes the British cooking that we think we know and gives it a shake-up to create food that is both comforting and delightfully surprising to the tastebuds at the same time. It's the place you know you could go to no matter your appetite and leave satisfied, the place you'd confidently recommend to friends looking for somewhere in the area. We'll be returning soon – there's a Black Pudding Scotch Egg on the menu with my name on it.

Donnelly's, Bermondsey Bar and Kitchen, 40 Bermondsey Street, London, SE1 3UD