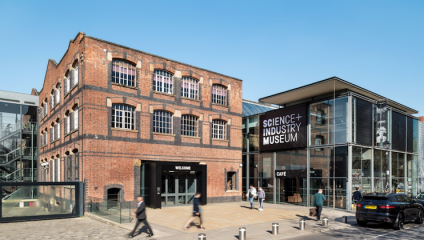 Manchester's must visit museum for visitors of all ages
Whether you're looking to while away a rainy afternoon in central Manchester, or simply want the kids to enjoy some hands-on history of Manchester's role in the industrial revolution – the Science and Industry Museum is the one for you. Check out our essential guide below and be sure to pencil in a solid afternoon for you and the kids to explore.

Need To Know Basis
***While our museum is closed, the Science Museum Group collection—and the inspirational stories it contains—remains open to you online.***

You can discover inspiring stories of scientific achievement on our website, delve into the incredible collection online or through videos and 3D models, hear from scientific pioneers, explore fun activities to try at home or simply have fun playing our online games. Find out more here

£££? Entry to the museum is free! Charges apply for some of our special events and activities.

Where is it again? The museum is in Castlefield, Manchester, close to Spinningfields and Deansgate. Plan your visit here.

When can I go? We're open daily from 10am-5pm but keep an eye out for our regular programme of after-hours events.

How long should I spend there? We recommend a minimum of an hour to see the highlights, but with so much to explore you can spend as much time here as you need. When it's time for a break you can grab a bite to eat in our Café or Bistro.

How do I find everything? Pick up a map of the site and a 'Today's Events' guide when you arrive at the museum and our friendly visitor team are always on hand to answer any of your questions.


Image credit: Science and Industry Museum
A Bit More Detail
Unmissable bits
Located on the historic site of the world's oldest surviving passenger railway station, the museum's fascinating galleries and outstanding collections tell the story of Manchester's scientific and industrial past, present and future.

Don't miss the Textiles Gallery which explores Manchester's relationship with cotton, through fascinating displays, activities and free explainer-led demonstrations.

Hidden gems
Other highlights include the hands-on Experiment Gallery, a replica of 'Baby', the world's first stored-program computer and a stunning temporary display featuring Manchester's Rolls-Royce.

Events n extras
Their regular programme of events and activities for all ages includes special exhibitions, family activities and holiday fun plus Lates and In Conversation events.

Sign up to their newsletter here to make sure you're always the first to know what's on.

What can I expect?

From ancient myths to health and wellbeing, solar power and more, The Sun takes a closer look at our ever-changing relationship with our closest star.

See stunning objects, including an ancient Babylonian tablet, a prototype fusion reactor and even Jimmy Carter's solar panels from the White House. Watch the sun rise around the world, relax on our indoor beach, or strike a pose and try on sunglasses with our digital interactives.

If you're visiting with children, make sure you pick up a copy of the free family trail from the exhibition welcome desk



Image credit: Science and Industry Museum
Coming soon
Use Hearing Protection: The Early Years of Factory Records
3 July 2020 – 10 January 2021
£7 adults, £5 concessions. Children aged 11 and under go free with a paying adult
Recommended for ages 12 and older
Click here to book

What can I expect?

This special exhibition tells the story of Factory Records' formative years from 1978 to 1982, and how their innovative work in music, technology and design gave Manchester an authentic voice and distinctive identity. Founded by Tony Wilson and Alan Erasmus, the label played an influential part in the city's transformation from an industrial powerhouse to a beacon of art and culture