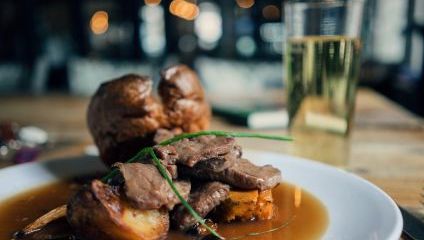 Get your North London Sunday dinner fix
---
The Duke of Cambridge
If you like rustic sophistication, you'll like the Duke of Cambridge. As London's first organic pub it has garnered a reputation for great food with an inclination towards the natural and seasonal. Their roast options (which are a part of their regular menu, if you can't wait until Sunday) are representative of their commitment to organic goodness, whether that's beef or butternut squash. Add some braised red cabbage or sautéed sprouts for that extra Christmas feel.
---
Smokehouse
This one's for meat-lovers: a trip to the Smokehouse will see carnivores drooling over the selection of dishes. The pub works with acclaimed farms and butchers their meat on site to create a menu of proper prime cuts. Get a mouthful of their rare breed Lincoln Russet roast beef – done medium rare, of course – alongside a tip-top roster of roast extras, including beef fat greens and honey mustard carrots. A bonus for summertime is their lovely, jasmine-ringed outdoor area.
---
The Old Queen's Head
The Old Queen's Head is well-known for its hit club nights and comedy, but that's not all there is to this spacious and friendly boozer. Their vegan Sunday roast is something of a North London legend, a mushroom wellington to make even carnivores drool. If not, why not give their aged longhorn beef with marrow gravy a go? Pair your roast with a cheeky round of their excellent cocktails – we recommend the sloe gin fizz.
---
The Pig & Butcher is another pub that takes its meat very seriously, getting hands on with the butchering and ensuring only the very best suppliers. You can enjoy what the Evening Standard's food critic called 'food worth getting fat for' in the warm and cosy surroundings of the pub for that perfect Sunday feeling.
---
The Albion
The family-friendly Albion is great for getting the family together for a Sunday dinner. As a restored Georgian gem, it's also not half photogenic, with its wisteria-covered exteriors and proper log fires indoors. Shake your roast up with a succulent Swaledale leg of lamb or go classic with chicken or beef. There's also a private dining room if you're looking for somewhere for a big blowout.