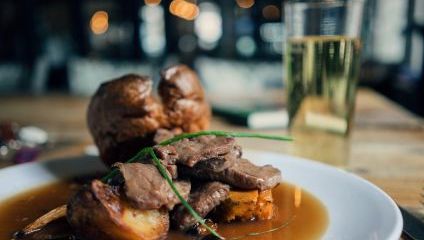 The best pubs to visit in Hackney for a great Sunday lunch
---
The Cat & Mutton is a warm and welcoming pub, usually filled with mates sinking a pint or two. Their roast is ever-popular with both a vegetarian option (mushroom, stilton and walnut wellington) and a vegan option (tofu and sweet potato pie), leaving veggies with a stunning two options for a Sunday roast, often a first for herbivores. The pub also has a few non-traditional small plates and mains available, from halloumi fries to pork belly bao buns, for anyone who strongly believes the day of the week shouldn't control their menu choices. Don't worry about coming late - the roast is served until 9.
---
The Elderfield, Lower Clapton
The Elderfield is a proper locals' pub. Located on a quiet backstreet off Chatsworth Road, it's perfectly situated to fill you up after a day wandering the stalls of Chatsworth Road's Sunday market (just don't fill up too much on the culinary treats on offer). Their roast is lauded far and wide, and their varied selection of board games will add an extra helping of wholesomeness to your Sunday afternoon, though you might have to search through the boxes to find a die. Just make sure you get there with plenty of time – the roast often sells out.
---
Marksman, Hoxton
Marksman was the Michelin pub of the year in 2018 - do we need to say any more? Their menu is always rich and exciting with incredible ingredients, and their Sunday menu is no different. Offering two courses for £30 or three for £35, this isn't your traditional Sunday menu, but it's certainly worth branching out – go for mouthwatering salt cod cheeks or a warming chard and Spenwood cheese pie. There are also several tempting sharing options, such as pot roast Tamworth ham belly – either way, you won't go hungry.
---
The Clapton Hart, Lower Clapton
The Clapton Hart is spacious enough to fit you and 20 of your friends, if you so please. Filled with comfy and kooky sofas and bunting, the Hart is perfect for a big group, but also works for couples looking for a cosy corner. Enjoy roast classics with some particularly mouth-watering desserts – don't miss the banoffee pie or the peanut butter brownie… or the sticky toffee pudding. If you're there for a summery roast, the colourful benches in the gravelled garden are perfect for a relaxed lunch.
---
The Prince, Stoke Newington
If you ignore the many and varied temptations of Church Street and turn down towards Kynaston Street, you'll find The Prince, a boozer that reopened in 2014 after a big makeover. It's pretty stylish these days, all tiles and purposefully mismatched chairs, and offers truly good grub. Their Sunday menu offers traditional roasts for veggies and meat eaters, as well as some deliciously quirky dishes like broad bean, pea and mint risotto. And if you need it to feel more festive, just add a Yorkshire pudding on the side for a quid.