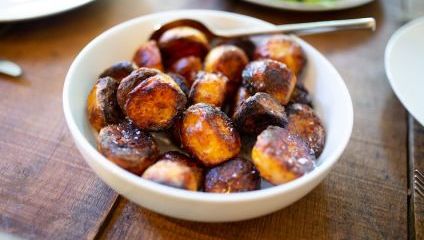 What's a vegan to do for Sunday lunch in London?
---
Karamel, Wood Green
Karamel is a relative newcomer on the Wood Green scene; a not-for-profit vegan space, gallery and venue which plays host to great plant-based cuisine, a selection of local beers and a varied roster of cultural events from spoken word to jazz. Being plant-based, they of course have several options for hungry herbivores. Choose from an almond wellington or veggie sausages – and there's a gluten-free option.
---
Café Van Gogh, Brixton
This arty South London café serves up a fabulous Sunday roast. They aspire to be zero-waste, eschew single-use plastics and run a programme of on-the-job training for people with additional challenges in life – this is definitely somewhere you want to spend your money. And they serve up a delicious nut and butternut squash wellington with kale and pumpkin seed pesto, plus all the trimmings. Sign us up!
---
The Duke of Cambridge, Islington
If you like rustic sophistication, you'll like the Duke of Cambridge. As London's first organic pub it has garnered a reputation for great food with an inclination towards the natural and seasonal. Their roast options (which are a part of their regular menu, if you can't wait until Sunday) are representative of this and include a fantastic roast squash with polenta, truffle and of course, lashings of vegan gravy. Add some braised red cabbage or sautéed sprouts for that extra Christmas feel.
---
Manna, Primrose Hill
Where else to go for a sophisticated, healthy(ish) vegan Sunday lunch than Primrose Hill? Have a wander around the farmers' market to work up your appetite and then head to Manna, a West London institution specialising in all things vegan. Their vegan Sunday lunch is the stuff of legend and always threatens to run out, so get there in good time.
---
Manna is currently closed for refurbishment but will re-open soon.
---
The Old Queen's Head, Islington
The Old Queen's Head is well-known for its hit club nights and comedy, but that's not all there is to this spacious and friendly boozer. Their vegan Sunday roast is something of a North London legend, a mushroom wellington to make even carnivores drool. Pair your roast with a cheeky round of their excellent cocktails – we recommend the sloe gin fizz.