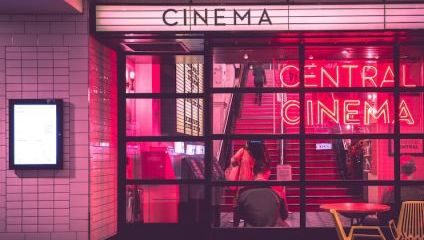 Get lost in a magical maze, transport yourself to Narnia and watch films around a frozen lake
It's nearing that time when Londoners trade in their everyday clothes for woollen jumpers, single-handedly devour boxes of Roses and dust off their copy of Elf only to quote every line over the top of it. But there's no need to get stuck in a living-room stupor: here are the most magical Christmas cinema experiences London has to offer.
---
The Luna Winter Cinema
The Luna Winter Cinema will be taking to the luxurious location of the Pavilion, in the Orangery of the Kensington Palace grounds, all the way up until a couple of days before Christmas. You'll be greeted by a sparkling Yuletide setting complete with Christmas trees. Choose from classics like How The Grinch Stole Christmas, The Holiday and It's A Wonderful Life, and have a royally Christmassy evening.
---
Love, Actually in Concert at Eventim Apollo Hammersmith
One of the best selling points of Love, Actually has to be the deeply, intensely relatable scene where Hugh Grant has a little post-successful international relation-negotiating dance party - okay, not the international relations bit, but the dance party bit, anyway. And now there's a screening of the quintessential British film that'll make you want to get up out of your seat and have your own dance party - this event at the Eventim Apollo in Hammersmith where you can hear the soundtrack to the film live. Just don't get caught doing your best moves by the housekeeper.
---
Backyard Cinema
Backyard Cinema will be bringing us two sparkling Christmassy film events this year - their Winter Night Garden and their Christmas Snow Garden, both at their new location in Wandsworth.
They'll be making guests earn their dinner – well, cinema – with a little orienteering this year. The Christmas Labyrinth will have you navigating an enormous magical maze to get to their enchanted forest-themed cinema. The cinema will also host a retro Christmas cabaret bar for you to enjoy before and after the show.
---
Neighbourhood Cinema
Neighbourhood Cinema has taken immersive cinema to the next level with their enchanted Frozen Island. Surrounded by frosted palm trees, icicles and giant snow globes, audiences will be able to snuggle up to watch Christmas favourites around a lake of ice. fun family showings and boozy adult sing alongs. Neighbourhood Cinema's Frozen Island will take place every Sunday between selected dates at Tropicana Beach Club. Tickets include your popcorn plus a frozen cocktail. Brrrrr!
---
Crofton Park Cinema at the Rivoli Ballroom
If you want to feel like a sophisticated grande dame while getting your Christmas flick fix, then look no further than the Rivoli Ballroom, which will be providing a stunning setting for Crofton Park Cinema's December screenings. Sit back and take in all the red, gold and velvet - you'll feel like a Christmas queen. They'll be showing Christmas classics Elf and Home Alone, as well as the more off-the-wall choice of Die Hard, but it's spread over 3 nights only, so snap up your tickets quickly.
---
It's Too Bloody Cold, Just Stay On The Sofa And Put On Netflix
And if you really don't fancy stepping out into the cold, why not snuggle up on the sofa and watch some flicks on the net? Check out our list of wintery films to watch with a big mug of hot choc.