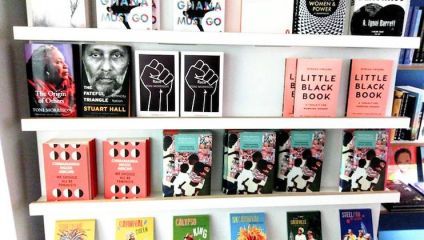 To celebrate Black History Month, London Calling selects five London-based organisations related to Black history.
As London marks Black History Month with various events across the capital, London Calling looks at the top 5 centres for learning about Black History all year round.
Black Cultural Archives
After a rather long hiatus the Black Cultural Archives returned in style as a Brixton museum in 2014, its launch exhibition about black women in Britain through history. Set up in 1981, their collections include all kinds of documents and papers related to black history, rare books, ephemera and photographs. Already at the forefront of documenting the many untold stories of black experience, the archives will undoubtedly inspire and educate for many years to come.
For more information see website.
SOAS, University of London
A Bloomsbury university, SOAS has long been an important centre of learning for those interested in the African Diaspora and the many different subjects that intersect around its history and future, as well as those studying individual African nations and cultures. With a year-round programme of events and a student union with a political and freethinking reputation, the university benefits from its proximity to the British Museum and its extensive collections of African artefacts and resources. SOAS is also dedicated to the study of Asian and Middle Eastern history and culture.
For more information see website.
The Africa Centre
If you visit the website for the Africa Centre you are greeted with big words: PROUD OF OUR PAST. PASSIONATE ABOUT OUR FUTURE. But then, the Africa Centre is a big deal. A Covent Garden treasure for fifty years, to some it brings back heady memories of hip hop DJ nights in the 2000s, while to others it represents a lost community centre for central London. Forced out of their home in 2013 to make way for 'an outstanding new retail store' (just what Covent Garden needs), their official purpose is to 'serve as a hub to promote creativity and innovation in African art, culture, business and entrepreneurship in London'. The Africa Centre continues to do a great job – it's London that needs to get back in touch with itself.
To keep informed about events run by the Africa Centre, see website.
Hackney Museum
Hackney is a very culturally diverse borough and its museum reflects this diversity in its exhibitions and events. It is important for London's museums to represent Afro-Caribbean culture and its continuing influence in our city and Hackney Museum does a pretty good job. Its current exhibition is titled African Threads – Hackney Style and later in the month the museum offers textile and fashion workshops connecting to the exhibition.
For more information see website.
Black History Walks
Dawn Marine of Black History Walks recommends the following London sites of relevance to black history: "Cato Street in Edgware Road is the site where Jamaican William Davidson was caught planning to overthrow the government in 1820. He was betrayed and his meeting loft in Cato Street raided. African Olaudah Equiano lived in 139 Riding House Street just off Oxford Street. In 1789 he published the Interesting Narrative of Olaudah Equiano, which became a best seller and was used by Equiano to campaign against the slave trade and slavery. The Mangrove Restaurant in Notting Hill was the centre of the Black Power/Civil Rights movement. The British Black Panthers had a chapter there; Sammy Davis Junior, Marvin Gaye, Diana Ross, Bob Marley and Muhammad Ali all hung out there. Free legal advice was given to young black men who were victims of police brutality." Black History Walks offer walks, talks and films on the African History of Britain.
For more information see website.