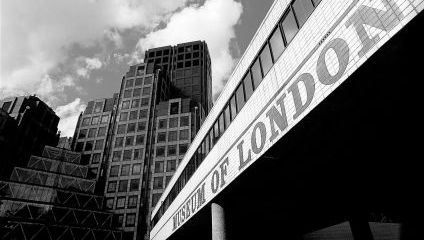 From Westminster Abbey to the Institute of Contemporary Arts, London Calling picks five of the best memberships in town.
A membership to a London cultural venue is not just about good economy. Noticing a membership card to a favourite gallery or museum every time you open your wallet is a reminder to make good use of it, and doing so makes you more invested in the building and its activities. Value is in the eye of the beholder and every Londoner is different, but here are five of the best cultural memberships in London for £50 or less.
Barbican
Barbican's membership starts at £50 - but don't get too excited. The labyrinthine Barbican Centre puts on a huge range of events every week and a membership card will not allow you to stroll past its front of house staff whenever you like. However, entry to all ticketed exhibitions is free and unlimited. Right now that means the design delights of The World of Charles and Ray Eames; coming up is an exhibition of British photography. Members get 20% off all cinema, use of the members' lounge and special offers in the Barbican's bars, restaurants and shops. As for all those live shows: expect priority booking, waived booking fees and selected special offers.
For more details and to buy membership, see website.
Westminster Abbey
It costs £18 to enter Westminster Abbey. For £32 more you can have free and unlimited access throughout the year. Considering how much there is to look at in one of the most beautiful and historic buildings in the world, this is not a bad idea for anyone who would like to return more than once. Exclusive events and a 10% discount in the café and shop should help to seal the deal. If not, how about a tote bag, an artist's print and a Christmas letter from the Dean of the Abbey? The membership, known as the Westminster Abbey Association, has only just launched, so there is a certain appeal in being among the first Friends of the Abbey in over 1000 years.
For more details and to buy membership, see website.
National Portrait Gallery
The National Portrait Gallery offers a pretty simple membership. But for a major, central London gallery it's pretty good value at £45. All ticketed exhibitions are free to members with no need to book and they can be seen in advance at private views and previews. Talks and events are offered at a concessionary rate and there is a 10% discount in the shops, restaurant and café. The members' magazine is appropriately titled Face to Face.
For more details and to buy membership, see website.
Museum of London
First things first, the Museum of London membership gives a decent 25% off food and drink in the cafés and bars of its two venues (one in the City Wall, one in Docklands). Entry to all ticketed exhibitions is fast-track, free and unlimited; private view invitations are for you and a guest. The free Friends' events sound interesting and worthwhile, some of them taking members to 'unusual sites across London'; there is a monthly tour of the museum's highlights and some of its regular, public events have member discounts. £40 isn't too steep for a Londoner to be connected to his or her heritage.
For more details and to buy membership, see website.
ICA
Top of the list of the ICA membership benefits is the prospect of £3 cinema tickets every Tuesday. This would be a good price for any cinema, but the ICA only ever shows the most interesting films from around the world, and never any advertisements. On other days, members get £4 off cinema tickets and invitations to 12 free screenings a year. Another essential feature of the Institute of Contemporary Arts is its bookshop; members get 10% off books, 20% of ICA DVDs and ICA catalogues and 25% off ICA Artists' Editions. Membership also includes private view invitations, free admission to selected events and discounts on all others. This is also one of the cheapest memberships around at £30 per year.
For more details and to buy membership, see website.