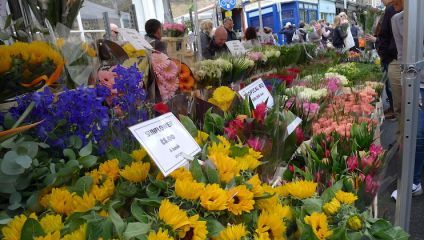 London Calling rounds up the top 5 markets in London for Sunday browsing, with markets from all over London...
What better way to spend a Sunday morning that idly browsing a market with a cup of coffee? As the autumn air sweeps in to London, it's less about trendy pop-up food stalls and more about autumn produce, thrifty vintage and art or flowers to brighten your mood. We've got offerings from all over London, from the best farmer's market to the best bargains. Here are our top 5 markets for Sunday browsing or buying.
Columbia Road Flower Market
A Sunday market has graced Columbia Road since the 1860s. When the flower market first evolved, the flowers all arrived by handcart from the nearby market gardens of Hackney and Islington, and market pitches were claimed on the day with a blow of the whistle. Surviving years of decline, it's now a firm London favourite and nestled in London's trendiest area. Its international reputation is more than deserved, and even just browsing the market is a pleasure, with its beautiful flowers and incredible smell. Head down late in the afternoon, and you can grab a bargain bunch! The street is also now home to lovely cafes and pubs, so you can pop by for brunch or a cup of coffee too.
For more information, see the website, or just turn up at Columbia Road between 8 am and 2 pm. If you get lost, follow the smell of flowers or the happy shoppers coming in the other directions laden with blooms.
Sunday Up Market
Every Sunday, the Old Truman Brewery hosts the Sunday Up Market, a sprawling offering of street food from across the world, vintage clothes and accessories, homeware and arts and crafts. With over 140 traders, it's an exciting and imaginative market in the middle of Brick Lane. It includes well-known stalls as well as some of the independent makers who make up the East London creative community. Pop down and wile away your Sunday with great food and great browsing.
For more information, see the website or just turn up on Brick Lane between 10 am and 5 pm.
Queen's Park Farmer's Market
This award winning market brings fresh produce to the streets of West London. The organic offerings include fresh fish from the coast, Norfolk grown vegetables and free-range meat and poultry. Sunday 20th September is their 10th anniversary and to celebrate, there are special events including a birthday cake to share, biscuit decorating, a vegetable sculpture competition and live music. It's a community favourite with families, friends and neighbours, so head down and join the Sunday fun.
For more information, see the website; the market runs every Sunday from 10 am to 2 pm.
Ally Pally Farmer's Market
In leafy North London, Ally Pally Farmer's market is an expanding and lively place with a strong street food presence as well as fresh produce straight from the source. It might seem wildly out of the way, but set in the beautiful parkland of Alexandra Palace, there's plenty to explore on a Sunday afternoon. Settled between Muswell Hill, Wood Green and Crouch End, there's lots of walks, cafes and pubs for brunch or Sunday lunch, and Alexandra Palace has spectacular views over London from the top of the hill. If you've got kids with you, you can also try out the Ice Skating Rink or the boating lake, depending on the weather.
For more information, see the website; the market runs every Sunday from 10 am to 3 pm.
Bayswater Road
Every Sunday for over 50 years, Bayswater Road in West London has been transformed in to an open-air art show, as local artists hang their work for display and sale along the railings of Kensington Gardens. Over 150 artists and craftsmen display their word, with thousands of exhibits. The artists' range from unknowns to established names, and it's a great opportunity to meet the artists for a chat. Everything is for sale direct from them, and everything can be carefully packed up so you can take it home. From there, you can explore Kensington Gardens, Hyde Park, the Septentine, the Peter Pan statue and more.
For more information, see the website, or head to Bayswater Road between 10 am and 6 pm on a Sunday, come rain or shine.